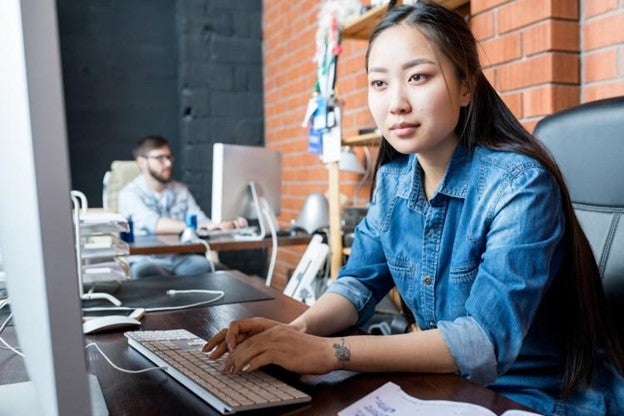 The history of data science has been exhilarating. Though "data scientist" as a job title has existed for only just over a decade, in that time, it's dominated the top three job rankings globally, with year-on-year growth of a whopping 37 per cent in 2019. Currently, Australia's median data scientist salary is $138,000 per year, with 75 per cent of all data scientists earning above $96,900. Of course, this figure varies depending on a range of factors, from experience to education to what industry or specialisation you choose.
Industry experts have been predicting this growth for years. It was back in 2014 that IDC made the prediction:
"[I]f our digital universe or total data content were represented by tablets, then by 2020 they would stretch all the way to the moon over six times. That's equal to 44 zettabytes of data, or 44 trillion gigabytes."
Watching the sector's impressive growth, Deloitte published a report in February 2018 titled The Future of Work: Occupational and Education Trends in Data Science in Australia. Its detailed investigation revealed that businesses are increasingly demanding technical specialists skilled in business translation to help management unravel the organisation's strategy for growth. 
Now, in 2021, the role of a data scientist continues to be a vital cog in any company. In a decade, the options for those choosing the data science sector have only increased, with innovations and opportunities opening up all the time. We've pulled together information and figures on the current job landscape of data science, employability and data scientist salary expectations.
How big data is driving demand
The 2018 Deloitte report was interested in the exponential growth in the demand for data scientists, seeing it stem from the simple fact that companies wanted to integrate data and analytics into their daily operations.
This continues to be true in 2021, with over 60 per cent of the world now online; recent data shows that the world internet population has grown by 1.5 billion in the last six years.
Towards Data Science reports that we'll soon see this grow. "1.7 Mb of data will be created every second for every person on the planet. Yes, this data is generated by us, but do you know how this much data is analysed?"
Creating and collecting the data is one thing. However, such massive loads of data require a wide variety of data science roles to make use of them. 
To be successful in the 21st century, you must use this to your advantage. As a result, companies will always require employees who can understand and make sense of using the data they collect to maximise efficiency and increase market success.
Projections for future growth
With more and more data produced and collected every second, the demand for individuals with data science skills is increasing rapidly, driving the development of analytics roles in a diverse array of sectors and applications.
There's no doubt data science is a lucrative industry – as data from Statista predicts, the global big data market will be worth $64 billion by 2021.
Major global corporations (e.g. GE, IBM and HP) have set their future strategies on data as the enabler to long-term, sustainable competitive advantage in response to this demand. Statistics quoted by the Bureau of Labor predict that data science positions will continue to grow, increasing by 11 per cent by 2024.
The overall positive outlook for the demand in these data science occupations continues to be supported by the growing digital economy and the increasing data analytics applications across diverse industries. These new roles cover all aspects of strategy, from operations to governance. As a result, the current and future demand will require more data scientists, data engineers, data strategists and chief data officers.
A 2020 report found that the rate at which information and data are being generated is faster than ever before, with 2.5 quintillion bytes of data now being created every day.
The benefits that organisations can gain from analysing big data have led to a growing demand for data science skills, increasing data mining and machine learning applications across many industries throughout the economy.
The 2018 Deloitte report expected demand for software and applications programmers to grow by almost 18,000 people over the next five years, at an annual growth rate of 3 per cent.
We saw this in action in 2019, when data scientists partnered with data engineers and data analysts to mobilise the use of artificial intelligence (AI) and machine learning (ML) algorithms. This not only gave big data analytics a significant push across global businesses, but also signalled a positive trend towards increasing automation that we can expect to continue into 2021.
What does this mean for people in data science?
Job opportunities are booming for data scientists. Those pursuing a career in the industry have a wide range of areas to specialise in, including sectors such as finance, health and medicine, general sciences, cybersecurity, defence, and agriculture.
In such a dynamic landscape, there are a range of opportunities within the field of data science, especially for those choosing to study it to a higher level, including the following:
- Chief data scientist
- Data engineer
- Data analyst
- Machine learning engineer
The 2018 Deloitte report revealed that the demand for data scientists in Australia was on the rise, citing that a whopping 76 per cent of businesses said they planned to increase investment in analytics capabilities over the next two years, meaning strong growth is on the way.
It's true for many professions that having higher education equates to a bigger salary, and information technology (IT) seems to be one of them. In 2020, the average data scientist salary of those with a master's degree in IT was $156,000. That's 59 per cent higher than the median for those with a bachelor's degree, whose average salary was $98,000. We see this increase again with the median data scientist salary for those who've obtained a PhD sitting at $202,000, 30 per cent more than those with a master's degree.
Demand for chief data scientists, data engineers, data analysts and entry-level data scientists looks set to maintain a strong foothold in today's job market. Further study in data science can help build major strengths for individuals currently employed in other areas, enabling them to pivot towards data-related roles and develop a greater understanding of strategic and business applications of data analytics.
Uncovering the value in data, unlocking global opportunities, and developing the expertise that commands a data scientist salary calls for the right education. Explore how JCU Online's Master of Data Science delivers analytic skills in an industry-recognised suite of programming languages and software; partners with experts in research, academia, business and data science, including data science leader SAS®; and offers flexible, 100% online instruction.
Gain the foundation you need to succeed in a data-driven world – discover JCU Online's Master of Data Science.
Get in touch with our Enrolment team on 1300 535 919