Your student resources hub
JCU's Learning Centre is your central hub for resources to help you with assignments, referencing, written and spoken English skills, maths and statistics, exam preparation and more.
As an online student, you will have access to learning and career advice, and an annual program of study and research skills workshops and seminars.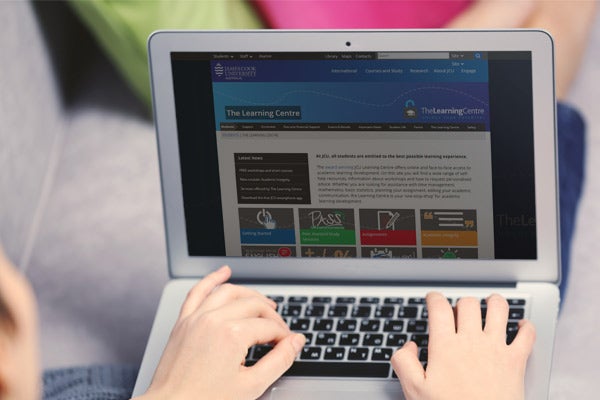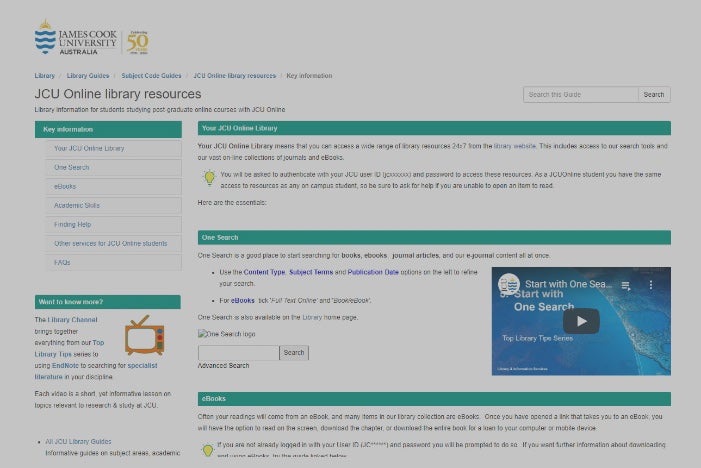 The JCU Library is an essential academic and student service that online students can access online 24/7. Any online student can use the library from anywhere to search and access books, eBooks, eJournal articles, as well as streaming media and more.
If you reside in Australia, but live further than 50km from either the Townsville or Cairns campuses, you can even borrow library books using the online request form which includes a free, post-paid bag to return materials. You can also request scanned copies of journal articles and book chapters.
Library tips and useful features:
LibChat offers real-time online help from librarians during library opening hours (including nights and weekends). Click on the 'chat icon' from the library's website.
LibGuides provide key resources and contact details for Liaison Librarians by discipline, who will help you with your researching, referencing and assignment skills.
Make sure you also explore the Library Channel, where you can watch informative videos with tips and advice on how to use the library services.
Your academic calendar
Our fast-tracked online learning model means you can enrol into a subject at any six times throughout the year, focusing on one subject at a time.
What's more, you'll still complete your postgraduate qualification ahead of most other university programs.
Ready to get started?
Download a course guide
For more detailed and up-to-date information about your degree, including:
Information about the course
Course duration
Fees
Course descriptions
What to expect from the course
Download course guide
Speak with an Enrolment Advisor
Investing in the right course for you is important to us and we're here to help. Simply request a call back and will assist you with:
Entry requirements
Choosing right course
How to apply and enrol
How online study works
Course duration and fees
Enquire Now