Graduate Certificate of Psychology Online
Why choose JCU Online's Graduate Certificate of Psychology?
The JCU Online Graduate Certificate of Psychology is a contemporary and hands-on qualification designed for the future. You will develop professional skills, learn about emerging trends in psychology and study a range of contemporary subjects.
A way forward in human-centred professions
Advance your career in industries such as teaching, human resources, marketing, counselling, social work, or consulting.
A course for passionate inquirers
Build your knowledge and skills while gaining a better understanding of the people around you and yourself.
A stepping stone to becoming a registered psychologist
This qualification can also be a pathway to studying the Graduate Diploma of Psychology (Bridging) and to becoming a registered psychologist.
Entry criteria
To be eligible to enrol in the online Graduate Certificate of Psychology, applicants must have:
Completed a minimum of an AQF Level 7 Bachelor qualification in any field other than Psychology at this or another University.

Applicants of non-English speaking backgrounds must meet the English language proficiency requirements of Band 1– Schedule II of the JCU Admissions Policy.
Any questions about the above entry requirements for the online Graduate Certificate of Psychology? Feel free to speak to one of our Enrolment Advisors.
You will study four subjects unique to the Graduate Certificate of Psychology at JCU Online. These subjects align to the UN Sustainable Development Goals as well as current and emerging global health challenges in a technology-enabled society.
To find out which subjects will be available in the upcoming study periods or to learn more about the course, download a course guide.
Download a course guide to learn more.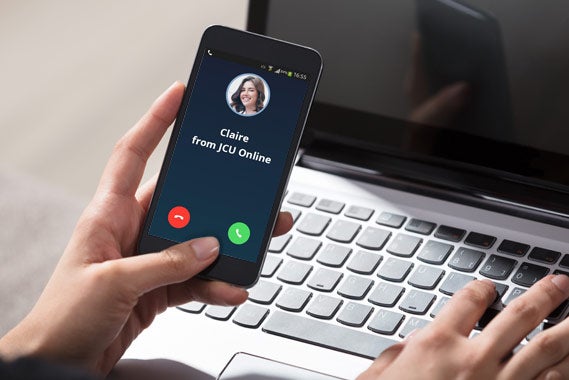 Personalised support for your success
JCU Online's Graduate Certificate of Psychology has been designed to provide the best possible learning experience for students. You will have access to one-on-one support from a dedicated Success Advisor. They will be there from commencement right throughout your studies, keeping you motivated and on track to achieve your goals.
To help you learn more effectively and efficiently, you will also have access to live interactive sessions with your tutors and classmates – wherever you are.
JCU's innovative and interactive learning environment, with video, audio, discussion boards, chat forums and practical authentic assessments, is smart, effective online learning.
Want to apply or need help with a specific question?
Contact us or request a call-back to discuss:
Entry Requirements
Courses Available
Fees/FEE-HELP
Study Period Options
Online Study Model
Application Assistance
Enrolment Advisors are available to chat via phone at the following times:
Monday and Tuesday: 8am - 6pm (AEST)
Wednesday and Thursday: 8am - 7pm (AEST)
Friday: 8am - 5pm (AEST)
Speak to a Student Enrolment Advisor
Request a call-back from a Student Enrolment Advisor
Or call us on 1300 535 919