Graduate Certificate of Nursing Online
Why Nursing at JCU?
James Cook University's online Graduate Certificate of Nursing will give you the boost you need to achieve your professional goals in today's fast-paced healthcare system.
100% online & part-time
Fast-track your career with flexible study you can balance around your life. Study one subject at a time and complete your degree in as little as eight months part-time.
Choose your career pathway
Choose to specialise in either advanced practice, education or leadership and management. Have the opportunity to continue your studies and gain a master's degree with a double major.
Ranked in the top 25 universities in Australia
JCU is in the top 25 Australian universities in the 2022 THE World University Rankings. You'll study and connect with industry leaders, specialists and experienced nurse academics.
Program Highlights
Choose from three in-demand specialisations.
 Transform your practice and improve your clinical skillset.
 Develop key skills to help you succeed in clinical contexts.
 Fast-track your career with 100% online study.
 Be supported by a dedicated Student Success Advisor.
 Begin the pathway to a master degree.
DOWNLOAD COURSE GUIDE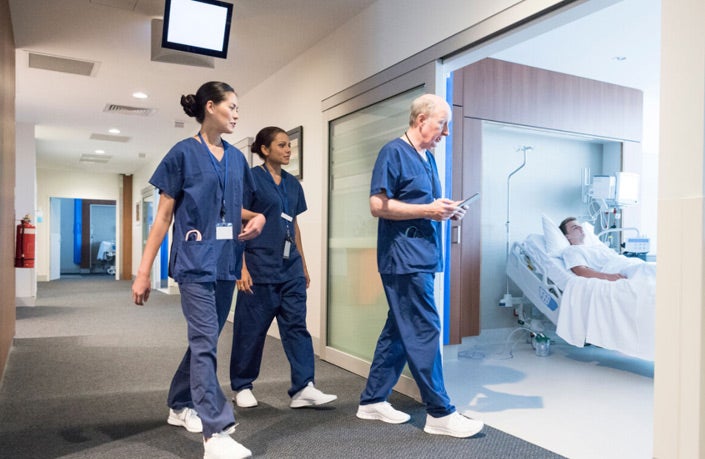 Make Your Mark on Nursing
Want to make your mark on nursing? JCU's online Graduate Certificate of Nursing will help prepare you for the healthcare system of tomorrow.
Australia's healthcare landscape is changing. Governments, industry and healthcare providers are working smarter to meet rising costs coupled with the increasing demand on our health system.
You'll develop advanced knowledge and specialist skills in your chosen nursing field. You'll be able to take on nursing leadership roles in your area of practice, receive increased professional recognition and boost your potential to seize new opportunities in your nursing career.
What you will study
To complete your online Graduate Certificate of Nursing, choose from one of three majors: Leadership and Management, Education or Advanced Practice, so you can shape your study to suit your own career path.
JCU offers subjects from Ethics and Health Management to Clinical Coaching, so you can focus on areas that will help put you on your best career path.
Want more details about these subjects? Find out more from our course guide.
*Duration dependent on individual study path and subject availability. Please speak to an Enrolment Advisor for more information.
Leadership and Management major
Choose from 1 of 3 principle specialisations
Advanced Practice: Giving you the skills you need to deliver advanced patient care
Leadership and Management: Giving you the confidence and knowledge to embrace leadership or management positions in healthcare, or
Education: Giving you the ability to take on educational practice roles in clinical or non-clinical environments.
You may also choose to continue your studies and gain a master's degree with a double major.
Entry Requirements
Recognition of Prior Learning
Learning Outcomes
Career Outcomes
Inherent Requirements
Nested qualifications: Early entry exit options
JCU's Graduate Certificate of Nursing is a pathway towards obtaining a master degree. After completing your graduate certificate, you can continue your studies and gain a Graduate Diploma of Nursing and a Master of Nursing. Get in touch with an Enrolment Advisor to find out more.
Your personalised Enrolment Advisor
The role of an Enrolment Advisor is to ensure that you have all the resources and academic support needed to be successful in your studies.
Enrolments Advisors are here to help you with:
Determining your eligibility for the course.
Understanding the structure of your course and what you can expect to learn.
Time management strategies for success.
How to apply for financial assistance and FEE-HELP.
Any questions you have about your application.
Contact hours for your Enrolment Advisor 
Monday and Tuesday: 8am-6pm (AEST)
Wednesday and Thursday: 8am-7pm (AEST)
Friday: 8am - 5pm (AEST)
You might also be interested in:
Frequently Asked Questions
What is the difference between a Graduate Certificate of Nursing and a Master of Nursing?
A Graduate Certificate of Nursing comprises four subjects and can be completed in as little as eight months, while a Master of Nursing comprises 12 subjects and can be completed in 24 months. A master degree is a more advanced qualification. The Graduate Certificate of Nursing can be a pathway towards completing a master degree.
Is the program self paced?
This degree is 100% online meaning you can study when and where it suits you. Our flexible online structure means you can study one subject at a time over a 7 week period and all resource material is accessible 24/7 on our online learning platform.
How much does it cost to complete the Graduate Certificate in Nursing?
JCU Online's Graduate Certificate of Nursing comprises four subjects and costs $2,905 per subject. FEE-HELP is available for eligible students.
What is FEE-HELP?
FEE-HELP is a government loan scheme that can help eligible students to pay for all or part of their postgraduate tuition. You can find more information on our Fees page, or reach out to our Enrolment Advisors on 1300 535 919.
How do I apply for the Graduate Certificate of Nursing?
First, call us at 1300 535 919 or email learn@online.jcu.edu.au. You will be connected with one of our Student Enrolment Advisors who will discuss your career goals, answer any questions and help you select the right course, ensuring your application experience is as smooth as possible. Next, you will need to gather your documents – this may include transcripts, certificates, advanced standing documents (if applicable) and proof of English language skills (if applicable). Your Student Enrolment Advisor will help guide you and make sure you have the correct documents. Once you have all the necessary documents, you can apply online.
Ready to get started?
Download a course guide
For more detailed and up-to-date information about your degree, including:
Information about the course
Course duration
Fees
Course descriptions
What to expect from the course
Download course guide
Speak with an Enrolment Advisor
Investing in the right course for you is important to us and we're here to help. Simply request a call back and will assist you with:
Entry requirements
Choosing right course
How to apply and enrol
How online study works
Course duration and fees
Enquire Now