Why Nursing at JCU?
JCU Online's Master of Nursing gives you the qualifications and skills you need to evolve your career as fast as healthcare itself is changing.
100% online & part-time
Fast-track your career with flexible study you can balance around your life. Study one subject at a time and complete your degree in as little as two years part-time.
Choose your career pathway
Choose to specialise in either advanced practice, education or leadership and management, or combine two and graduate with a double major.
One of Australia's Top 10 Nursing Schools
JCU is one of the top 10 nurse educators in Australia. You'll study and connect with industry leaders, specialists and experienced nurse academics.
Program Highlights
Transform your practice and improve your clinical skillset.

Choose from three in-demand specialisations.

Develop key skills to help you succeed in clinical contexts.

Understand the latest in healthcare informatics.

Designed by passionate nursing professionals.

Fast-track your career with 100% online study.

Be supported by a dedicated Student Success Advisor.
DOWNLOAD COURSE GUIDE
Master of Nursing Overview
Become a leader in the nursing industry
With a rapidly ageing population, changes in technology, changes in management demands, and the evolution of nursing knowledge and practice, there are growing opportunities for qualified senior nurses and nurse leaders in Australia.
JCU Online's Master of Nursing gives you the qualifications and skills you need to evolve your career as fast as healthcare itself is changing. It will allow you to take on more complex roles and deliver better patient care.
What you will study
The JCU Online's Master of Nursing gives you the preparation you'll need to shine at the next level in your career – advanced communication skills, data management skills, governance knowledge, informatics, and the ability to design and implement evidence into practice. We equip you with the knowledge, proficiency, competency and expertise to succeed in your chosen specialisation.
These core skills were specifically incorporated to ensure all graduates leave the course ready to take on the challenges presented by a changing healthcare landscape. You'll also be able to choose one of three majors:
Leadership and Management major
Education major
Advanced Practice major
Want more details about these subjects? Find out more from our course guide.
*Duration dependent on individual study path and subject availability. Please speak to an Enrolment Advisor for more information.
Leadership and Management major
Choose from 1 of 3 principle specialisations or a double major
Advanced Practice: Giving you the skills you need to deliver advanced patient care
Leadership and Management: Giving you the confidence and knowledge to embrace leadership or management positions in healthcare, or
Education: Giving you the ability to take on educational practice roles in clinical or non-clinical environments.
You may also choose to combine two of these specialisations and graduate with a double major.
Entry Requirements
Recognition of Prior Learning
Learning Outcomes
Career Outcomes
Nested qualifications: Early entry exit options
You can also build towards your master's degree through flexible entry and exit points and 'qualify as you go' through our nested qualifications. As you study your Master of Nursing, you will gain your Graduate Certificate and Graduate Diploma of Nursing. If you need to finish your study early, you may still qualify for a Graduate Certificate or Graduate Diploma. Get in touch with an Enrolment Advisor to find out more.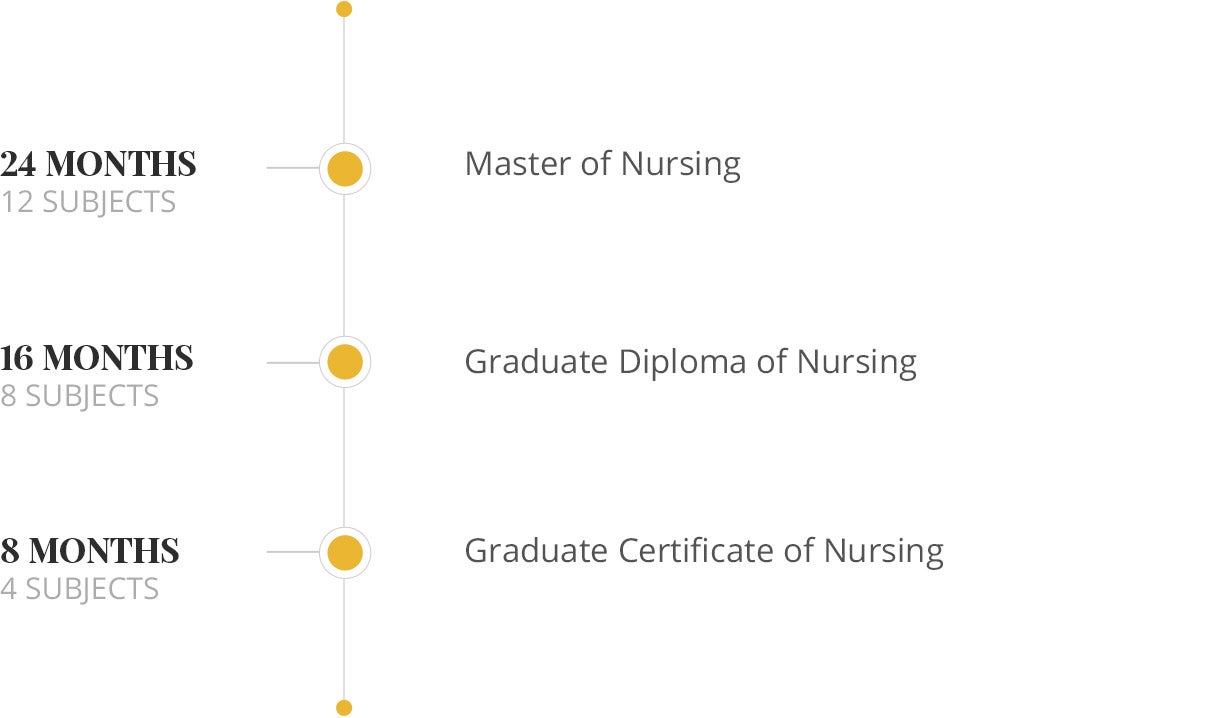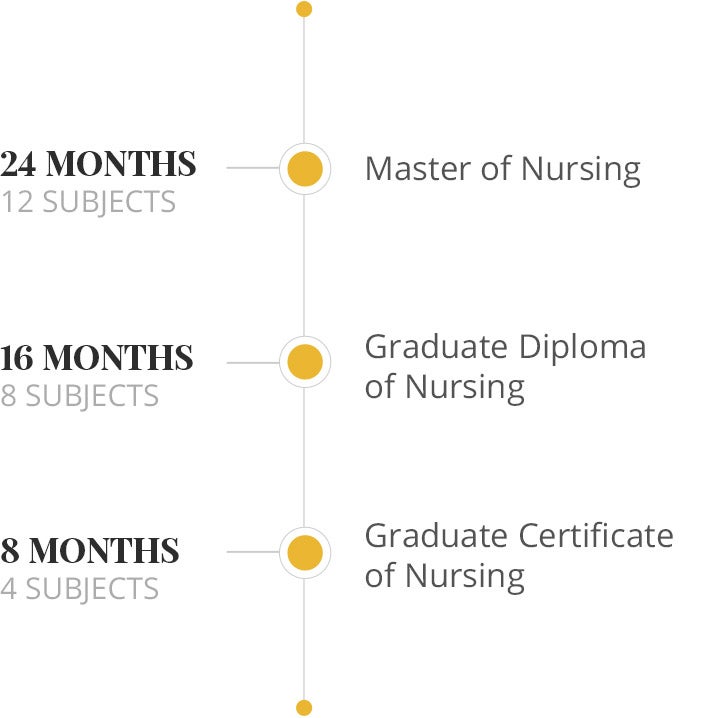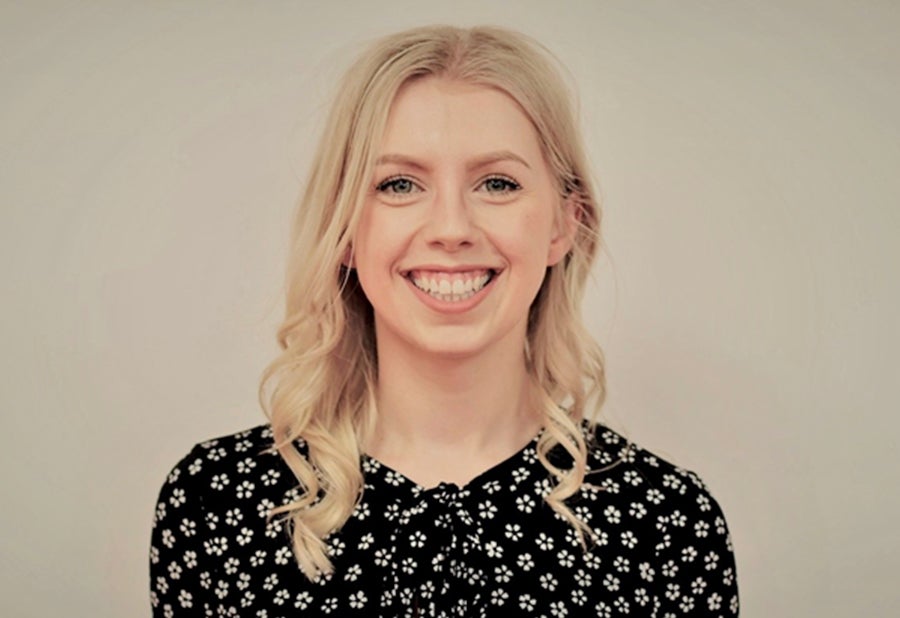 Your personalised Enrolment Advisor
The role of an Enrolment Advisor is to ensure that you have all the resources and academic support needed to be successful in your studies.
Enrolments Advisors are here to help you with:
Determining your eligibility for the course.
Understanding the structure of your course and what you can expect to learn.
Time management strategies for success.
How to apply for financial assistance and FEE-HELP.
Any questions you have about your application.
Contact hours for your Enrolment Advisor 
Monday and Tuesday: 8am-6pm (AEST)
Wednesday and Thursday: 8am-7pm (AEST)
Friday: 8am - 5pm (AEST)
You might also be interested in:
Ready to get started?
Download a course guide
For more detailed and up-to-date information about your degree, including:
Information about the course
Course duration
Fees
Course descriptions
What to expect from the course
Download course guide
Speak with an Enrolment Advisor
Investing in the right course for you is important to us and we're here to help. Simply request a call back and will assist you with:
Entry requirements
Choosing right course
How to apply and enrol
How online study works
Course duration and fees
Enquire Now
Frequently Asked Questions
Who should study a Master of Nursing?
JCU Online's Master of Nursing is for registered nurses who are ready to take the next step in their career. It is a great option for nurses who want to gain specialist skills and gain more career opportunities. You can choose to specialise in Leadership and Management, Advanced Practice or Education, so you can tailor your education to suit your goals and interests.
How long does it take to complete the Master of Nursing?
JCU Online's Master of Nursing can be completed in as little as two years part-time. You will study one subject at a time over each seven-week study period. There are six study periods per year, allowing you to complete more subjects per year and graduate sooner than you would in traditional part-time study.
How much does the Master of Nursing cost?
JCU Online's Master of Nursing costs $2,850 per subject and $34,200 for all 12 subjects.FEE-HELP is available for eligible students.
I want to be a nurse practitioner, is this the right course for me? Can I get credits towards nurse practitioner with this course?
No, our Master of Nursing is not suitable for registered nurses wanting to become Nurse Practitioners. Some JCU Online students may be able to leverage their specialisation in Advanced Practice in order to gain entry to a Nurse Practitioner course with another institution.
I am a trained nurse, can I do this course?
Yes. To gain entry to our Master of Nursing, you are required have a Bachelor of Nursing (or equivalent) as well as registration as a Registered Nurse (Division 1) or Registered Midwife with the Australian Health Practitioner Regulation Agency and minimum one year of full-time clinical experience, or part-time equivalent. See our Entry Requirements above for more information.
I am actively registered overseas, Can I still apply? Will this course transfer my registration over to Australia?
Yes, international students are encouraged to apply provided they meet the entry requirements for this course. However, our Master of Nursing will not allow you to become a registered nurse in Australia. In order to do that, you would need to complete an APHRA-approved bridging course.
Does this course contribute to my CPD?
Yes, registered nurses can leverage the Master of Nursing as part of their required Continuing Personal Development.