Get ahead with JCU Online's Master of Nursing
Demand for senior, qualified and specialist nurses and nurse leaders over the next two decades is expected to outstrip supply.
A Master of Nursing from James Cook University Online can give you the skills to function in advanced roles more effectively.
The course gives you specialist skills and will broaden your experience in other areas like persuasive communication and data management to provide a more rounded qualification.
Read more about our nursing academics here.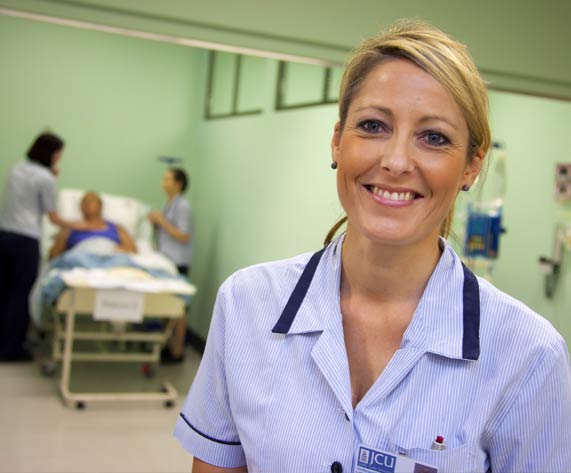 Entry criteria
To be eligible to enrol in the online Master of Nursing, applicants must have:
Completed an AQF Level 7 Bachelor of Nursing, or equivalent qualification, and;
Registration as a Registered Nurse (Division 1) or Registered Midwife with the Australian Health Practitioner Regulation Agency (AHPRA) or equivalent registration with the relevant registering authority for applicants outside of Australia;
Completed a minimum of one year of full-time clinical experience, or the part-time equivalent, as a registered nurse or midwife.
Applicants of non-English speaking backgrounds must meet the English language proficiency requirements of Band 3a – Schedule II of the JCU Admissions Policy.
Not sure if you meet these entry criteria? Our Enrolment Advisors can assist you.



The JCU Online's Master of Nursing gives you the preparation you'll need to shine at the next level in your career – advanced communication skills, data management skills, governance knowledge, informatics, and the ability to design and implement evidence into practice. We equip you with the knowledge, proficiency, competency and expertise to succeed in your chosen specialisation. 
These core skills were specifically incorporated to ensure all graduates leave the course ready to take on the challenges presented by a changing healthcare landscape.
You'll also be able to choose one of three majors:
Leadership and Management major: Progress into middle and senior nursing management roles and gain a broad range of expertise to lead in any healthcare context. Units of study include ethical leading and managing people, dispute and conflict management, and finance and budgeting. This major is an excellent choice for nurses looking to progress their career in leadership and management. Leadership and Management major video to learn more. 
Education major: Combine your hard-earned clinical expertise with advanced and specialist nurse educator skills. You will develop your skills and become a competent and proficient nurse educator in any setting. The course gives you the foundational knowledge of adult education theories as they apply in the clinical context and beyond, as well as contemporary tools you'll need to be responsible and effective in your role educating patients and colleagues. Learn more about the Education major from Dr John Smithson in this video.
Advanced Practice major: Upskill in your clinical role and gain a deeper understanding and broader skill set in clinical practice. You will enhance your proficiency and confidence to deliver advanced patient care with specialist skills in health assessment, diagnostic reasoning and quality use of medicines. Some examples of environments this major will give you an advantage in include tertiary level hospitals, regional hospitals, rural and remote area nursing, corrective services, defence health, and general practice. Learn more by watching the Advanced Practice major video.
Want more details about these subjects? Find out more from our course guide.
Finding it hard to choose between the three majors? At James Cook University you can combine two majors; the perfect choice for those looking to advance their careers while combining different interests.
Careers in leadership and management 
Some leadership and management positions include Nurse Unit Manager, Director of Nursing or an Executive Director of Nursing.
Careers in nursing education 
Education roles include nurse educator, clinical nursing preceptor or coach, or an educator in higher education.
Careers in advanced practice nursing 
Advanced practice nurses work in a variety of roles, some of which may include clinical nurse specialist, clinical nurse consultant and advanced practice nurse.
The online Master of Nursing core subjects provide graduates with a well-rounded experience, with learning outcomes that focus on: 
Advanced communication skills: Integral to every aspect of nursing 
Research interpretation: Effectively evaluate the quality of nursing research to make effective decisions about the application of research to clinical practice
Contributing to the nursing knowledge base: Understand research methods, and gain hands-on experience to contribute to this nursing knowledge base 
Career development: Equipping nurses with the knowledge and capabilities needed to take ownership over their career development 
Assessment includes a combination of completed coursework and assignments.
The JCU Master of Nursing comprises subjects which also form part of the Graduate Certificate and Graduate Diploma of Nursing.
Should you choose not to complete the course in its entirety, the structure of the course lets you use the work you've done to gain an alternative postgraduate qualification.
Recognition of Prior Learning
If you have previously studied related subjects, experienced on-the-job training, or gained skills that are relevant to this course, you may be eligible to receive credits towards your Master of Nursing, cutting the overall time it could take to complete your degree.
Personalised support for your success
JCU Online's Master of Nursing has been designed to provide the best possible learning experience for students. You'll have access to one-on-one support from a dedicated Success Advisor. They will be there from commencement right throughout your studies, keeping you motivated and on track to achieve your goals.
To help you learn more effectively and efficiently, you'll also have access to live interactive sessions with your tutors and classmates – wherever you are.
JCU's innovative and interactive learning environment, with video, audio, discussion boards, chat forums and practical authentic assessments, is smart, effective online learning.
Want to apply or need help with a specific question?
Contact us or request a call-back to discuss:
Entry Requirements
Courses Available
Fees/FEE-HELP
Study Period Options
Online Study Model
Application Assistance
Enrolment Advisors are available to chat via phone at the following times:
Monday and Tuesday: 8am - 6pm (AEST)
Wednesday and Thursday: 8am - 7pm (AEST)
Friday: 8am - 5pm (AEST)
Speak to a Student Enrolment Advisor
Request a call-back from a Student Enrolment Advisor
Or call us on 1300 535 919