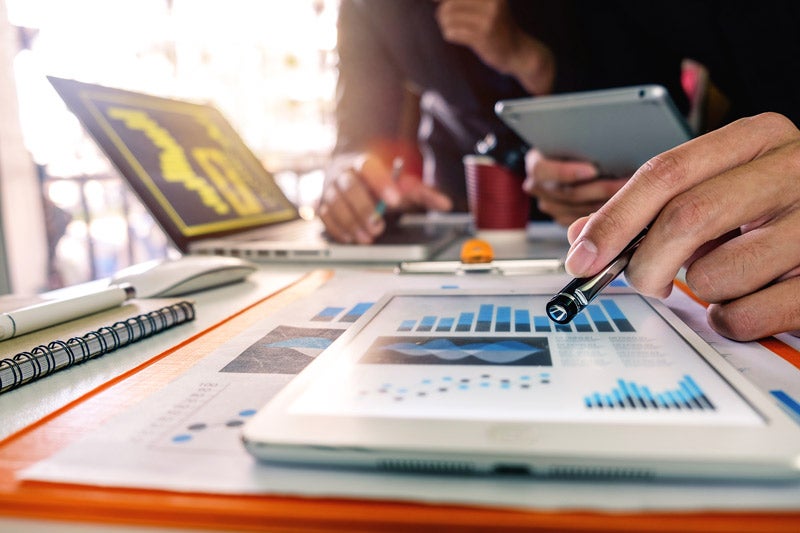 Using the power of data analytics to unlock better insights into your customer base can revolutionise a business. This is why business leaders agree that understanding the power of data and insights is increasingly important in today's fast-paced, global business landscape.
Why is data important?
Data can help your business personalise the customer experience. You can create more targeted marketing campaigns, improve customer loyalty, and also help your business understand which activities and campaigns are the most effective.
Business leaders with the skills can use data to build better relationships with existing customers. Customers who have shared their data with you are more likely to be a repeat customer, and with the right skills, business leaders can drive repeat spend with your business.  
Even simple things, like making your website work harder for your business, comes down to unlocking the power of data. Using Google Analytics to tweak and drive web user behaviour and successfully convert a higher percentage of browsers into spenders with your business can radically improve the bottom line over time.
A need for better data analysis
Research has found that big data budgets are now rivalling CRM software spend in Australia.
Australian enterprises are boosting their big data analytics capability by investing in more tools and services to transform business processes and create new products and services.
The Telsyte Australian Big Data & Analytics Market Survey 2017 reveals the demand for high volume data processing and real-time intelligence is growing strongly as organisations struggle to keep up with an explosion of data.
The report also found that budgets are increasing and the intention to use big data analytics is high across a range of applications such as financial modelling, customer interaction, security and fraud detection, retail sales, ecommerce and machine-to-machine infrastructure.
"Just collecting and processing data is half the story. Australian business leaders must use real-time analytics to gain business value from data and transform their decision-making from reactive to proactive," Telsyte senior analyst, Rodney Gedda says.
In addition to the multinational options, the report says there are a number of Australian players offering big data analytics such as Contexti, EnginerRoom and YellowFin. But knowing how to use data to make sustainable, evidence-based strategic decisions in your business or organisation is a skill in itself.
Know how to make better data-based decisions
The growing desire to better utilise big data is driving an increase in applications for and interest in a Master of Business Administration degree, according to James Cook University. Whether the MBA is studied online or in a classroom setting, the skills taught in this course help leaders to position themselves and their businesses to be powerful players into the future.
James Cook University can help business leaders understand complex global markets to inform business practice, and show you how to leverage data to make sustainable and strategic decisions. Highly respected and experienced teaching staff will also help you evolve into a more efficient, responsible leader with core management skills
Contact our Enrolment team on 1300 535 919 to discover how an MBA Global from James Cook University can help you adapt and thrive in evolving business environments.