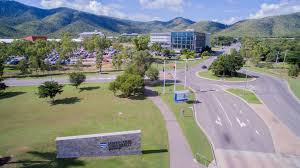 In an Australian first, James Cook University is taking a new direction with its online data science course delivery. JCU is partnering with leading data science leader and analytic software provider SAS® to offer its Master of Data Science program with SAS advanced analytics modules.

This latest addition to JCU's master's program provides students with the opportunity to become members of the SAS Academy of Data Science and achieve a joint industry certification with JCU as part of the course. It is the first fully online Master of Data Science with a direct industry certification aspect in Australia.
Graduate data scientists will also be able to develop insights for government and industry from the reams of information found in new databases they will create and/or existing databases that they will analyse.
Meeting future job growth and demand
'The demand for data scientists has exploded over the past five years. JCU's Head of Physical Sciences in the College of Science and Engineering, Professor Ron White, said data science is one of the world's fastest growing professions. He said:
"The huge shortage of qualified professionals is pushing up salaries, with many top-level data scientists commanding salaries of more than $200,000. A recent survey found that the median salary pocketed by analytics professionals in Australia in 2016 was $130,000." 
David Bowie, Vice President of SAS Australia and New Zealand, said JCU is amongst more than 4,000 institutions worldwide that partner with SAS to address this growing, critical need.
"The world is facing a serious shortage of qualified data scientists and Australia is not immune. As increasing numbers of businesses and other organisations adopt advanced analytics, including artificial intelligence and deep learning to further their aims, graduates with these JCU and SAS certifications will find themselves in ever-increasing demand," he said.
Dr Neil Fraser, JCU Lecturer in Data Science, said over the past five to ten years, data science has become part of core business strategy and new business development opportunities for companies.
"Trained graduate-level data scientists support the development of new business with ideas and statistical learning models that can give an uncontestable advantage for companies over their competitors. As a result, businesses are now recruiting data science teams," he said.
What does this mean for graduates?
The joint initiative will also help graduates and industry-experienced professionals further their education with a relevant qualification.
"It will allow them to experience various new datatypes, amazing new datasets, advanced algorithms, emerging modelling programs, database technologies and data management practices.' Dr Fraser says.
"SAS is a good partner for us as it has a long history as a corporate leader in environmental sustainability, corporate social responsibility and sustainable practices at all its headquarters around the world.  This is aligned to James Cook University's own program around sustainability in action".
More about SAS
This joint agreement will also help prepare students for the following SAS certification to become a SAS® Certified Big Data Professional Using SAS®9.
Specifically, it will cover the main topics for the following SAS certification exams:
Students can sit these SAS exams for additional certification and these are external to the JCU program and at the student's own expense.
---

More details can be found here based around the SAS Academy of Data Sciences