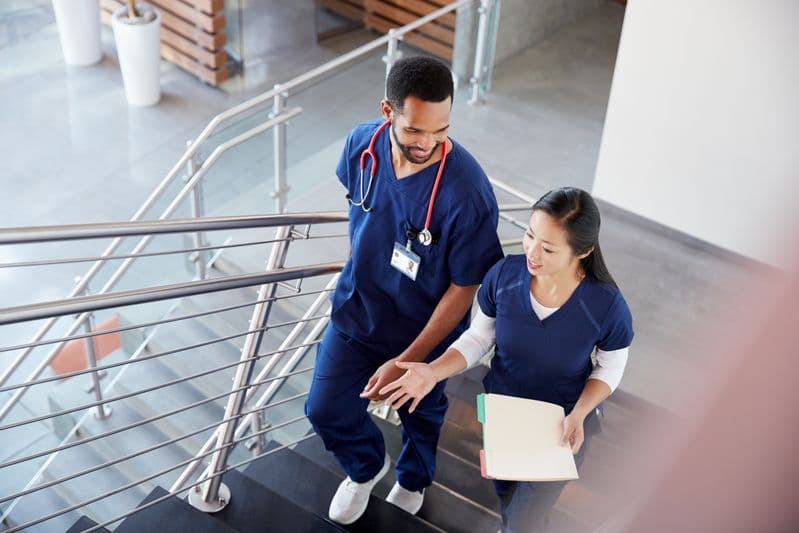 Long before COVID-19 arrived, the World Health Organisation declared 2020 the International Year of the Nurse and the Midwife. However, the pandemic highlighted how much communities around the world rely on the skills and expertise of nurses.
As a Registered Nurse or Midwife, you apply your qualifications and experience in challenging environments on a daily basis. With a postgraduate nursing degree, you can supercharge those abilities for better patient outcomes and improved nursing and midwifery career opportunities.
Recent figures show that, of 260,000 qualified midwives in Australia, only around 12,000 have a master's degree in their field. When it comes to job applications, up to two-thirds of applicants for nursing jobs are considered unsuitable.
Let's take a look at how you can improve your career options and explore some of the nursing opportunities and specialties available to you with a Master of Nursing.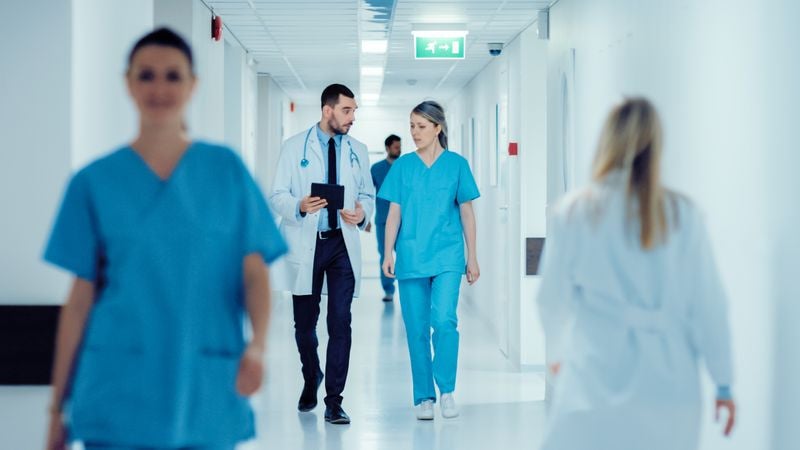 Pursue leadership in your nursing career
Strong leaders are important in any industry, but in nursing, they're crucial.
"If you have a desire to innovate and cultivate equitable healthcare services focussed on improving people's lives, then this is the major for you."
Here's how you could apply your postgraduate nursing course with a Leadership and Management specialisation.
Nurse Unit Manager
Like most of us, Nurse Unit Managers had to quickly adapt to a new normal during the pandemic. For Paula Williams, nursing unit manager at RPA's COVID-19 clinic, that meant training staff without conventional medical experience – such as former airline employees.
"People will come in with their own ideas and their own models that they've used outside, and often they have ideas that are amazing," says Williams.
Nurse Unit Managers can find themselves leading health service units in hospitals, aged care facilities and community health services.
Across Australia, the number of Nurse Unit Manager roles is expected to grow by 23.1 per cent to a projected 22,600 by 2026. That's 4,400 new jobs in five years.
Nurse Unit Managers can expect an average wage of $120,000 to $135,000.
Director of Nursing
This nursing leadership role focuses on managing the policies, processes and programs that ensure the highest standards of nursing care. In addition to maintaining a skilled workforce, the Director of Nursing contributes to high-level planning for health services.
The seniority of this role means fewer Director of Nursing jobs are available in Australia than Nursing Unit Manager positions, but Seek predicts 23.1 per cent job growth over the next five years.
Almost half of all Directors of Nursing have a postgraduate degree, and the majority are over 50 years of age.
Nurse Unit Managers often transition to Assistant Director of Nursing before taking on the role of Director of Nursing. And it's not uncommon for Directors of Nursing to move up to Executive Director of Nursing, General Manager or CEO.
Directors of Nursing can expect an average wage of $140,000.
Upskill for a career as a nurse educator
The nursing profession has a proud tradition of upskilling and continuous learning. It usually begins on day one with the preceptor/preceptee relationship.
This formalised mentorship program takes many forms but has one goal – to provide professional and emotional support to graduate nurses.
"As a preceptor, it's my responsibility to help guide, direct and assess nursing students and new staff members with their clinical practice," explains Jennifer Hally from the intensive care unit at St Vincent's in Sydney.
Hally became a preceptor to acknowledge experienced nurses who supported her so warmly when she began her career.
"We believe the best educators aren't born, they're made... Nurse educators and clinical coaches can make a difference every day to inspire the next generation of nurses and midwives. They can also provide high-quality education to patients and healthcare consumers through their understanding of education theory and practice," says Anita Dunn, Manager of JCU's Master of Nursing Education major.
Here's how you could apply your postgraduate nursing course with an Education specialisation.
Clinical Nursing Coach
Whether it's supporting a nursing student, advising a patient or providing feedback to senior staff, nurses are no strangers to educating others.
"Regardless of where they work, all nurses and midwives are educators," says Dunn.
A Clinical Nursing Coach provides educational interventions at the point of care. They have a person-centred philosophy and use coaching processes such as mantras, facilitation skills and adult learning strategies to help patients achieve their health goals.
JCU's Master of Nursing provides you with strategies to enhance learning opportunities in the clinical setting while managing challenging situations – the perfect recipe for succeeding in this relatively new role.
Nurse Educator in Higher Education
Emeritus Professor Steven Schwartz AM highlights five trends affecting nursing education:
An ageing population and the burden of disease
Increasing incidence and prevalence of mental health problems
The complexity of patient care and the need for interdisciplinary teams
Internationalisation
The explosive growth in technology.
Designing, planning, implementing and evaluating educational nursing programs that address all these trends is no mean feat. For this reason, many of Australia's nurse educators hold a postgraduate degree.
It also takes a great deal of practical nursing experience in direct patient care to effectively train the next generation of nurses.
Become a specialist in advanced practice
The combination of a postgraduate qualification and work experience can lead to highly specialist roles such as pain management nurse, mental health nurse or operating theatre nurse.
"If you're seeking education to advance your clinical skills and deliver quality care, the Advanced Practice major is here for you," explains Dr Clare Fenwick, Manager of JCU's Master of Nursing Advanced Practice major.
Here's how to apply your postgraduate nursing course with an Advanced Practice specialisation.
Clinical Nurse Specialist
At the height of Victoria's major COVID-19 lockdown, Abbey from Royal Melbourne Hospital brought clinical nurse specialists into the spotlight with a heartfelt video message from critical care nurses. Still wearing her PPE, Abbey implored the public to stay home, wear a mask and wash their hands.
Behaving as a positive role model is an essential criterion for clinical nurse specialists, according to the Australian Nursing and Midwifery Federation . They should also have high-level skills in clinical decision-making and undertake their own planned professional development.
The average take home pay for Clinical Nurse Specialists is $105,000 per year, and the Australian Government projects the role will grow by 13.9 per cent over the next five years.
Advanced Practice Nurse
There's often some confusion between the terms "advanced practice nurse" and "nurse practitioner," especially when they refer to the same person. The Nursing and Midwifery Board of Australia (NMBA) clarifies the distinction as follows:
Advanced practice in nursing is demonstrated by a level of practice and not by a job title or level of remuneration. The role incorporates leadership, education, research, systems support and managing those with complex health issues. Endorsement as an advanced practice nurse requires 5,000 hours of clinically-based practice within six years.
A nurse practitioner is a Registered Nurse endorsed as a nurse practitioner by the NMBA.
Dr Fenwick notes, "Advancing clinical practice develops with exposure to an individual's response to disease and illness, and by engaging in specialised education."
Andrew McCallum is both an advanced practice nurse and a nurse practitioner in Camooweal, Queensland. He's also the Director of Nursing in a rural region where the Royal Flying Doctors Service provides primary GP services.
With health issues such as kidney disease and diabetes in the community, McCallum's expertise delivers better outcomes for the community.
"We can manage locally and then, once you start getting beyond that scope of practice, I would consult directly with a renal physician or a kidney specialist," explains McCallum.
How a Master of Nursing can advance your nursing career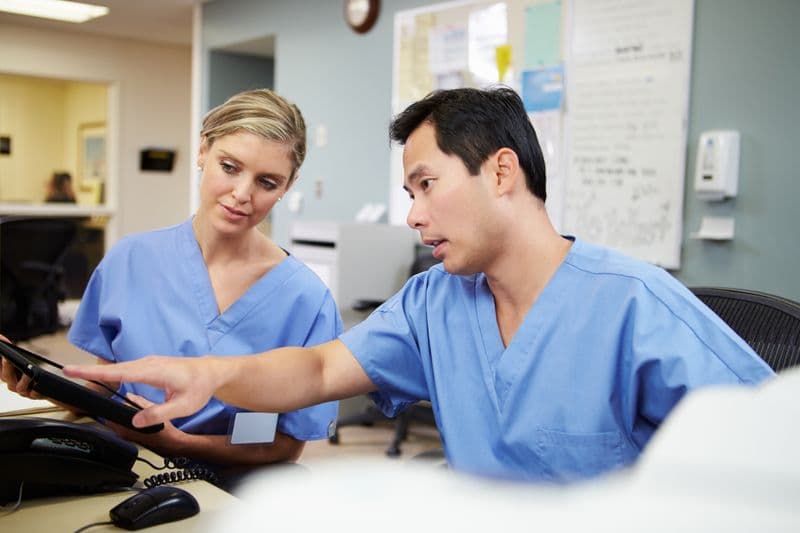 Have you considered where nursing can take you? It's never too early to start planning the next step in your own career pathway. Adding to your qualifications can equip you with the essential knowledge and skills to advance your career, from the ward to the board.
Here are three career goals you can achieve with a postgraduate nursing degree:
Career longevity
Nursing is physically, mentally and emotionally demanding, especially in clinical settings. Many registered nurses work shift hours in stressful and fast-paced environments, which can lead to burnout, anxiety and depression. 
The demands of this type of environment may not be for everyone. A postgraduate degree can help you increase your years in nursing, steering you towards a rewarding experience in leadership or a management role, working regular daytime hours within either the clinical environment or in education, research or policy development. Most importantly, it will reignite your passion for nursing, elevating you to pursue your dream career.
Enjoy more autonomy at work
Gaining more autonomy in your practice can mean the difference between stagnating and excelling in your career. Control over your own nursing practice is linked to better work satisfaction and the quality and safety of patient outcomes.
With a postgraduate degree, nurses can use knowledge and clinical judgement gleaned from their specialised experience and educational qualifications to provide nursing care within the full scope of their practice – and deliver optimum patient care. Nurses with postgraduate qualifications also receive increased professional respect, status and recognition and have the power to shape departmental and organisational policies and practices around nursing care.
Achieve leadership or management roles
Want to lead, drive change and inspire your nursing colleagues? Leaders and managers require personal qualities such as integrity, initiative and courage. They're role models who seize career opportunities when they come their way. But it takes more than that to take the helm in nursing.
A postgraduate nursing degree arms you with the right knowledge and skills to advocate for patients and your fellow nurses or champion a better future for the health system. A postgraduate degree also gives you the confidence to step outside your comfort zone – whether putting your hand up for positions on associations, boards and committees or putting yourself forward for a new, exciting role.
Specialise and find your niche
No two nursing careers are the same, which is why JCU's Master of Nursing offers you three areas of specialisation. You can choose from our specialisations: 
Leadership and Management
Education 
Advanced Practice
You can even take your qualification one step further and combine two specialisations into a double major.
But what makes our world-class university stand out from our peers is our exceptional care and support for your studies. In addition to your tutors, you'll have a Student Success Advisor who will motivate you, help you navigate the course through to graduation and provide a supportive environment for learning.
"JCU surprised me with how much the teaching team was interested in my studies' success!" says Nursing graduate Bosco Ntuyenabo.
"The team was so supportive, kind, respectful and directed me to study resources with frequent advice. This was something I didn't see in my previous education providers."
Your nursing journey is just beginning
Nursing as a career is teeming with possibilities in today's health system. One day, you might be the Clinical Nursing Coach who teaches someone like yourself the ropes. Or maybe you'll move into a leadership role that lets you effect real change in the health industry.
Postgraduate studies in nursing aren't just about ticking boxes or climbing ladders. They're about equipping you with the tools you need to make a tangible difference in people's lives, whether that's through leadership, education, or specialised practice. And if you're fretting about juggling life, work, and studies, remember you're not alone. At JCU, you'll have a support network to help you navigate the adventure.
Whether you're changing careers, contemplating further studies or a seasoned professional looking for your next challenge, JCU Online's Master of Nursing can give you the professional boost you need.
Discover how JCU Online's Master of Nursing can take your career to the next level. Speak to one of our Student Enrolment Advisors today on 1300 535 919.
Get in touch with our Enrolment team on 1300 535 919