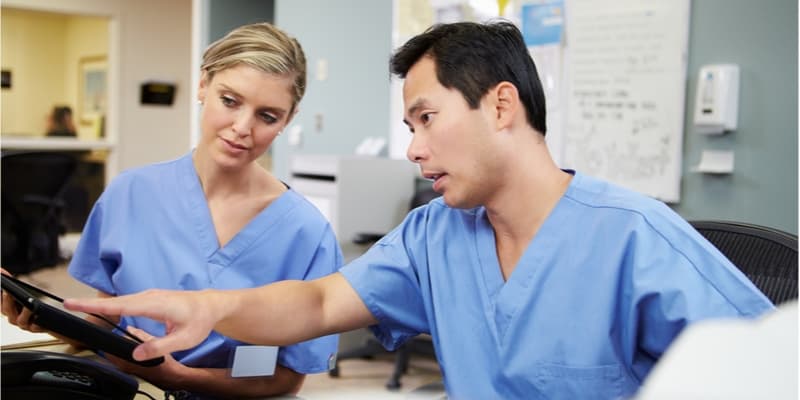 Like most sectors, Australia's healthcare system is in the midst of rapid change. Nurses at every stage of their career are navigating this change with a mix of excitement and anticipation. As new procedures and processes are introduced, existing practices are being relegated to the past. The result is a growing demand for qualified nurse leaders who can guide their colleagues through this evolution and ensure the best outcomes for patients.
Navigating new technologies
New technologies are transforming many professions and nursing is no exception. Data management is a case in point. Patient records are routinely stored electronically, but there are now many innovative ways to access and manage this data. A recent study by Deloitte Access Economics (with insights from James Cook University) details how new technologies are changing healthcare delivery, enabling real-time patient monitoring and analytics.
New technologies empower nurses to expand their tasks and capabilities. Mobile devices allow nurses to enter and source data on the move. Clever apps streamline communication between patients and carers, while 'telehealth' programs facilitate nursing care over vast distances.
New capabilities mean new responsibilities. According to a report by the Australian Commission on Safety and Quality in Healthcare, "strong leadership and governance should be evidenced by management that has a clear understanding of the anticipated beneficial outcomes of the digital health intervention. In addition, objectives should be closely aligned with the health service organisation's existing goals and strategic priorities."
Nurse leaders facilitate the training and education required to implement new technologies, providing guidance and encouragement to their colleagues throughout the process. As reported by CareerTrend, "effective nurse leaders create an environment that supports growth and gives nurses the time and resources they need to strengthen their competency."
Recognising trends in healthcare
The nursing profession makes up more than 50 per cent of the health workforce in Australia. At the forefront of patient care, nurses are the healthcare professionals with the most valuable insight into the changing needs of patients across all demographics. 
As a significant portion of Australia's population is ageing, so too is the number of patients with chronic disease. Additionally, the prevalence of mental illnesses continues to rise across all age groups. Healthcare costs are straining the public system, and we're seeing an increasing reliance on the private sector.
Each of these trends requires careful management by healthcare authorities and the industry as a whole. This is where nurse leaders are an invaluable resource, because they play such an active role in the development of research and advances in the delivery of healthcare.
Increasingly, the healthcare industry will look to nurse leaders to become specialists in diverse aspects of healthcare, allowing them to manage the long term care of their patients. This takes the nursing profession beyond hospitals and medical offices to aged care facilities, schools and correctional facilities. The demand for home health care services continues to rise while agency nursing is also growing in popularity.
In her bulletin for Hospital and Healthcare, former Chief Executive Officer of the Australian College of Nursing, Professor Debra Thoms noted, "There is an opportunity to draw on nurse leaders from around Australia; to gather their intelligence, unique expertise and motivation, to build a stronger health care system, ensuring it is wholly effective, efficient and responsive to the needs of all."​

Embracing new responsibilities
There are more than 400,000 registered nurses and midwives in Australia. This number rises every year, but so does the demand. In particular, senior nurse leaders continue to be highly sought after and valued for their role in motivating, steering and retaining the current nursing workforce.
"There'll be a demand for nurses who can provide complex care and manage complex situations whether that be clinical situations or managerial situations," says Dr John Smithson, Associate Professor and Head of Academic Group - Pharmacy at James Cook University (JCU).
Jane Cummings, former Chief Nursing Officer of Britain's NHS confirms this need is worldwide: "We are seeing more people and patients, with more complex and serious conditions than ever before. The challenge is to deliver consistent and improving high-quality care, despite this growing demand."
Qualifying as a registered nurse requires more units of formal education than it did two generations ago. The education process is longer and more comprehensive. Nurse leaders supervise student nurses during their education, allowing students to shadow their registered colleagues. While this helps manage the increasing demand for nursing services, it also places great responsibility on the nurse leader. 
Nurse leaders need to juggle the tasks involved in day-to-day patient care with managing the long-term, broader strategies of their workplace. This could translate to managing budgets and staff timetables in the morning and writing up new standards of care in the afternoon. Conflict resolution is a key responsibility, whether the issue is between staff members, or a member of the public and the healthcare provider.
Nurse leaders act as mentors, setting and supporting the professional development of all their staff – ensuring everyone feels valued. Leaders are responsible for setting the tone for the department and establishing a healthy workplace culture. In addition, senior nurses set goals for the department that are in line with the vision and objectives of higher management, while demonstrating active support for diversity and the highest ethical standards.
The Canadian Nurses Association (CNA) explains, "Nursing leadership is about innovative and visionary administrators who understand and hold themselves accountable for creating vibrant, exciting practice settings in which nurses can deliver safe, accessible, timely and high-quality care."
Nurse leaders must be proactive and look to the future. As the nursing profession embraces change, nurse leaders will be at the forefront of exciting new developments in the provision of healthcare in Australia.​
Are you ready to be a leader in the new era of healthcare? Discover how JCU Online's Master of Nursing can take your career to the next level. Speak to one of our Student Enrolment Advisors today on 1300 535 919.