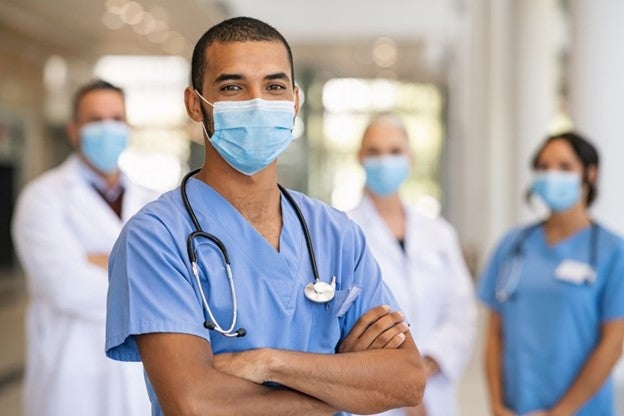 As Australia grapples with an aging population and a rise in chronic health conditions, the demand for nurses is surging like never before.
But this evolving landscape offers a range of opportunities. If you're a nursing pro—or aspiring to become one—there's a unique chance for you to reshape the Australian healthcare industry and dramatically improve patient care.
Let's dive into the challenges, opportunities and ever-changing dynamics of the nursing field in Australia.
What is the current demand for nurses in Australia?
The World Health Organisation (WHO) recently estimated a global shortfall of 10 million healthcare workers by 2030. According to the Committee for Economic Development of Australia (CEDA), the skills shortage in aged care itself could reach over 110,000 within the next decade and over 400,000 by 2050.
The Australian Government produces detailed statistics quarterly to monitor Australian healthcare recruitment and retention accurately. The latest figures from the Australian Health Practitioner Regulation Agency (Ahpra) show nurses make up almost 55 per cent of the nation's healthcare profession, with 453,515 registered nurses, including enrolled nurses and midwives.
Since 2019, there's been an 18 per cent surge in nurse registrations, translating to an average of 3,000 fresh faces entering healthcare every month. However, Australia is still experiencing a nursing shortage, particularly in aged care and regional or remote areas.
What trends are causing the rising demand for nurses in the Australian healthcare system?
While nursing is an essential pillar in healthcare, it's a field fraught with its own specific hurdles. Issues like staff deficiencies and wage disagreements have become more acute due to an aging employee base and escalating healthcare needs.
A changing technological landscape also creates pros and cons for nursing staff, requiring ongoing skill development and adaptability. Adding to these complexities, nurses commonly face extended work hours and significant emotional strain.
Some broader trends experienced across Australia are directly affecting an already strained nursing workforce, including:
Changing population demographics
Our population is ageing. In June 2020, one in six people (or 16 per cent of Australia's population) were aged 65 and over. By 2066, the Australian Government projects that people over 65 will make up to 23 per cent of our total population.
This includes many people suffering from chronic conditions, which comprise the greatest burden of disease (62 per cent) on Australians.
On average, we're living longer in full health, but the number of years we live in ill health is also increasing. This includes those suffering from mental illness, the second largest contributor (or 24 per cent) to Australia's chronic disease burden.
Mental health issues are also increasing in Australia. Five per cent (800,000) of Australians experience severe mental illness, requiring significant support from trained healthcare professionals.
These statistics obviously increase the demand for nurses who can step into areas of specialisation and greater responsibility, such as critical care, renal, aged care, mental health, and community nursing.
Increases in technology and innovation
Technological advances in healthcare (and shifts in public expectations around these changes) are drastically altering the nursing industry, alleviating some of the strain on nurses—or at least altering how they deliver care.
Self-monitoring systems allow patients to manage a significant portion of their care independently with minimal assistance from a nurse. Rehabilitation programs can now operate online, creating new opportunities for nursing and other healthcare professionals to cut workloads while achieving better outcomes for more patients.
Wearable technologies such as smartwatches and health trackers can monitor basic health parameters, transmitting data to medical staff in real time, and nurses can now enter patient data on-the-go via tablets and mobile technologies, reducing manual administrative work.
These time-saving devices remove some pressure from nursing staff, but they also require extra staff training to efficiently navigate both the technology and new ways of interacting with and providing care to patients.
Changes in nursing roles
If you're just starting your nursing training, you'll likely encounter nursing roles during your career that just don't exist today.
Roles for nurses are transforming along with the industry, and they're increasingly being asked to operate in a more integrated manner across organisational boundaries, creating opportunities to segue into leadership posts earlier in their careers.
The demand for nurse entrepreneurs trained in advanced clinical care who can take over jobs traditionally performed by other medical professionals (such as surgical procedures) is currently growing, particularly in rural, remote, and more deprived areas where doctors are in short supply.
In coming years, we'll likely see more nurse practitioners with advanced training who can diagnose, treat and prescribe for patients. This highly autonomous role bridges the gap between doctors and nurses, helping to reduce demand on a stressed-out health care system.
Aftermath of COVID-19
The pandemic didn't just upend our lives; it added a whole new layer of workplace stressors for nurses and exacerbated pre-existing issues like workforce shortages and turnover rates.
Safety concerns over insufficient PPE, skyrocketing workloads, resource shortages and the removal of crucial coping mechanisms like social interaction increased anxiety and burnout across the entire healthcare industry.
The pandemic also limited international travel, reducing the influx of skilled overseas nurses coming to Australia to provide much-needed respite for a weary workforce.
Many nurses are still grappling with elevated levels of burnout and are increasingly considering exiting the profession—a key factor affecting retention rates in Australian nursing. WHO has described burnout as an "occupational phenomenon" for nurses, leading to adverse mental health outcomes, including feelings of anxiety and sleep disturbances.
Those with advanced education will be ideally placed to alleviate the pressures on our health system and adapt to rapidly changing trends in nursing. Specialised training and higher degrees can arm nurses with the skills to meet the needs of an increasingly complex patient population and open doors for leadership roles that can influence systemic change.
As our population rises and we look toward a future where demand for healthcare is only going to grow, investing in further education for nurses isn't just a nice-to-have—it's a necessity for ensuring quality care and a sustainable healthcare system.
What will the future look like for nurses?
There's a real need for a greater volume of highly skilled nursing professionals who can apply their expertise across a range of chronic health issues, conditions and contexts.
Current and future nurses can benefit from this increased demand by making sure they future-proof their skills. Doing so will mean they can carve out rewarding careers and improve their earning potential as the Australian healthcare landscape transforms.
But what does the future hold for nurses, and how can you best take advantage of the latest industry growth areas to drive your career forward? Let's explore the outlook for the industry in detail.
Projected growth in the nursing profession
Over the next three years, nursing is expected to grow strongly. Registered nursing employment is predicted to grow by 13.9 per cent, ranking it third among all professions in Australia.
While this means employment prospects are healthy for nurses, those with advanced postgraduate qualifications will be in a powerful position to secure more diverse careers and healthier salaries.
The industry's expected growth and under-supply of skilled professionals should lead to excellent employment prospects and increasingly well-paid, rewarding careers for qualified nurses.
Potential for salary increases
The average nurse's salary in Australia is currently $87,623 per year as reported by talent.com . Entry-level positions start at $76,062 annually, while most experienced workers can make up to $118,606 per year.
However, those with postgraduate training can expect higher salaries. Deloitte Access Economics (with insights from James Cook University) has predicted nurses with postgraduate qualifications could attract a wage in the region of AU$111,235 per annum in 2021-22. That's an increase of 14 per cent from 2016/17.
While recent figures are yet to be determined, Deloitte's recent research showed that the average income for postgraduates within the nursing industry is up to 45 per cent higher than those without post-school qualifications.
Demand for advanced skills
Nurses with postgraduate qualifications are eligible for a remarkably diverse range of roles.
Reports highlights a notable uplift in demand for varying roles, including:
Midwives. According to a recent study, Australian registered midwife numbers declined in Australia to 26,642 between 2018 and 2023 but are expected to grow to 28,392 by 2028 and 55,747 by 2043.
Nurse educators. Nurses who train professionals are in greater demand than ever, making salaries highly competitive.
Nurse researchers. Researchers in the nursing field spearhead studies that elevate patient outcomes and drive progress within nursing. It requires a PhD in nursing or a related healthcare postgraduate degree.
Nurse managers. The Australian Government predicts 23 per cent future growth for this highly skilled and highly paid leadership role, with demand likely to reach 22,600 nurse managers by 2026.
All these roles have an expected annual growth rate higher than the national average.
How can postgraduate qualifications accelerate your nursing career?
Nurses who build advanced skills through further study may be able to progress into leadership roles more quickly.
The increased pressure on health services caused by the ageing population will create new opportunities for nurses with leadership and management skills to step into more senior roles.
Skills gaps may also emerge as current senior nurses grow older and eventually retire. These roles are likely to be filled by nurses with postgraduate qualifications. These nurses will be equipped with skills traditionally built through years of experience, including management capabilities and advanced patient assessment and care skills.
Postgraduate qualifications give nurses additional leadership skills to empower them with enthusiasm to make changes and influence nursing care in a way that makes a real difference to people. An exciting aspect of doing a postgraduate program is the opportunities it affords you to shape nursing for the future and be a part of improving the health of the nation.
The nursing profession is facing a dynamic future. Practitioners need to stay adaptable and open to change so they can best serve an ageing and changing population and adopt new technologies as they become available.
Transform your career in healthcare
Nurses have shown their ability to adapt to rapid change and take on advanced practice roles and new ways of working at pace during the global pandemic.
If you're looking to transform your nursing practice, JCU Online's Master of Nursing will give you the preparation you need to shine as you respond to the global demand for nurses in healthcare.
Discover how JCU Online's Master of Nursing can take your career to the next level. Speak to one of our Student Enrolment Advisors today on 1300 535 919.
Get in touch with our Enrolment team on 1300 535 919