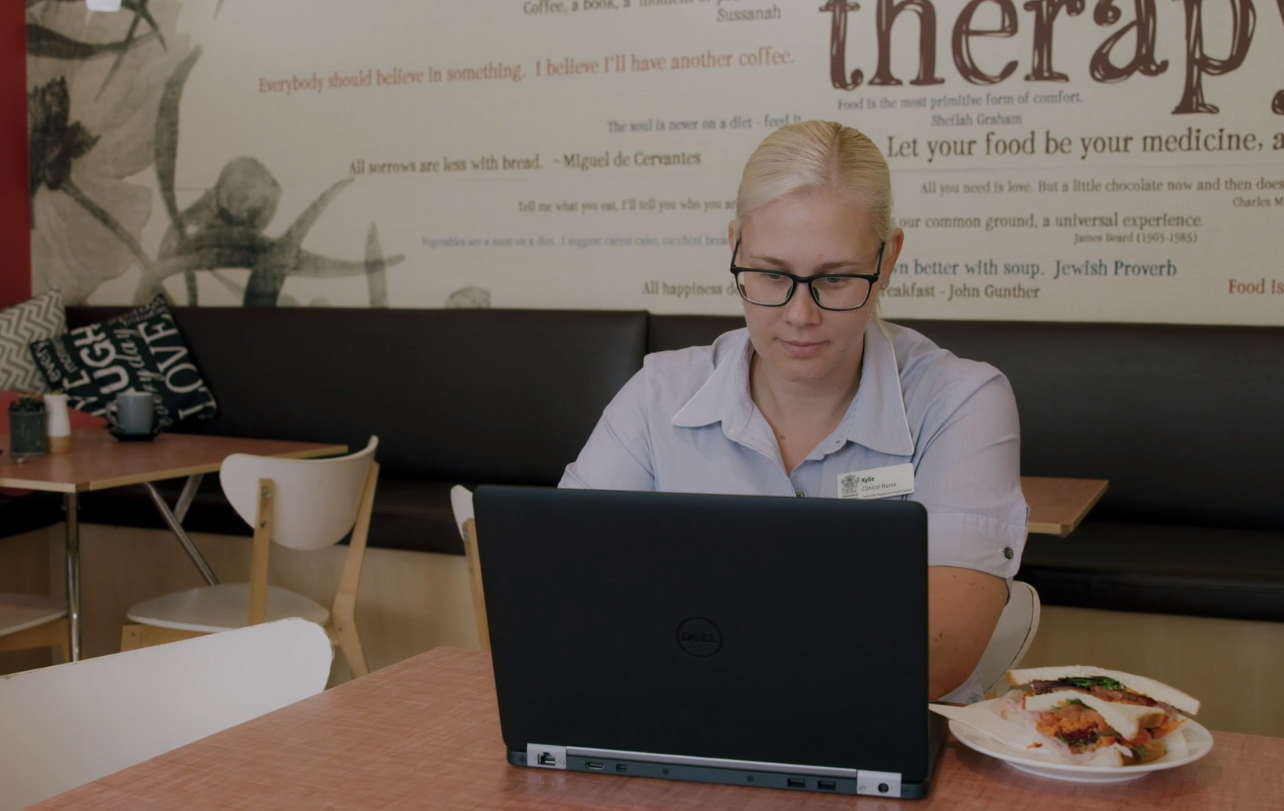 When you think of going back to university, what comes to mind is attending lecture halls or rummaging through the library. Online study isn't always the first thought. However, flexible learning is becoming an increasingly popular choice for those seeking a higher level of qualification, particularly in nursing. It is important for nurses to upskill in order to prepare for the changing healthcare environment, and further study is a way of doing this.
Many myths and misconceptions surround online study. Some consider it more accessible than on-campus learning, while others worry they won't have access to quality learning materials. In fact, online learning is an opportunity to overcome geographic barriers and allows increased flexibility to fit study around everyday work. Furthermore, an online course provides the same qualification as the traditional on-campus course so for many, it's an option that promotes a healthy work-life balance. But don't take our word for it. v
Real students, enriching experiences
For Kylie, a nurse in the surgical unit of Townsville Hospital, a Master of Nursing was the key to career progression. Online study empowers her to develop new skills and aspire towards a level-seven position within her workplace. The practical learning offered by James Cook University has opened new doors for her future in the nursing sector.
After extensive experience as a nurse, including in remote areas such as the Gulf of Carpentaria and the Torres Strait, Susan chose to study an online Master of Nursing to deepen her skill set and broaden her employability. As a nurse educator, her Master's degree has empowered her to formalise her experience and explore the employment opportunities offered within her field.
Flexibility
A key benefit of online study is the ease at which it fits around your everyday lifestyle. Many of our students are already recognised in their speciality and have undertaken further study to improve their career opportunities or strike off in a new direction. James Cook University Online Master of Nursing provides practical strategies such as approximate time suggestions next to every learning activity so you can maximise your time. This has done wonders for students' time management, as they can quickly assess what they can achieve in the hours they have set aside for learning.
Additionally, the flexible study options are in place so you can complete a subject within a seven-week period and graduate faster. The flexibility of the course structure also allows students to either continue to take another subject over a seven-week period of study or take a break depending on their work/life commitments.
For Susan, this flexibility has been crucial to her success. Studying part-time allowed her to balance the demands of study with her family and workplace commitments. The availability of an online course and the seven-week study periods provided the opportunity to fit study around her already busy lifestyle.
You're in the driver's seat
There are a number of ways James Cook University Online helps to put nursing students in control of their own study. A variety of course options within the Master of Nursing empowers you to tailor your learning to your professional needs and your future aspirations. With three majors on offer (Leadership and Management, Education, and Advanced Practice), there is something for every nurse looking to move their career forward.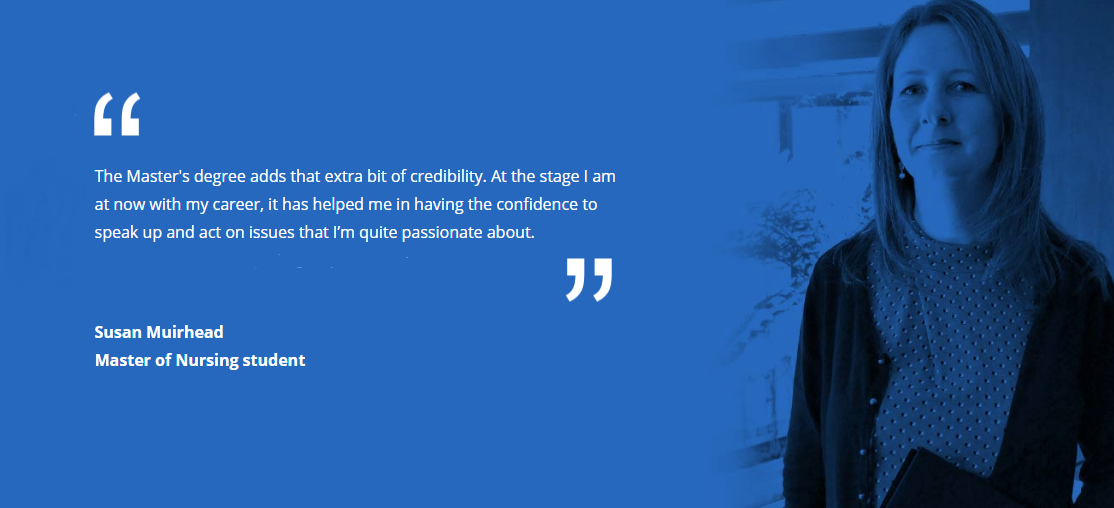 Susan's study unlocked her keen interest in academia and research within the healthcare sector. "Having been a nurse for so long, I see gaps in research and realise that decision making at high levels is not always reflective of what's happening on the ground," she reflects.
The range of specialisations available provided the perfect platform for her to pursue her interests and use her prior experience to continue to make an important contribution to her health service and community while looking after her career.
A simple interface takes the stress off you
The reliance on technology can intimidate those considering online learning. James Cook University Online has worked to address this by devising a streamlined student learning interface. Everything you need, from weekly tasks to assessment information, is located on the one site. Content can be easily located, which eliminates wasted search time and hassle from your learning, allowing you more time to focus on what's important.
Kylie highlights this as significant for reducing the stress that can come with postgraduate study. The immediate access to course materials meant that she could start learning immediately, and when best suited her schedule. The easy-to-navigate design supported even the least tech-savvy of her peers to engage with the resources with little fuss.
Collaboration-driven content
As nurses, you're used to working in a team environment and bouncing ideas off your peers. Studying a Master of Nursing is no different.
We've worked hard to ensure our courses cultivate a collaborative environment, where you can learn with your peers, even if you are separated by distance. Every course includes an active discussion board, where you can engage with your tutors and fellow students to work through issues and hone new ways of thinking about your learning. For those who want even more engagement, video and audio sessions through our Collaborate web conferencing program encourage you to discuss content in real-time with lecturers and peers.
Surrounded by a supportive team  
In addition to the bonds you'll forge with your fellow students, there's a knowledgeable and supportive team waiting to assist you with anything you could possibly need. From the beginning, students are put in direct communication with tutors using email, discussion board posts or face-to-face online appointments. Our course tutors are always willing to have a chat about your course content or study goals to ensure you're on the right track.
Each online student is assigned a Student Success Advisor at the beginning of their journey. Your Student Success Advisor will assist you in starting your learning journey and is with you every step of the way as you work towards your new qualification. With regular check-ins and options for support when needed, there's no chance you'll feel alone while studying with James Cook University.  
For Kylie, the support of her student advisor, Floyd, makes all the difference. She credits their calls to her success, which happen at least every second week. With much more interaction than she expected from an online degree, Kylie experienced a well-designed study system to help her achieve her goals.
Study nursing online
Now that you've got the real story, it's time to take the next step on your nursing journey.  
Get in touch with our Enrolment team on 1300 535 919