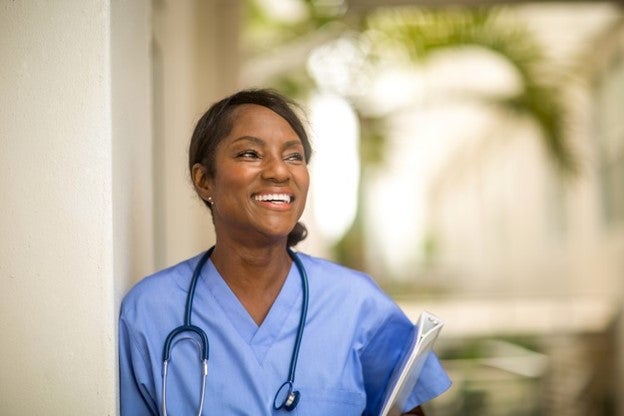 Leadership skills in nursing are critical to shaping healthcare reforms that deliver effective leadership and efficient patient care and inspire others to nurse with compassion. While some nurses aspire to take the lead in management positions, there's much more to being a nurse leader than the title. Nurses can be influential by having the leadership skills to empower others in making change. Whether it's putting their hands up to drive projects, desiring to tap into innovation or striving to improve patient care, nurses have the potential to step up to leadership.
 
Here are six essential skills you need to be a nurse leader today:
1. Visualising the big picture
Nurse leaders should work towards a vision for the future while balancing everyday demands. Nurses must also be able to grasp the implications of national and worldwide healthcare trends and how they impact the provision of care at a national, state, regional and local level. Understanding the needs of a community, as well as any inequalities and how they affect health is essential to the success of future healthcare systems. Nurses are pivotal in influencing strategic change based on their knowledge and expertise and how health can be improved by a wider vision.
2. Using expert knowledge to influence change
To fully use your leadership skills in nursing, it's important to specialise in your area of nursing practice. Invest in yourself — continue to pursue education, such as a postgraduate degree, and sign up for seminars and workshops. Joining professional associations or committees, and keeping abreast of the latest research and advancements in your field, will enhance your expert knowledge and give you a wider circle of colleagues. Sharing ideas with others through networking is another leadership skill that will influence change faster and get you noticed positively among colleagues. Sharing your knowledge to inspire others to learn drives up standards in care and inspires people to develop their careers in nursing. Being aware of future trends in your specialty gives you the advantage of being able to inform and influence change, especially in senior meetings and discussions.
3. Being tech savvy
Technology is transforming the way we manage, care for and provide information to patients. From the national electronic health records system to telehealth, mobile devices, applications and smart infrastructure, nurse leaders know that technological solutions are key to unlocking a brighter healthcare future, improving efficiency and boosting patient care. Nurse leaders must understand how to integrate technology successfully and make sure that their teams are confident using new technologies.
4. Empowering and elevating the team
Effective nurse leaders should inspire and empower members of a multidisciplinary healthcare team to achieve a common goal, whether that's rolling out a new project or optimising patient health outcomes. Leaders require good collaborative working relationships based on clear communication, conflict resolution and management and mentoring to support their colleagues. Nurse leaders understand team dynamics and how each person can contribute something special, but they also have the power to drive collective change. A positive and transformational culture is vital for not only team satisfaction but also excellent patient care.
5. Living and breathing change
Nurse leaders must be visionary and proactive in times of rapid change and challenges. From organisational restructure to the recruitment and retention of employees, leaders must be able to not only embrace and adapt to change but also encourage and guide their teams in a new direction. In an environment of rapid change, such as the global pandemic, a leader will take the opportunity to seize the moment and integrate change to proactively drive improvements. Nurse leaders empower their teams to seek out innovation and spread change to improve patient care and outcomes.
6. Using finance to drive quality improvement
It's never been more important to understand the business of caring — from how patient outcomes affect the bottom line to investing in resources to better support nursing teams. Skilled nurse leaders must be able to make budgets more efficient without sacrificing patient care. It's also important for nurse leaders to understand how to allocate budgets most effectively and prioritise areas of greatest need.
Become a transformational nurse leader
Do you have the essential skills to become a nurse leader? An online Master of Nursing at JCU will develop and boost your leadership skills. 
Get in touch with our Enrolment team on 1300 535 919