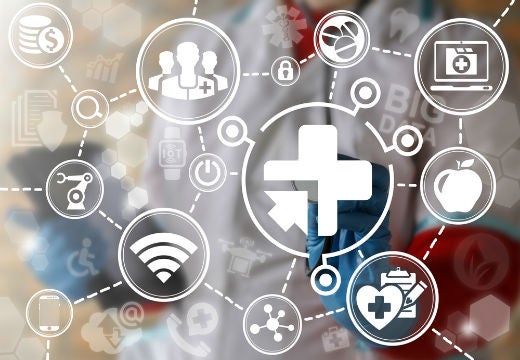 Advancements in technology are transforming the way nurses deliver patient care. From smart bedside solutions to providing education and remote monitoring of patients, it's never been more important for nurse leaders to keep pace with the rapid changes in healthcare technology – designed to boost accuracy, efficiency and, ultimately, improve patient outcomes.
Telehealth
Nurses are overcoming vast distances to provide care and treatment directly into rural and regional patients' homes via telehealth. In one model, nurses are monitoring and recording the weight, blood pressure, lung capacity and other symptoms of chronic conditions for Indigenous patients. Nurses are also delivering chemotherapy to patients at home, thanks to specialist chemotherapy-trained nurses who supervise generalist nurse treatment via videoconferencing from a Queensland hospital.
Mobile devices
Nurses who are on the go are going digital – by entering and retrieving information from healthcare providers' IT systems without leaving the bedside. Using integrated handheld and mobile devices, such as tablets and smartphones, nurses are documenting information in real-time at the patient's bedside. Nurses are also tapping into devices to save time to reduce the risk of adverse events – even using devices such as an entry key into older patients' homes.
Mobile apps
Apps on smartphones and tablet devices are enabling nurses to access the latest evidence-based research and information about diseases, treatments and medications at point-of-care. Apps include Medscape, Epocrates and the Nurse's Drug Handbook. Some apps, like Orca Health, provide patient education. An Australian app, Kiss MyAsthma, is helping young Australians manage and track their asthma. It also provides support and gathers patient data to enable nurses to improve their care of asthma patients, like never before.
Smart infrastructure
Some healthcare providers are embracing intelligent infrastructure with advanced technological solutions that improve organisational efficiency, streamline patient flow and improve patient care. SmartWard, a system that automates nursing records and manages nursing workflow while boosting the quality of care, is enabling nurses to schedule and record activities faster and with more accuracy. The system uses touchscreens and smart chips in lanyards and wristbands to update patient information in real-time.
Electronic health records
Access to patient information is now right at the fingertips of nurses. Almost 20 per cent of Australians are registered for a My Health Record. More hospitals are also going digital to streamline clinical information, support clinical decision-making, improve medication safety and provide quicker results. The Royal Children's Hospital in Melbourne has become one of the first paediatric hospitals in Australia to shift from paper-based records to an electronic system.
Technology is redefining the way nurses practice and deliver patient care. An online Master of Nursing at JCU will equip you with the latest digital and technology know-how to step up and drive smart change in our health system. Learn more about our leading online programs or speak to one of our expert Student Advisors today on 1300 535 919,