Graduate Diploma of Psychology Online (Bridging)
Why Psychology with JCU?
Backed by 50 years of experience in teaching and research in psychology, JCU's 100% Online Graduate Diploma of Psychology (Bridging) is APAC accredited and will help you develop your skills and reach your career goals.
100% online & part-time
Fast-track your career with flexible study you can balance around your life. Study one subject at a time and complete your degree in as little as 20 months part-time.
APAC Accredited
Our Graduate Diploma of Psychology (Bridging) is accredited by the Australian Psychology Accreditation Council (APAC).
50 years' experience
JCU has 50 years' experience in teaching and research in Psychology. You'll study and connect with industry leaders, specialists and experienced academics.
Program Highlights
Understand contemporary psychology disciplines.

Gain confidence using data and technology.

Develop a global perspective aligned with the UN Sustainable Development Goals.

Fast-track your career with 100% online study.

Be supported by a dedicated Student Success Advisor.

Begin the pathway towards becoming a registered psychologist.
DOWNLOAD COURSE GUIDE
Grad Dip of Psychology Overview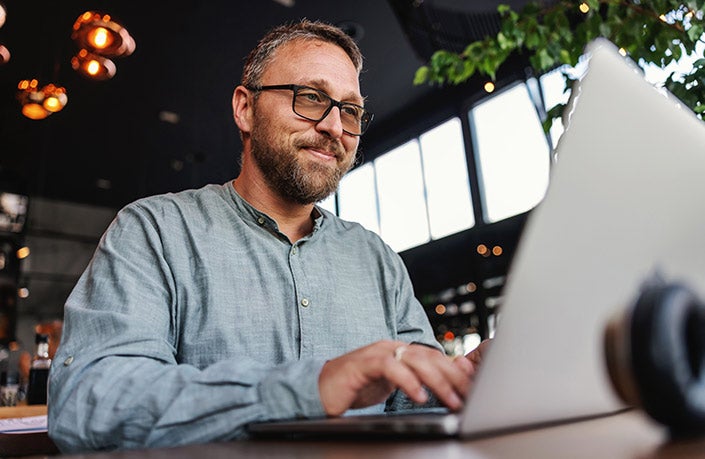 A pragmatic and versatile qualification
The JCU Online Graduate Diploma of Psychology (Bridging) is a contemporary and hands-on qualification designed for the future. It provides the foundational knowledge of the history of psychology and develops your professional skills to apply contemporary psychology to solve community-based challenges.
A stepping stone to becoming a registered psychologist
This qualification is a pathway to further study for those who want to change their career to become a psychologist. This may include career pathways such as general or clinical psychology, clinical neuropsychology, forensic psychology and organisational psychology.
A way forward in human-centred professions
This degree is also for professionals in human-centred occupations who are focused on career growth and want the skills to help them achieve more in current and future roles. This may include teaching, human resources, marketing, counselling and consulting.
This course is accredited by the Australian Psychology Accreditation Council (APAC)
What you will study
You will study a broad scope of subjects unique to the Graduate Diploma of Psychology (Bridging) at JCU Online, including Environmental Psychology and Health, Wellbeing & Resilience and more. These subjects align to the UN Sustainable Development Goals as well as current and emerging global health challenges in a technology-enabled society.
Study 10 online subjects over at least 20 months, which you can commence at any of the six study periods throughout the year.
*Duration dependent on individual study path and subject availability. Please speak to an Enrolment Advisor for more information.
Entry Requirements
Learning Outcomes
Career Outcomes
Inherent Requirements
Pathway to becoming a Registered Psychologist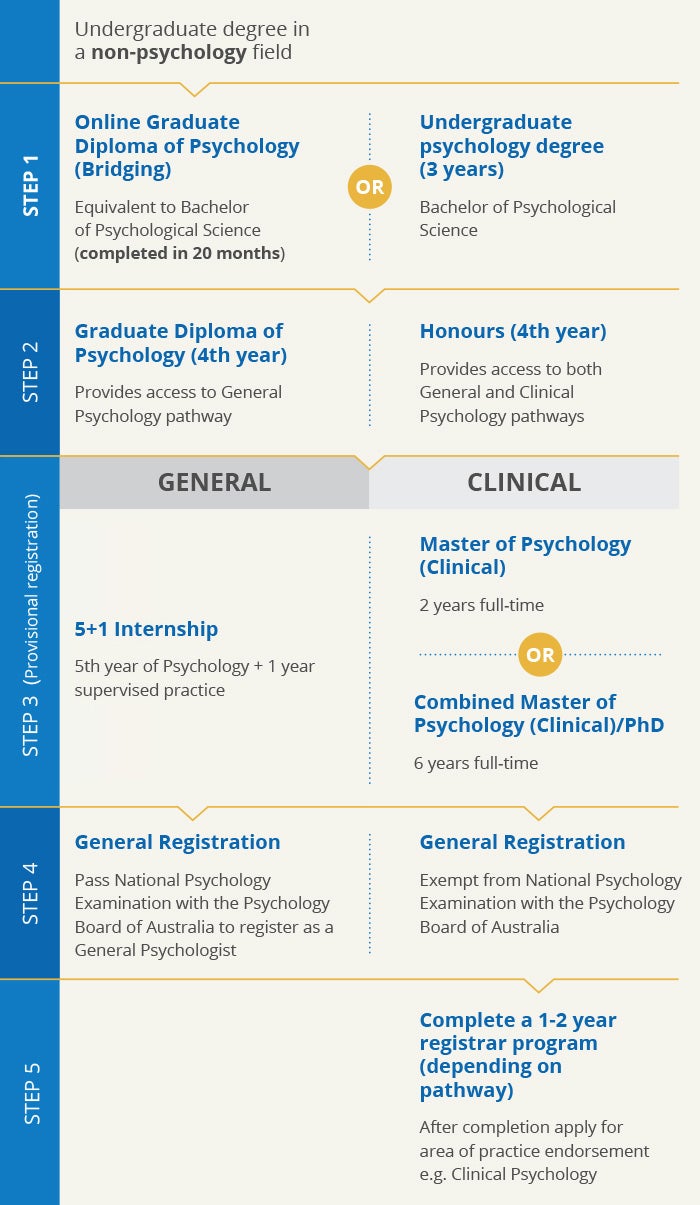 Nested qualifications: Early entry & exit options
If you need to finish your study early, you may still qualify for a Graduate Certificate of Psychology. Get in touch with an Enrolment Advisor to find out more.
Your personalised Enrolment Advisor
The role of an Enrolment Advisor is to ensure that you have all the resources and academic support needed to be successful in your studies.
Enrolments Advisors are here to help you with:
Determining your eligibility for the course.
Understanding the structure of your course and what you can expect to learn.
Time management strategies for success.
How to apply for financial assistance and FEE-HELP.
Any questions you have about your application.
Contact hours for your Enrolment Advisor 
Monday and Tuesday: 8am-6pm (AEST)
Wednesday and Thursday: 8am-7pm (AEST)
Friday: 8am - 5pm (AEST)
You might also be interested in:
Ready to get started?
Download a course guide
For more detailed and up-to-date information about your degree, including:
Information about the course
Course duration
Fees
Course descriptions
What to expect from the course
Download course guide
Speak with an Enrolment Advisor
Investing in the right course for you is important to us and we're here to help. Simply request a call back and will assist you with:
Entry requirements
Choosing right course
How to apply and enrol
How online study works
Course duration and fees
Enquire Now
Frequently Asked Questions
Can I complete this degree to increase my GPA to gain entry to a fourth-year psychology course?
Yes, if your GPA was not high enough to get into a fourth-year course, you can study the Graduate Diploma of Psychology (Bridging) and attempt to graduate with a higher GPA. However, you may want to reach out to the university where you completed your undergraduate degree so you can find out if they have another option for you. If you are interested in studying psychology with JCU Online, please refer to the entry requirements above.
Can I gain Recognition of Prior Learning (RPL) for psychology subjects I studied in my undergraduate degree?
No, you will not be able to gain RPL for undergraduate psychology subjects because they are not at the same AQF level as our Graduate Diploma of Psychology (Bridging).
Can I enrol in multiple subjects to complete my studies even faster?
Students can enrol in multiple subjects per study period, however it is not recommended. Enrolling in two subjects at once means your recommended study hours will be minimum 40 hours per week. In addition, due to the way our subjects are scheduled across study periods, you may have to take a forced break, which means you would not graduate sooner.
How long does it take to become a psychologist?
Depending on which pathway you choose to follow, it can take between six to eight years to become a registered psychologist. JCU Online's Graduate Diploma of Psychology (Bridging) takes minimum 20 months to complete and is equivalent to a Bachelor of Psychological Science which usually takes three years to complete. You can find more information on the Pathway to Becoming a Registered Psychologist above.
What does 'Bridging' in the course title mean?
Our course is specifically designed for students who have not studied psychology before. It is equivalent to a three-year Bachelor of Psychological Science, so the 'bridging' in the title refers to the way this degree bridges the gap between an unrelated undergraduate degree and further study in psychology.
What can you do with a psychology degree?
After completing your Graduate Diploma of Psychology (Bridging), you may choose to continue your studies to become a registered psychologist by completing an accredited fourth-year program providing a pathway to either general or clinical registration. If you choose not to pursue further study or a career in psychology, the skills you can in this course can be useful to a variety of industries including business, community services, education, health services and protective services.
Can I become a psychiatrist after gaining a psychology degree?
No, a psychology degree will not qualify you to become a psychiatrist. In order to become a psychiatrist, you will need to complete a medical degree followed by a medical internship and further study.