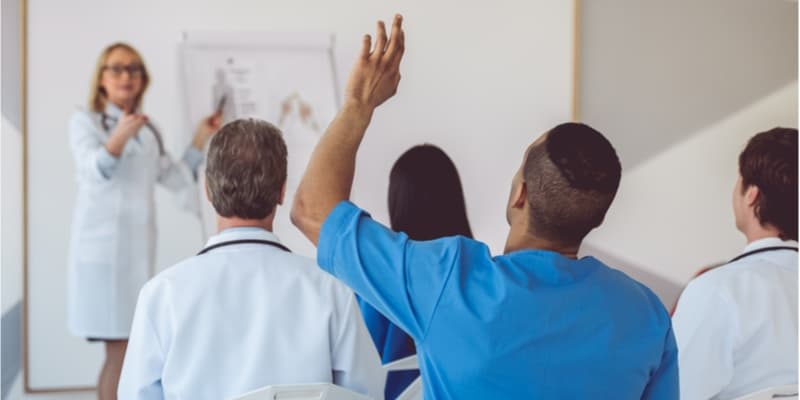 If you are a working nurse, you should congratulate yourself on choosing a future-proof career. In fact, demand for your skills is set to skyrocket.
The Australian Government's Future Outlook ranks nursing in the country's top five careers for job growth, with more than 29,000 job openings expected every year between now and 2023. As Australia's population ages, this demand is likely to exceed supply. By 2025, Health Workforce Australia predicts the shortfall in nurses could be as high as 85,000.
But the nursing industry is not just growing – it's evolving too. More than ever, nurses will need to adapt to changes in technology, models of care, management practices and medical knowledge. Nurses will often be tasked with leading the change.
While a growth mindset will certainly be required, these challenges present huge opportunities for individual nurses, both in terms of earning capacity and career advancement. 
Are you prepared to take advantage of the opportunities ahead? 
Take control of your career
As more nurses enter the workforce to meet the demand, postgraduate nursing opportunities can help you stand out and take control of your career and income. According to Deloitte Access Economics, nurses with a postgraduate nursing degree can expect to earn an average income of $111,235 per annum by 2021-22.
The Master of Nursing at JCU Online can be tailored to the following career pathways, building on the skills and knowledge you have acquired in the field:
Advanced Practice, allowing you to take on extra responsibility in a clinical setting, with specialised skills in patient assessment, pharmacology and care.
Leadership and Management, preparing you for senior roles.
Education, qualifying you as a nurse educator. 
Whichever pathway fits your career goals, the Master of Nursing will equip you with broad skills to embrace the changes ahead in healthcare: communication, informatics and clinical governance. Importantly, all students will learn how to understand and apply research to deliver evidence-based patient care.
Advancing care for an ageing population
Developed countries around the world are urgently rethinking their healthcare systems to adapt to their ageing populations. By 2057, 22 per cent of the Australian population (8.8 million people) will be aged 65 and over. As a result, a substantial increase in chronic disease and disability is set to dominate the healthcare workload.
This will increase demand for specialised nurses who can deliver advanced care for patients with conditions such as arthritis, dementia, cancer and type 2 diabetes. The Australian Department of Health recognises the vital role of nurses in chronic disease management, alleviating the workload of general practitioners. They coordinate large multi-disciplinary teams, educate and advocate for patients, and "do a lot of administrative and clinical legwork."
With labour shortages expected across all areas of healthcare, qualified nurses will likely continue to step up and supplement medical services, with less qualified nurses supporting them to deliver this advanced capacity. This is especially true in rural and remote areas, where nurses are often the primary care workforce.
The Advanced Practice pathway in the JCU Online Master of Nursing is designed to empower nurses to take on this greater responsibility and be more independent in their decision making.
Technology, communication and making sense of data
Working nurses won't be surprised to read that technology is changing healthcare. They have been at the coalface of introducing technologies to patients for the past decade. Thanks to wearable devices and digital health records, nurses have access to ever-increasing patient data. Nurses will also lead the charge in delivering in-home diagnosis and care, empowered by point of care testing and video conferencing. JCU Online's Master of Nursing shows students the ways in which vast amounts of medical data can be applied to patient care.
With all this extra responsibility, nurses' interpersonal skills will be more crucial than ever. The Australian Institute of Health and Welfare (AIHW) suggests the incoming generation of older Australians, known as the 'baby boomers', is likely to have greater expectations of health services than previous generations. 
JCU Online Master of Nursing students will advance their communication capabilities to manage patient relationships and coordinate multi-disciplinary teams skillfully.
Leading change
Nursing leaders and managers will be charged with managing the cost implications of the ageing population and embedding changing practices in the nursing workforce. That includes taking on leadership roles in redesigning care. Key strategies will be productivity, a greater focus on preventative care, and health promotion, according to the Australian Institute of Health and Welfare. 
However, Australia's nursing workforce is ageing, too, with a generation of senior nurses now approaching retirement. While it's hoped large numbers of newly qualified nurses will shortly enter the workforce, what about the leadership gap left behind? There is a significant opportunity here for current nurses to step up and take the lead.
While leadership skills can be acquired through experience, JCU Online's Leadership and Management pathway can accelerate this process for nurses new to the profession. It focuses on developing well-rounded leaders with the ability to implement strategic change, teaching specific skills in business and finance, ethics in health management and conflict resolution.
Which pathway is for you?
If you would like to qualify for leadership roles, teach the next generation of nurses or provide advanced patient care,  JCU Online can help create a rewarding career pathway for you.
Get in touch with our Enrolment team on 1300 535 919