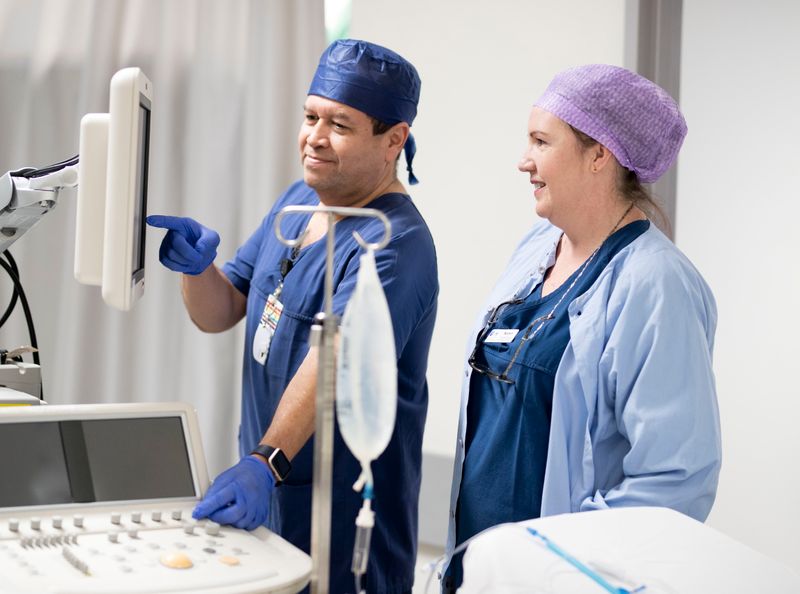 As a clinical nurse, you know the importance of postgraduate training and specialised qualifications. If you have the drive to learn and evolve, you'll find many nursing roles and pathways to career progression.
If you're in a clinical nurse role, you might ask yourself, what's next? Perhaps you see yourself moving up the ranks and becoming a Director of Nursing. Why not dream big and explore new nursing roles and opportunities with a Master of Nursing.
Why we need qualified nurses more than ever
The COVID-19 pandemic showed us what many people in the field of nursing already knew — how vital the profession is to the healthcare system and to the community. And given that more and more Australians are living longer thanks to lifesaving technology, we'll likely see increasing health challenges for the nation and the profession.
As our population grows and ages, and as advances in technology change how we deliver healthcare, senior nurses and leaders will continue to be in high demand.
If you're considering furthering your nursing qualifications, you'll want to study with a university that offers you the right skills to excel in a rapidly evolving healthcare system. Through these advanced qualifications, you'll be able to tackle complex challenges and lead your team with confidence.
Nurses with a master's degree qualification will often have greater career opportunities than registered nurses. They can take on leadership positions or more specialised roles and become respected trailblazers in their field, not just in Australia but worldwide.
So, if you've been thinking about taking on a new challenge or want to see where your nursing career can take you next, read on.
The future of clinical nursing roles
According to the Australian Government's Department of Health and Aged Care, registered nurses and midwives constitute the largest part of the health workforce. Demand for nurses and midwives is continuing to grow.
In 2016, there were 236,931 registered nurses in Australia. In 2019, that number had grown to 265,335. In the same period, the number of midwives grew from 3,402 to 4,731, and the government expects this growth to continue.
Employers see nurses who hold postgraduate qualifications as more confident, more well-rounded and better able to handle the ever-evolving Australian healthcare system.
So, how do you become a clinical nurse specialist/consultant, educator or a nurse unit manager in Australia?
JCU Online's Master of Nursing qualification provides the technical skills and management knowledge you need to thrive. Whether you want to pursue a career as a clinical nurse specialist/consultant, a nurse educator or a nurse unit manager, this course can help you get there.
What does a clinical nurse specialist/consultant do?
As you'll have seen in your healthcare setting, these nursing professionals provide expert advice, not just to patients and their families or carers but also to other professionals like yourselves. Becoming a clinical nurse specialist or consultant means you'll be using forward-thinking and problem-solving skills to develop, implement and evaluate care management plans for patients with complex health needs. It's the next step up the professional ladder for a clinical nurse and can offer an exciting change of pace.
What does a clinical nurse educator do?
Nurse educators and clinical nursing coaches are those in your healthcare setting team who help guide and inspire you. As you know, the role of a nurse educator isn't just confined to educational institutions. Nurse educators also interact with patients and their families to help them understand their healthcare needs. You'll be at the coalface, sharing your years of experience with the next generation of nurses.
What does a nurse unit manager do?
You'll be familiar with the role of a nursing unit manager as this is the role that is most likely managing you at the moment. However, what you might not be familiar with is just how varied the role is. Working across a range of healthcare settings, including hospitals, aged-care facilities and in community services, nurse unit managers are expected to be in high demand in the future. These nurses are highly qualified all-rounders with plenty of variety in their day-to-day jobs.
Choose your specialisation
Healthcare in Australia is constantly evolving. The skills and qualifications you'll gain from JCU Online's Master of Nursing course will give you the confidence to take on more demanding and complex nursing roles in the future.
Think about what you want from your studies. Do you want to become a clinical nurse specialist/consultant, a nurse educator, or unit manager? With JCU Online's Master of Nursing you can choose from one of three principal specialisations:
Leadership and management - ideal for future nurse unit managers. This specialisation will give you the knowledge to take on management roles in the healthcare industry. You will learn business and finance, ethics and conflict resolution in the workplace.
Advanced practice - ideal for future clinical nurse specialists/consultants. If you want to deliver advanced care to patients as a clinical nurse specialist/consultant, this is the specialisation for you. You'll learn advanced health assessment and diagnostic reasoning plus the quality use of medicines in a practical setting.
Education - ideal for future nurse educators. If you want to become a nurse educator, you will most likely want to choose this specialisation. In this specialisation, you will learn about contemporary healthcare education, teaching in practice settings and clinical coaching.
Not sure which direction you want to take your career? You can expand your options and combine two of these three specialisations for a double major to enhance your qualifications.
Take the next step in your nursing career with JCU Online
Sound exciting? If you're keen to become a clinical nurse specialist/consultant, a nurse educator or a nurse unit manager, studying a Master of Nursing online is your next step.
JCU offers world-class education and has the perfect learning environment to allow students to thrive.
JCU Online students enjoy a community environment where they connect with other students, academics and industry professionals. The teaching team is supportive and respectful, and the online environment offers flexibility for working nurses with family or personal commitments.
What can you expect at JCU Online?
You'll have your own Success Advisor who, along with the tutors, will be there to help you navigate your studies and keep you motivated.
The online environment is interactive and immersive. It has videos, practical exercises, online forums and live chats where you can interact with other students and tutors.
Our nursing educators are leaders in their field and have strong relationships with healthcare providers and hospitals. This means the course content is relevant to real-world healthcare environments.
JCU is a respected institution and one of the nation's top 10 nurse educators, so you can be sure you will have a quality learning experience.
How to get the most out of your studies
Plan ahead. Make sure you plan for study time and let your friends and family know so they can support you. A project management app can also be of help.
Do your research so you know exactly what to expect from your study experience.
Remember, you're not alone. You'll have opportunities to connect and collaborate with other students and your tutors. Don't be afraid to ask for help from your Success Advisor.
Want to know more about the online study experience? Our Master of Nursing students share their insights on our blog.
Where to from here?
There's no doubt that healthcare in Australia and around the world is changing rapidly and nursing roles are evolving to keep pace. Nurses with advanced qualifications are set to lead the healthcare industry into the future, providing quality care to our ageing and vulnerable populations.
A Master of Nursing is a wise investment if you wish to further your career, give yourself options and advance your skills while learning how to improve patient care.
As a nurse, you already have a busy schedule juggling work and family life. The path to achieving your career dreams can be smooth and satisfying with the right online course. The JCU Online Master of Nursing degree is flexible and designed to fit your lifestyle.
The educators and tutors at JCU Online will support you to achieve your goals, helping you to improve your clinical skillset, develop new competencies and fast-track your career.
Find out how to take your career to the next level with JCU Online's Master of Nursing.
Get in touch with our Enrolment team on 1300 535 919