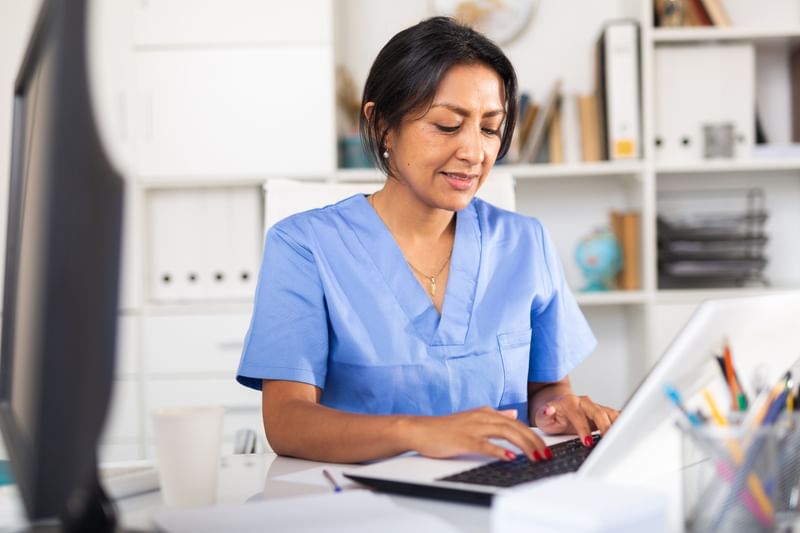 As a nurse who has worked through the greatest health challenge in a century, you know that anything is possible. So, while it might seem daunting to start your Master of Nursing, you'll be pleased to hear that it is possible to manage work, life and study.
Each nurse's experience of the nursing career is unique, which is why we've brought together four current and recent students of JCU Online's Master of Nursing to share their tips and tricks.
"I have my work time, I have my family time, I certainly have my study time and I also have my time where I do and teach martial arts. That sustains me and it's important to me," says Master of Nursing student Joffe.
We'll meet fellow students Felicity, Joffe, Maria and Tracey in a moment, but first, let's take a closer look at the current nursing landscape.
Nursing in 2022
The current pandemic has increased appreciation for nurses around the world, and it's fair to say that the field of nursing has felt COVID-19's impact more than any other sector of society.
Nurses have been deployed to the pandemic frontline in dedicated COVID-19 wards, dedicated ICU wards, as contract tracers, as vaccinators and as testing centre staff, leaving a shortage of nursing staff elsewhere in the healthcare system.
At the same time, the number of Australians aged over 65 is expected to double by 2057 thanks to life-saving medical technologies[1], which is increasing the demand for health services for many years to come.
Growing demand for nurses
Before any of us had even heard of COVID, there was a shortfall of six million nurses around the world. On top of this, it is anticipated that four million nurses will retire by 2030[2].
The International Council of Nurses says the shortages created by these combined factors may require in excess of 13 million nurses to fill global gaps.
In Australia, even though the number of registered nurses increases every single year, it is expected there will still not be enough nurses in Australia to meet future demands.
Whether you're planning to work in Australia, or internationally, there are growing opportunities for qualified senior nurses and nurse leaders.
A career of fulfilment and ongoing professional development
Part of being a nurse includes seeking out opportunities for professional development.
"A fundamental responsibility we have as registered nurses and midwives is the pursuit of ongoing and continual education and professional development in order to provide safe and quality care for our patients," says Dr Narelle Biedermann, Course Coordinator of JCU Online's Master of Nursing.
Providing quality care is a huge motivating factor for many nurses studying their master's degree. But by pursuing further study, you can also find opportunities to learn more about yourself and the areas of nursing practice that interest you.
"You never know what you're going to find in your profession, in yourself or even what your passion is until you start your master's. It's a gift that no one can give you but yourself, and it's the best gift you'll ever get," says Felicity.
Joffe shares this sentiment, saying "The opportunities are endless and you learn so much about yourself."
Nurses really can work anywhere
Nursing is one of the truly global professions that can find you working in a metropolitan hospital, a remote outback health centre, or any country in the world.
In fact, the need for nurses in rural areas is so great that the Federal Government recently offered to wipe the HELP debt of eligible nurses who live and work in remote areas of Australia[3].
Meanwhile, 90 per cent of national nurse associations around the world recently reported that they were concerned about a shortage of nurses following the impact from the COVID-19 pandemic[4].
While demand is higher in some countries than others, there's no doubt that the growing demand for nurses is universal.
Study tips
Adding study to your existing commitments at work and at home requires a little bit of time management. Here's some study tips that have helped our Master of Nursing students.
3 Study Tips from a JCU Online Student Name: Alison Studying: Master of Nursing
Utilise collaborate times with tutors and subject coordinators. A five minute chat can be more helpful than writing an email.
Make use of the discussion boards to connect with fellow students.
Seek assistance early if required. Staff are very understanding and eager to help. 
Time management tools
"You really need to check, check, check. Check your dates, check when your subject starts, check when your assessments are due, and make sure you plan that on your timeline," says previous JCU Master of Nursing student, Tracey.
You could use a paper diary, the calendar in your phone, or more detailed time management tools and apps.
"Once you get those first dates, get yourself a really good diary, make it your bible and stay on top of everything," says Felicity.
Planning and project management tools
"When I start a unit, as soon as the unit outline becomes available, I grab that and I print off the assessments," says Felicity.
"I print off every assessment, staple them together, transfer those due dates into my diary and I colour-code it."
The key message here is to prepare and plan early for your coursework. You might also benefit from a project management app which you can keep on your phone for easy reference.
Balancing work and life commitments
One of the secrets to balancing work and life commitments is to give yourself the time to plan.
"I look at when my assessment's labour-intensive weeks are and say 'Maybe I'll only do two shifts that week'," says Felicity.
Another secret for successful work and life balance is to tell others about your plans.
"Put it on your fridge, let everyone know what your calendar is. Where are you going to do your study? Make sure it's an environment that's conducive for you to not be interrupted and have all your resources with you," says Joffe.
How do you return to study after time off from studying?
Returning to higher education can be intimidating, but if you know what to expect from your study experience, then you'll have more confidence that you can get it done.
"I think that the first unit is the hardest because after you've completed your first unit you get into a rhythm and so you start working efficiently. You start working out what works for you," says Maria.
Collaboration
It's important to understand that studying online doesn't mean studying alone. You'll be in contact with other students through JCU Online's Learning Management System (LMS) as well as online Collaborate sessions with your tutors.
"The biggest tip that I can give new students is to go to tutorials. Not only is there valuable information, but your tutors also help you get on the right track," says Felicity.
The support you need
Our students recommend being proactive in accessing the support you need and prioritising your mental health.
"Don't forget to look after yourself and take care of yourself during all of this. Make sure you do some self-care as well as prepare," says Julie.
"Breathe, just relax because you will get there and you will succeed and see that light at the end of the tunnel," says Maria.
"Don't beat yourself up. If you need to take a break from study, by all means, take a break because we're not all superhumans. We do need to pause at some point in time," says Tracey.
JCU Online's student support
"We're not superhuman, but we like to think we are because we're nurses. Just be kind to yourself. Use your Student Success Advisors. I've had four Student Success Advisors through my master's. All of them have been amazing," says Felicity.
Student Success Advisors are your personalised, one-to-one support who are there for you from your first day as a student with JCU Online.
Managing disappointing grades
In a profession where we strive to achieve the best outcomes for others, it can be challenging when assessment outcomes don't align with our expectations.
"Don't feel like it's personal. The markers are there to help us improve and also to do better next time. Don't beat yourself up - pick yourself up. Don't let it drag you down for the next assignment," says Maria.
"Half of my units at the very start, I didn't mark as well as I thought I would. If I didn't understand the comments I'd just go back to the teacher and say, 'Hi, could you clarify this for me? Because it really didn't make sense.' They're more than happy to do that," says Felicity.
Why study nursing with JCU Online?
For most people, the main reason for studying nursing with JCU Online is to deepen their professional knowledge and advance their career. But you don't need to have a particular career goal to benefit from our Master of Nursing.
"When I finished my master's, I had no idea what I was going to actually do with it. But when you finish it, things do seem to arise in different areas in nursing and you think, 'Oh, I've never done that before.' Then you find yourself doing it, which is a wonderful thing," says Joffe.
Here's some more reasons to study nursing with JCU Online.
One of Australia's fastest part-time master's degrees
Maximise the advantages of postgraduate study while minimising the impact on your work/life balance with one of Australia's fastest part-time master's degrees. Each study period is six weeks long and you can complete six units each year, so you can complete your degree in just two years.
100% online and part-time
Forget about rushing to get to campus between work and home commitments. JCU Online offers flexible study options that fit in with your schedule. You can access your coursework on your computer or phone, wherever you want, whenever you want.
Choose your career pathway
The Master of Nursing offers three specialisations so you can customise the course to suit your career. You can choose to specialise in advanced practice, education or leadership and management – or combine two and graduate with a double major. This allows you to graduate with a postgraduate qualification that aligns with your interests and goals.
"I always thought, I'm an aged care and palliative care nurse and that was going to be my calling. After doing this course I'm actually taking a lateral move out of patient-facing nursing and moving more towards education and research," says Felicity.
One of Australia's top 10 nursing schools
JCU is ranked among the world's top universities and sits within the top ten nursing schools in Australia.
Our nurse educators and researchers hold strong partnerships with hospitals and healthcare professionals. You'll be able to upgrade your skills with the latest approaches to high quality, innovative and cost-effective nurse leadership and care.
Felicity's also developed a deeper understanding of the expertise of nurse educators by choosing to major in the education specialisation of the Master of Nursing.
"Teaching nurses is hard because they're not like normal students, they're nursing students. It's taught me to be a very reflective teacher, but it's also taught me how to be a fantastic leader." "I want to stress that. This course teaches you to be a leader, a manager who can lead their team," says Felicity.
Joffe also emphasises the confidence that comes from the opportunity to learn more about your profession and yourself.
"It really brings the strength out of you. For me, it gave me more self-confidence in myself - I highly recommend it to every nurse."
Ready to take the next step in your nursing career? Learn more about our online Master of Nursing today.
Sources
[1] PLOS One: Estimating the future health and aged care expenditure in Australia with changes in morbidity
[2] Australian Nursing & Midwifery Federation: World at risk of losing half its nursing workforce
[3] Australian Government Department of Health: HELP for Rural Doctors and Nurse Practitioners
[4] ABC News: A look at the state of Australia's nursing workforce amid labour shortage
Get in touch with our Enrolment team on 1300 535 919