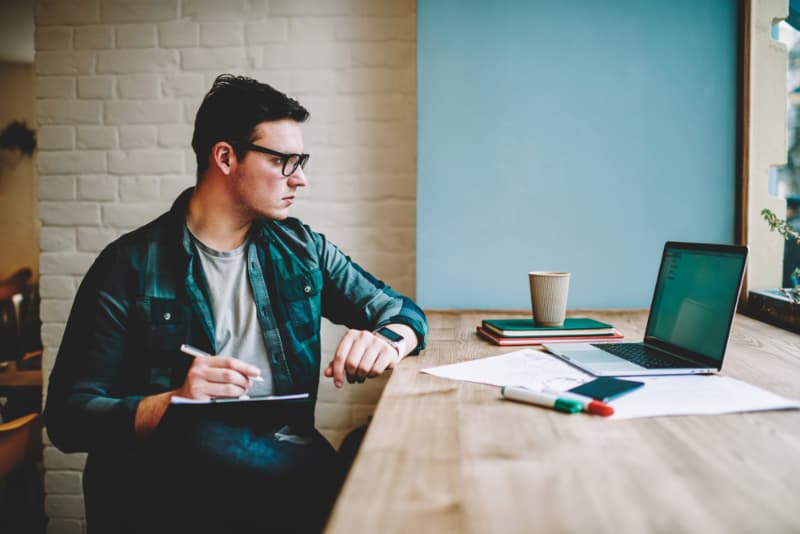 Okay, you've decided to start your online degree. Now what?
First of all, congratulations on making that decision – the benefits of lifelong learning go far beyond pay-rises and promotions.
Next, take advantage of the opportunity to speak with an Enrolment Advisor at JCU Online before you do anything else.
No doubt you've got a list of questions about the online study that is growing by the minute and our Enrolment Advisors have got the answers. If you do happen to come up with a question they haven't heard before, they'll work closely with you to find the solution.
The simple reason for an Enrolment Advisor's existence is to support you from that decision to study right through to your first login as a student.
Let's take a closer look at the importance of speaking with an Enrolment Advisor to get your studies off to a flying start.
What is the purpose of an Enrolment Advisor and what can they help me with?
Have you ever had the experience of dining out with friends, the food arrives, and you wish you'd ordered what they're having? Enrolment Advisors are here to make sure you don't end up feeling the same way about your online studies.
"We have a deep understanding of the admissions and enrolment process and can help students at every step to have a smooth start. In addition to this, we can also help students to choose the right course like Graduate Certificate, Graduate Diploma or Masters in the particular field depending on their future need," says Enrolment Advisor Shweta Dhayal.
Our Enrolment Advisors will work with you to ensure you're enrolling in the course that best supports your goals.
The role of an Enrolment Advisor is to assist all students from any background to settle into their online studies with ease and comfort. They're also a great source of kindness and compassion throughout the beginning of your study journey.
Here's a breakdown of just some of the ways an Enrolment Advisor can improve your online study experience.
1. Determine your eligibility for the course
Did you know that a bachelor degree is not a hard and fast prerequisite for some postgraduate degrees?
With the right work experience, you may be eligible to step into courses without an undergraduate or bachelor's degree.
It's not as simple as slipping a copy of your CV in with your application, but an Enrolment Advisor can determine your eligibility for the course and then guide you through the process.
If you've completed a bachelor's degree at a university outside of Australia, it can be confusing when it comes to satisfying the English requirements for your postgrad study.
Our Enrolment Advisors can clarify what you need to do and support you in getting it done for a smooth enrolment experience.
2. Understand the structure of your course and what you will study
If you've studied on campus before, you might find the structure of your online course slightly different.
To begin with, our online courses have six study periods per year so you can graduate faster. This also gives you six opportunities to begin your course each year.
Another thing you might find unusual is the lack of exam halls with hundreds of students silently writing for hours on end.
To make our courses 100 per cent online, we've developed innovative forms of assessment that are more like what you might experience at work than at uni.
Enrolment Advisors can do more than just help you understand how the structure of your course will work and what you will study.
They can talk you through assessments and study plans to help you make the most of the flexibility available so you can integrate study into your life more easily.
3. Online study verses on-campus study
Online study is much more than being able to access on-campus study materials through a website.
We've completely re-imagined the state of study to create a flexible online study experience that fits in with your existing life. If you need to skip one of the six study periods each year because things get heavy at work, you can do that.
Online study allows you to continue working while you study, something that's very tricky to achieve on-campus. It's also worth noting that the on-campus attendance requirements don't apply in the online study world.
For online study, the LearnJCU portal is the front door to our virtual campus. Much more than just a website, the LearnJCU portal is where you can discuss your studies with other students, tutors and academics.
Our Enrolment Advisors will explain how it all works and help you get online with some tips to get started. Then they'll introduce you to your dedicated Student Success Advisor who will be alongside you throughout your studies to help, guide and champion your progress toward graduation.
4. Time management skills for success
While it's comforting to know that online study is flexible enough to fit around your existing life commitments, it's also helpful to know how much time your studies will need.
Enrolment Advisors know more than just how much of a time commitment each of our courses require. They've watched people with a variety of learning styles work their way through each course.
Whether you're a visual, audible or tactile learner, or you prefer good old reading and writing, Enrolment Advisors can explain what sort of a workload you can expect.
They'll help you learn the tools that will enable you to manage study with an already busy lifestyle.
5. Fee structure and financial support available
Did you know that the Australian Government provides financial support for eligible postgraduate students through FEE-HELP?
FEE-HELP is basically a low-cost loan to cover your tuition fees. There's information available on the FEE-HELP website, but it can be a lot to get your head around.
JCU Online's Enrolment Advisors can guide you through the finer points of FEE-HELP – from clarifying your eligibility, right through to preparing your application.
By speaking with an Enrolment Advisor, you'll get a better understanding of how FEE-HELP works, how much you need to pay for your course and how much financial support you can expect.
Best of all, you'll have someone you can ask for advice at every step of the way.
6. 1:1 support with your application
With the simple goal of supporting you from application to enrolment, your Enrolment Advisor is here to give you 1:1 support.
If it's been a while since you were last scheduling time for study, fear not, your Enrolment Advisor has your back. They'll help you get back into your studies with confidence.
Whether there are documents to be submitted, prerequisites to be aware of, or any other information required, your Enrolment Advisor will point you in the right direction and help make that passage plain sailing.
Why choose JCU Online?
Enrolment Advisors are just the first stage in a collaborative partnership with JCU Online that grows from your application to study, right through to graduation and beyond.
Once you're enrolled, JCU Online's Student Success Advisors will be available to provide guidance, give you access to useful resources and most importantly, motivate you.
But that's not all. Here are two more convincing reasons to choose JCU Online.
Transform your future with a world-class education
JCU Online is as innovative and flexible as the courses that we offer – just one of the reasons we hold a proud place in the top 250 universities in the world.
Closer to home, JCU has been rated 5 stars for graduate job success and 5 stars for student support.
While these numbers are a source of pride for all of us, they're not enough on their own to transform your future.
To do that, we rebuilt online study from the ground up with six intakes and study periods each year to get you into your course sooner and graduate faster.
User-friendly online learning space 
LearnJCU is our online learning environment that puts your entire academic life in your pocket. Simply download the LearnJCU app to your phone and log in. LearnJCU is also available on a computer, or any device that can connect to the internet – just log in and pick up where you left off.
Inside LearnJCU you'll have access to live video conferencing, webinars and podcasts through an application called Collaborate Ultra.
You can meet, network and collaborate with other students and tutors with customised discussion boards.
Designed to transform your future, LearnJCU gives you weekly interactive quizzes to boost your studies and test your knowledge and comprehension of what you learn.
Most importantly, LearnJCU has been created with the user in mind and offers animations and videos that make learning more engaging and entertaining.
LearnJCU offers all the best parts of the on-campus university experience and more – just ask an Enrolment Advisor.
Get in touch with an Enrolment Advisor today on 1300 535 919 or via email at enquiries@online.jcu.edu.au