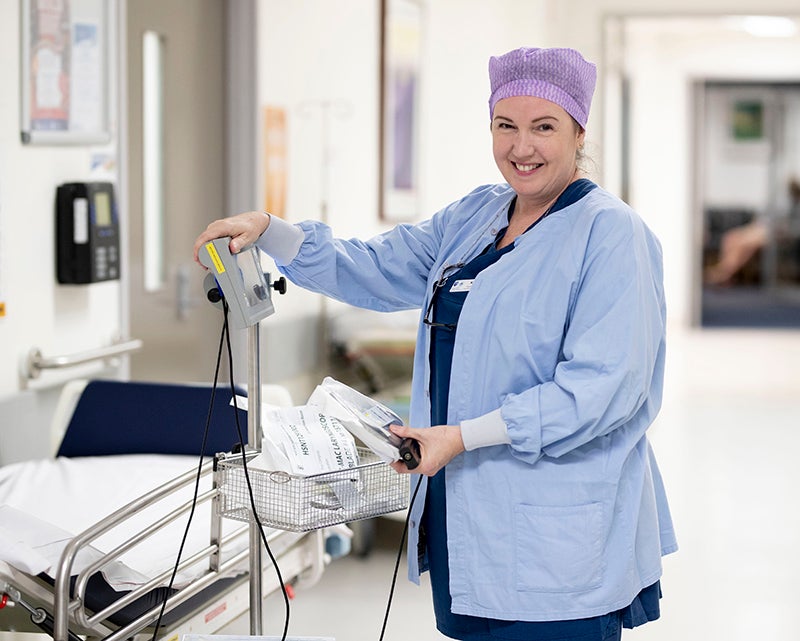 In many cases, a Master's degree has been synonymous with management. Professionals undertake further study to prepare themselves for unique leadership challenges – a worthy goal. But what if your degree could be more than that? What if your Master's degree could also be a means of upskilling and improving clinical practice to better meet the patient needs of tomorrow?
We have enriched our Master of Nursing course with an Advanced Practice major to accommodate the evolving needs of patients and the demand for advanced care across Australian healthcare settings.
Equip yourself for a dynamic future
The field of nursing is facing an increased level of demand. With this comes a multitude of new roles and responsibilities. With an ageing population and ongoing improvements in healthcare, the nursing profession is staring down the barrel of transformation. Additional study and training can provide the necessary support to respond to new and expanding opportunities. It's becoming clear that the patient care needs of tomorrow will require nurses to have an area of advanced specialisation or knowledge across diverse disciplines.

Dr John Smithson from JCU Nursing Midwifery talks about the new Advanced Practice major in the online Master of Nursing.
New opportunities focused on practice
The two original majors offered in the online Master of Nursing - Leadership and Management, and Education - are undoubtedly two critical areas of nursing professional development. The addition of a third major, Advanced Practice, transforms this degree into one with even broader applications. It provides an opportunity for you to upskill and provide patients with a comprehensive level of clinical care.
With the advent of this major, you can undertake further study to enhance your skills in clinical settings and contribute to improved patient outcomes within your workplace. If you love nursing but want to improve your knowledge and skills in a specific area of practice or across the board, then this is the major you have been looking for.  
Advancing practical knowledge
The subjects in this major are tailored to suit the unique challenges that nurses face in clinical environments. The degree aims to upskill you in the area of advanced health assessment and diagnostic reasoning. You will develop the ability to interpret patient data and create a more detailed picture of their journey. This will ultimately assist in ensuring better patient outcomes.
"We've carefully selected some subjects around advanced health assessment, diagnostic reasoning and pharmacology for practice in order to give those nurses a deeper understanding and a broader skillset around clinical practice."

Dr John Smithson
You will become equipped to understand your patients in greater detail, and ultimately be empowered to advocate for them and make a strong contribution to the broader healthcare team. These - and the many other subjects on offer - will work together to provide you with the confidence to excel in your practice.
Broad applicability across several areas of nursing
First and foremost, we've designed the Advanced Practice nursing major for clinicians on the ground who wish to develop the necessary skills to provide a more comprehensive level of care. Our academics understand the need for nurses who can deliver advanced patient care and so this major has been developed to build upon and enhance your existing knowledge. If you are interested in delivering care in rural or community health, you will also find this major beneficial.
A focus on advanced practice has widespread applicability across the healthcare sector and will address many of the situations faced daily by nurses. Additionally, a major in Advanced Practice targets nurses in positions where specialised tasks are already a key part of the job. Whether you have additional pharmacology responsibilities or are required to undertake patient assessments frequently, the course will equip you to perform these skills at a high level.
The Advanced Practice nursing major will enable you to excel
The potential benefits are significant. As a nurse specialised in Advanced Practice, you will have the ability to confront a variety of new situations. The broad subjects covered in this course will enable you to identify and combat your weaknesses and develop strengths in areas of practice that you are passionate about. You are empowered to share your knowledge with those around you, contributing to a more efficient and experienced healthcare team. This advanced education will also help you develop the independence to participate in new teams. If you dedicate yourself to upskilling your practice, the opportunities could be endless.
---
To learn more about our new Advanced Practice major or the Master of Nursing online course more broadly, contact our Enrolment team on 1300 535 919.