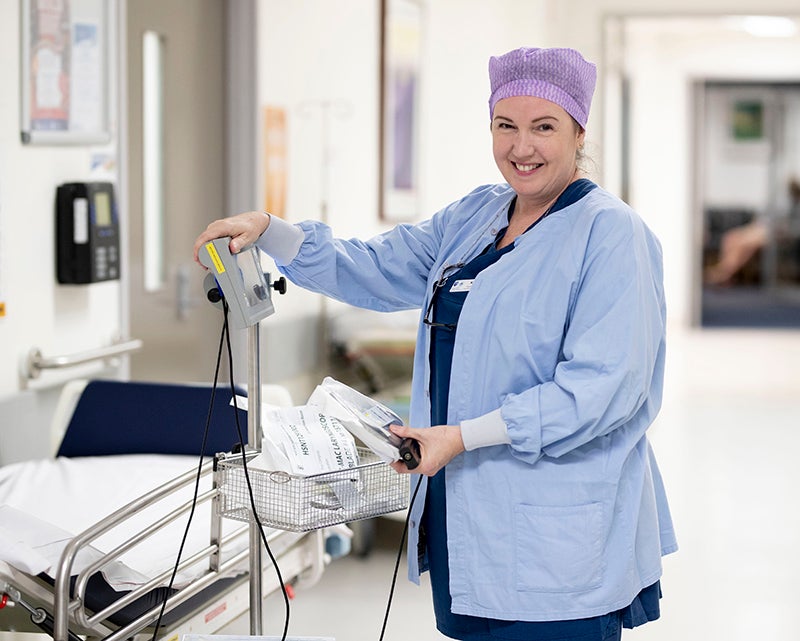 As the Australian healthcare landscape adapts to changing needs, economic pressures, and emerging health challenges, nursing roles are evolving too. Registered nurses are increasingly required to bridge the clinical gap between their traditional roles and more nuanced, specialised care that better meets the complex health needs of individuals and our communities.
There can be confusion about the term "advanced nursing practice" and what the scope of practice is for nurses who practice at an advanced level 
Let's explore advanced nursing practice in more detail and find out how you can step into rewarding career positions critical to enhancing better patient outcomes now and in the future.
What is advanced nursing practice?
In material produced by the Chief Nursing and Midwifery Officers Australia, advanced nursing practice is a level of practice rather than a specific role or specialisation. At its core, it embodies a higher degree of autonomy, complex decision-making, and a broad spectrum of clinical and theoretical expertise underpinned by a combination of postgraduate education and extensive, relevant clinical experience. 
Advanced nursing practice stands at the juncture of traditional nursing roles and the nuanced, specialised care that today's complex health scenarios demand. More than a title, it's a commitment to diving deeper into nursing practice, honing a refined skill set that significantly elevates patient care quality and fills the pressing clinical gaps in healthcare today.
What are advanced practice roles in nursing? 
Nurses with qualifications in advanced nursing practice in Australia typically work across five healthcare domains. Within these domains, nurses can take on a multitude of roles: 
Clinical Care
Advanced practice nurses support patients' needs by focusing on procedure, physical care, data interpretation, care coordination and assessments.
Support of Systems
Advanced practice nurses seek to improve healthcare systems through advocacy, mentorship and developing new models of care and access
Education
In the education domain, advanced practice nurses focus on identifying the learning needs of their patients and colleagues, developing educational programs and supporting self-management of illnesses.
Research
Advanced practise nurses support innovation and inquiry to improve health outcomes, including translating evidence into practice and conducting clinical research. 
Professional Leadership
Advanced practice nurses share knowledge, promote the profession and provide consultancy services, establishing themselves as leaders and consultants within and beyond their service areas.
All these domains enhance healthcare delivery through a blend of clinical practice and system support, contributing to patient care and the healthcare system.
What are the requirements for advanced nursing practice? 
The prerequisites for advanced nursing practice include a blend of academic study and clinical experience. In addition to being a registered nurse, you'll need a relevant postgraduate qualification in nursing as a minimum educational requirement (such as a graduate certificate, graduate diploma or master's degree), though this alone isn't solely indicative of advanced practice. 
Advanced nurse practitioners combine higher education and a wealth of clinical experience in a chosen specialty to cultivate their ability to practise at an advanced level. Organisational support, guidance and a working environment that supports learning are also crucial to integrating and sustaining advanced nursing practice roles.
Why is advanced nursing practice important?
As the Australian healthcare milieu continues to evolve amid changing needs and economic pressures, the role of an advanced practice nurse is becoming increasingly pivotal. Their ability to bridge the clinical gap between traditional nursing roles and specialised care proactively engages with healthcare's changing dynamics to enhance medical care and improve outcomes.
Filling clinical service gaps and increasing access to healthcare
Advanced practice nursing arises partly from the need to address gaps in clinical service delivery. Its expanded skills and knowledge enable advanced practice nurses to provide services in regional areas with a shortage of doctors or specialists, significantly enhancing access to healthcare. They can operate in various settings, including clinics, hospitals, community health centres, and patients' homes. This makes healthcare more accessible to populations that might otherwise struggle to receive the care they need.
Enhancing quality of care and improving healthcare outcomes
Advanced practice nurses bring a holistic approach to healthcare. Their role includes understanding patient needs, educating them about their health conditions, and developing personalised care plans. Often, they can provide high-quality care at a lower cost than other healthcare providers, creating a cost-effective solution to healthcare delivery.
Contributing to education, research, leadership and interdisciplinary collaboration 
Beyond direct patient care, advanced practice nurses contribute to educating and training other healthcare professionals, engage in research to improve healthcare practices, and often take on leadership roles within healthcare organisations to drive quality improvement and policy development. They can also act as a bridge between nurses, doctors and other healthcare professionals, promoting a collaborative approach that can lead to more coordinated and effective care.
Responding to evolving needs
Advanced practice nurses are at the forefront of adapting to the challenges posed by an aging population, new healthcare technologies and emerging diseases. They often have a strong community focus, identifying the unique needs of communities and working to develop and implement programs and initiatives to meet those needs.
Advanced nursing practice is a multifaceted and dynamic response to contemporary challenges in healthcare delivery. The unique blend of clinical expertise, education, leadership, and a patient-centred approach that advanced practice nurses bring to the healthcare system makes them indispensable in striving towards better healthcare outcomes, increased access to care, and improved patient satisfaction.
Why study advanced nursing practice?
In many cases, a master's degree has been synonymous with management. Professionals undertake further study to prepare themselves for unique leadership challenges – a worthy goal. But what if your degree could be more than that? What if your master's degree could also be a means of upskilling and improving clinical practice to better meet the patients' needs of tomorrow?
As our healthcare landscape changes, advanced nursing practice equips you with the tools to adapt, learn and continue providing exemplary care. In addition to enhancing your skill set, you'll be stepping up to make tangible, meaningful differences in people's lives.
Equip yourself for a dynamic future
The field of nursing faces an increased level of demand. With this comes a multitude of new roles and responsibilities. 
Additional study and training can provide the necessary support to respond to new and expanding opportunities. It's becoming clear that patient care will require nurses to have an area of advanced specialisation or understanding across diverse disciplines.
New opportunities focused on practice
An Advanced Practice major gives your degree broad applications, allowing you to upskill and provide patients with comprehensive levels of patient care. You can also undertake further study to enhance your skills in clinical settings and contribute to improved patient outcomes within your workplace. 
Advance your practical knowledge
The subjects in this major are tailored to suit the unique challenges nurses face in clinical environments. You'll increase your skills in advanced health assessment, diagnostic reasoning, and interpreting patient data to create a more complete and detailed picture of their health journey.
"We've carefully selected some subjects around advanced health assessment, diagnostic reasoning and pharmacology for practice in order to give those nurses a deeper understanding and a broader skillset around clinical practice."

Dr John Smithson
Broad applicability across several areas of nursing
We designed our advanced practice nursing major for clinicians on the ground who want to provide a more comprehensive level of care to their patients. 
For those in positions where specialised tasks are already a key part of the job, you'll build on and enhance your existing know-how to perform them at a high level. If you're interested in rural or community health, you'll also find this major beneficial for addressing many situations you face daily.
JCU Online's Advanced Practice nursing major empowers you to excel
An Advanced Practice major at JCU Online isn't just about climbing the career ladder. It's about embracing a new vision of nursing that goes beyond the conventional. Your enhanced skills and knowledge will help to transform patient care and the industry for the better.
Step into an evolving sector of nursing practice. With JCU Online's Advanced Practice major, you'll embody the progressive spirit our healthcare sector needs in these evolving times.
Discover how JCU Online's Master of Nursing can help you deliver advanced care and transform patient outcomes. Speak to one of our Student Enrolment Advisors today on 1300 535 919.