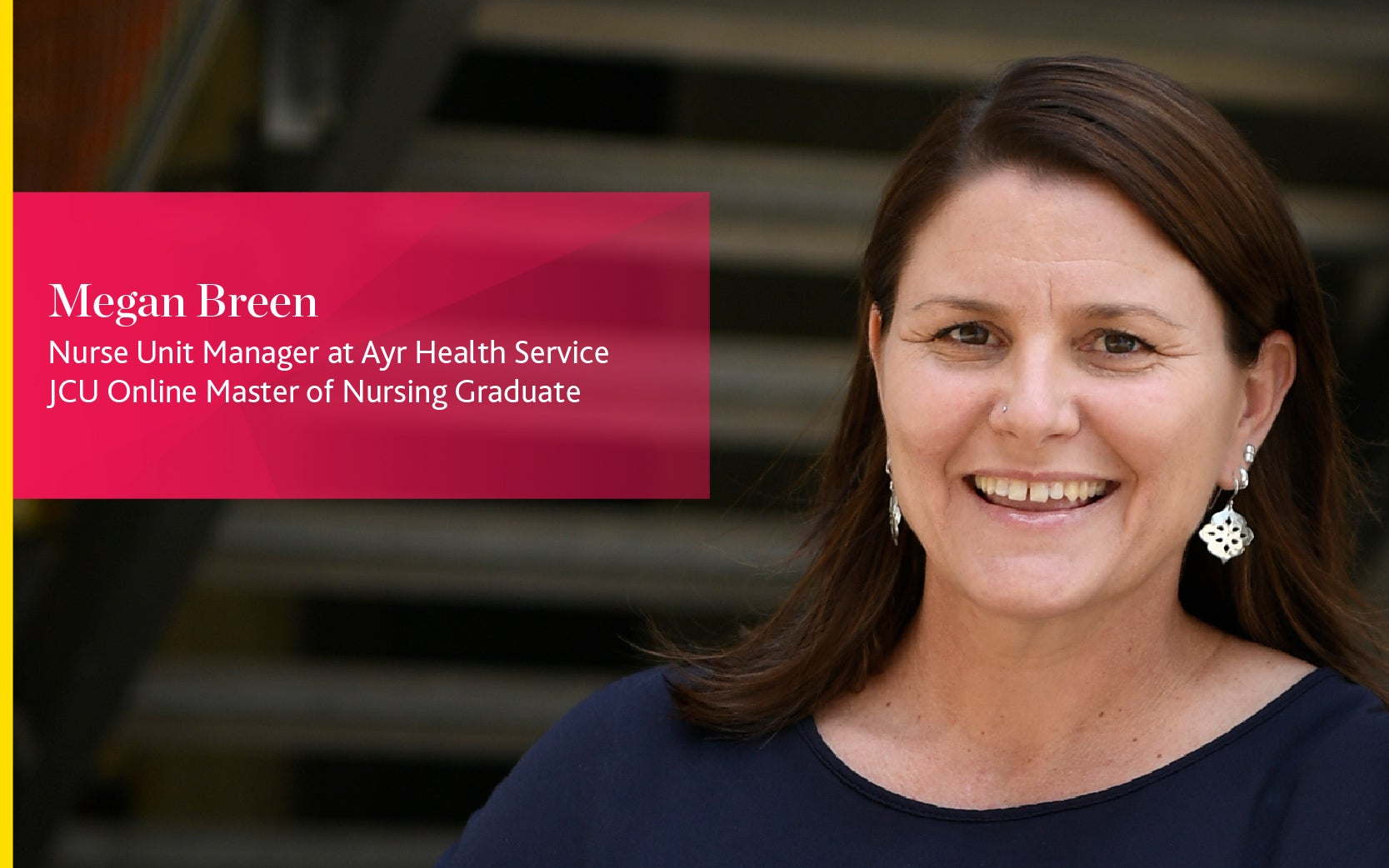 The role of a nurse has changed dramatically over the decades. But what hasn't changed is the importance of advocacy in nursing. However, advocacy extends beyond patient care — the advocacy skills nurses bring to work can benefit the entire healthcare system.
If you're keen to become a nurse leader and further your skills as an advocate, a master's qualification will get you there. JCU Online's Master of Nursing students develop strong advocacy and leadership skills to help them excel in their careers.
Why advocacy in nursing matters
Nursing makes a difference to the lives of tens of thousands of Australians every day — and that number is only going to increase.
In fact, Health Workforce Australia (HWA) predicts that there could be a shortfall of more than 100,000 nurses by 2025, and 123,000 by 2030.
While nursing is one of the nation's most challenging and changing professions, there are also incredible opportunities for qualified and skilled senior nurses and nurse leaders.
The role of a nurse is vastly different today than it was 40, 20 or even 10 years ago, however, one constant is the importance of patient advocacy in nursing. Supporting the patient and giving a voice to their concerns and rights has always been a cornerstone of the nursing profession.
Not all patients can advocate for themselves. Those who are mentally ill, disabled, young or don't know their rights are particularly vulnerable. And not all patients have families or external advocates who can speak for them. That role often falls to nurses.
Experienced nurses are important advocates for their patients
A nurse who has years of advocacy experience is Megan Breen, the nurse unit manager at Ayr Health Service. She has collaborated many times with other healthcare workers on behalf of patients.
"The occupational therapist, the physiotherapist, me as the nursing leader, the social worker — we have all advocated for our patients."
This is important when patients are vulnerable due to disability, or if they do not have family to support them.
"So if we weren't stepping in advocating for them, nobody would be. That has been very, very obvious — that if you've got no one to advocate for you, you really will fall through the cracks."
Empowering nurses to make a difference
A nurse's close relationship with patients makes them an obvious choice as a patient advocate, but it's also important for the smooth running of a hospital. And having well-developed advocacy skills benefits the individual nurse.
According to Teena Shoemark and Paula Foran in The Journal of Perioperative Nursing, when patients are unable to advocate for themselves, such as in a perioperative environment, having a nurse advocate is vital. However, because nurses are able to exercise their professional skills as a patient advocate, it can also be empowering for the nurse.
Nurses advocate for more than their patients
Dr Tracey Ahern, JCU Online's Master of Nursing course coordinator, says advocacy in a hospital extends beyond 'patient advocacy'. "nurse leaders can drive change to systems, and advocate for changes to policy at many levels, including the patient level," she says.
"They can become involved in research that drives health change and policy. They can serve on committees and boards that have decision-making power. They can work with stakeholders to improve quality and safety of health care at the community, state or national level."
According to Clare Cole, Jane Mummery and Blake Peck in the journal Nursing Ethics, advocacy has long been seen as an essential characteristic of a nurse — it's part of their education and training and embedded in their professional guidelines and codes. Given the intimacy of the patient-nurse relationship, advocacy is expected. But the authors of this article argue that advocacy in nursing has been poorly defined. And other constraints and professional obligations nurses have makes advocacy difficult.
Nurses face a complex and complicated workplace. Those professionals who have undertaken extra training as part of a master's degree are much better placed to tackle these challenges and move forward with confidence as a nurse leader and healthcare advocate.
How to improve advocacy skills in nursing
JCU Online's Master of Nursing empowers nurses to make a difference. It gives students the skills to understand and implement research, to become effective nurse educators or embrace leadership roles in a hospital. Graduates are given the tools to drive much-needed change in their workplaces and ensure better patient health outcomes.
Megan Breen is a JCU Online graduate. The health service she works for is a level-three facility. "I oversee three clinical areas — general inpatient, ED and perioperative services."
Megan is responsible not just for the clinical management of the hospital's patients but also for the management of more than 75 nursing staff. She secured the position after completing her master's degree.
As a highly experienced nurse, Megan already had well-developed advocacy skills, but she studied a master's degree because she wanted to broaden her skills.
"I think what the course added was nuance, a high level of thinking and broader-picture thinking about advocacy and what the implications are when we don't advocate for our patients.
"Also as a leader, it was about thinking about the implications when you don't advocate for your staff. It's not just about patients and families. It's about a sustainable workforce in a time of health care that's incredibly challenging."
Studying exposed Megan to different leadership opportunities in nursing she had not even considered before.
"I wanted a course that I could use every day at work that would make me a better leader, a better manager and give me a better understanding of how the health system works," Megan says. And she found it in JCU Online's Master of Nursing.
"I think if I could sum up the master's, it would be understanding healthcare from the bigger picture, the broader picture. Rather than as the clinician on the floor in a very specialist area and only seeing part of the bigger machine."
How to develop advocacy skills and become a nurse leader
While nurses of all levels can become strong advocates and leaders, postgraduate study helps to better develop those skills.
A course such as JCU Online's Master of Nursing will not only help you understand those attributes of a nurse leader — such as confidence and commitment — but you'll also gain the skills to make them your own. You'll become a better strategic thinker, problem solver, planner and visionary.
Dr Tracey Ahern explains why pursuing postgraduate study to become a nurse leader and advocate is so important.
"As registered nurses and midwives, we have a commitment to meeting our professional standards in order to ensure safe and quality healthcare provision. To maintain high professional standards, we pride ourselves on taking up opportunities that offer continual education. We also support professional development that is aligned with our interests, our career development and our nursing or midwifery philosophies.
"JCU Online's Master of Nursing, with its three majors, is designed to meet the higher education needs of today's nurses and midwives. The program is about leading and managing in a complex world, in educating people in contemporary healthcare settings and in the provision of advanced clinical practice."
JCU Online's Master of Nursing is designed so that graduates will be well prepared to take on the challenges of a changing healthcare landscape. The three majors are:
Leadership and Management — where you'll further your skills in relation to ethics, business and finance and dispute resolution.
Education — where you'll learn to become a skilled clinical coach, educator and teacher in practice settings.
Advanced practice — where you'll learn about quality use of medicines and diagnostic reasoning, among other things.
There is also the option to choose two specialisations, graduating with a double major.
Whatever senior nursing role you decide to pursue, having a master's degree will help you get there.
The JCU Online student experience
Megan says the program is streamlined and well set up. "They take a scaffold approach to each of the subjects, so it is quite formulaic, but that is a strong point. There are no surprises, and you know exactly what will be expected of you. The weeks are set out very logically and the program is very intuitive. They've put a lot of work into developing the program."
She has this advice for those thinking of studying.
"It is a big commitment and you do sacrifice a lot, but I think that on the other side of it, it's very worth it. And I openly encourage anybody to do extra study, whether it's a graduate certificate or a diploma or a master's degree.
"I think every nurse should do something postgraduate-wise. I think just gaining the skill to be more refined in how you approach people and understanding how the business works will make you a better nurse. Whether you aspire to do something profound or you just want to be the best bedside nurse you can possibly be, there is certainly a lot of benefit to extra study."
JCU Online Master of Nursing graduate Amy McCrystal also believes further study is well worth the effort.
"For nurses contemplating postgraduate study, the advice I'd give is this: think about what your goal is, what this degree is going to help you achieve in your career. Be prepared for the work involved, but don't be daunted by it."
Alison Bryan is another graduate. She has plenty of advice for future and current students.
"Utilise the times with the tutors or subject coordinators and make use of the discussion boards. Seek assistance early if required, the academics are very understanding and eager to help.
"I absolutely loved my master's degree, especially in the current carousel mode where I could completely concentrate on one subject at a time. It allowed me to really digest the content. Now, having completed this level of study, it has opened more doors for me professionally. I cannot recommend the postgraduate program enough at JCU. I felt supported, and the curriculum was challenging and engaging in their online format."
Be part of the change
Nurses have always been vital patient advocates, and they will need to continue to advocate as the demands of the system become greater. Nurses who embrace further study and hone their leadership and advocacy skills are seeing doors open for them.
If you want to learn where a JCU Online Master of Nursing degree can take you, reach out to one of our Enrolment Advisors today.
Get in touch with our Enrolment team on 1300 535 919