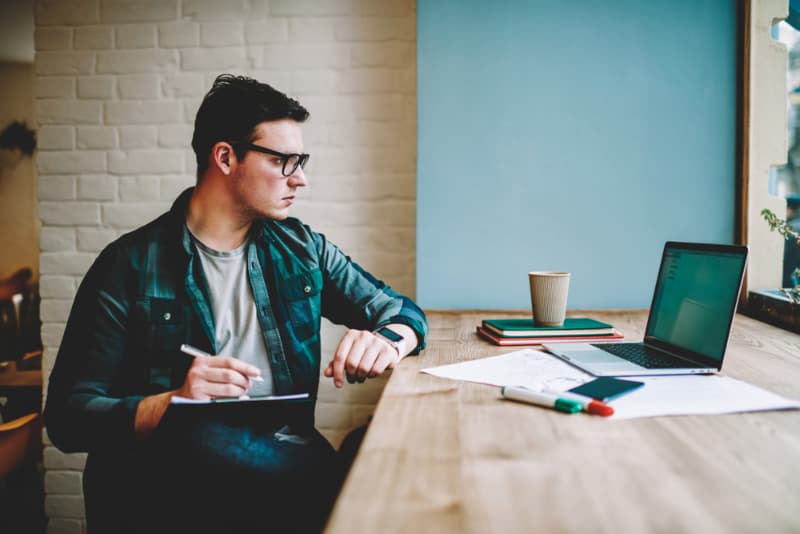 Today's business world is accelerating at a phenomenal pace. Studying an MBA is a smart decision, although not one you should take lightly. An MBA can give you the skills to fast-track your career or change direction entirely, but there's one core element to its success: you.
There's no doubt the business acumen you'll develop studying an MBA is unsurpassed, as you learn how to translate theories and knowledge into real-world use. It's up to you to make the most of your program.
Here's how to get started:
1. Read more business-related content 
For many students, the last time they opened a textbook was during their undergraduate degree, often several years ago. It's a good time to start reading more business-related content - during your MBA you'll be expected to understand current events and the issues big corporations are facing. Besides, there will be a large number of required readings and case studies to prepare before each class. It's overwhelming if you're not prepared.
Publications like the Wall Street Journal and the Australian Financial Review will ensure you're comfortable with all of the terms and business lingo you encounter in your coursework, so buy a subscription and make it a habit of reading these daily.
2. Get a head-start on your coursework
There's no doubt the first classes of an MBA program can be tough. Particularly for students who don't have a background in corporate finance, accounting, and economics. Falling behind is a real risk, as you combine a high workload with a lack of understanding of basic business fundamentals. The smart move is to get a head-start on your coursework.
For students about to undertake an MBA, you can sign up to online options through platforms like Coursera and MITx, to give you some more widespread business knowledge. Master these, and you'll ensure you're ready for your classes from day one.
3. Set up a quiet space to study 
Having a dedicated place to study boosts concentration, but also give you the space you need to learn effectively. The key is to remove any distractions while finding a spot you're happy to sit and work for extended periods.
A tucked away corner of your home is a good solution, with a comfortable desk and chair, and good lighting. If it's just not possible, you could always try a coffee shop or a coworking space. Many are open 24 hours and can give you a chance to step away from everything at home to focus, and apply yourself to your studies.
4. Use a schedule to manage your time 
Getting organized is critical to balancing your studies, your family and your job. There are only a limited number of hours every day, and if you're not being efficient and managing your time, you could fall behind.
Start using a calendar system to structure your day, and create a schedule with time for exercise, and spending time with your friends and loved ones. I'd also recommend finding a block of time each day to study. Like first thing in the morning while the rest of your family is sleeping, so you can concentrate on your books.
5. Create a strong support network 
Succeeding with your MBA is not purely an individual task. You need to create a strong support network, which includes your friends, family and even your employer, who understand and can provide help and encouragement during the busy periods each semester. There will be times you need to lock yourself down and study.
Your employer may be able to offer flexible working hours to help balance the workload and don't forget that there are simple things you can do to help out at home. If you've no time at all, perhaps hiring a cleaner or a landscaping company can relieve some of your partner's workload. Every task you take from their shoulders will be appreciated.
6. Give your social media an update 
If you can't remember the last time you updated your social media, now is the time to do it. Adding a new job status on LinkedIn will notify your contacts, giving potential employers, along with your friends, a heads-up you're going back to school. Ultimately sparking conversations and new opportunities, helping you position yourself for your dream job.
Ensure all of your social media accounts accurately represent your passions and abilities, in the most professional way. Use the time now to create the right image you want to promote, as new friends and potential employers will be looking. It's also a good idea to update your resume during this time as well, just in case.
7. Build new connections as soon as possible 
Past graduates will tell you the best part of their studies were the people they met, and the relationships they formed. The people you're studying with could be a potential employer or provide access to a connection giving you a leg-up in your career. It's critical to start building real relationships with your professors and your classmates, as soon as possible.
Perhaps there's a Facebook or chat group for your class or networking opportunities and events on campus. Find out what's available, sign up, and go. You never know the people you will meet, or the path they will set you on.
Studying for an MBA is challenging, but you're not going to get a quality education without putting in the work. You will need to make sacrifices to succeed, and your social life and favourite hobbies may need to take a temporary back seat while you're studying.
The trick is to keep your eyes on the prize, and the long-term success that will come.
Don't let these short-term changes overwhelm you, the more prepared you are to start your MBA, the easier it'll be for you to succeed.
The JCU Online MBA Global degree provides an environment that helps shape business professionals into business leaders. Learn more about this course by contacting our Enrolment team on 1300 535 919.