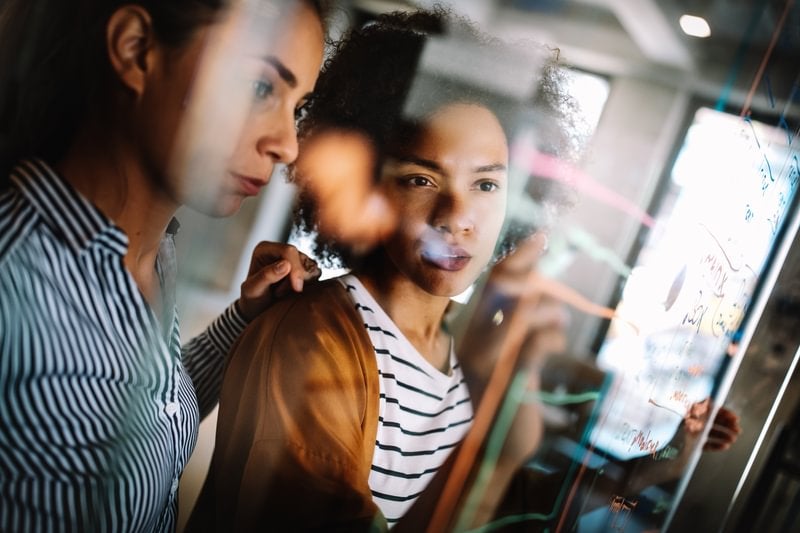 How to choose a master's degree that's right for you
Are you finding yourself overwhelmed by data? You're not alone.
In fact, with the immense amount of data generated at every level of business, more and more professionals must learn how to interpret data. That's where data science comes in.
If you're feeling a little lost when it comes to data science, don't worry—we're here to help. In this article, we'll give you a rundown of everything you need to know about business analytics vs. data science so that you can make the best decision for your future.
What's the difference between business analytics and data science?
It's no secret that data is becoming increasingly important in the business world.
As companies strive to harness the power of data, they have begun to realise they need employees who can analyse and make sense of all that information. That's when they turn to business analytics and data science.
Both disciplines involve working with data to help businesses make better decisions, but there are some key differences between the two.
So what is the difference between business analytics or data science? Let's take a closer look.
What is data science?
Data science is the process of extracting insights from data. Data science students learn how to use various techniques—such as machine learning and statistical analysis—to find patterns in data and solve real-world problems.
What is business analytics?
Business analytics transforms data into insights that leaders and organisations can use to make better business decisions. Business analytics students learn how to use data to improve various business processes, such as marketing, operations and customer service.
Business analytics vs. data science: which should you choose?
If you want to expand your career options through postgraduate study, you might be wondering how to choose the right degree for you. The answer depends on your interests and goals.
If you're leaning toward using data to improve business processes, then business analytics is the right field for you. But if you're more interested in extracting insights from data, then data science is the right choice.
Using business analytics to make decisions is important because it allows business owners to see the big picture. Business analytics can help business owners and managers understand how their business is performing, what changes they need to make, and where their company is heading. By using business analytics, managers can make data-driven decisions to improve their organisation. You can build this skillset by studying our MBA Global, which builds your data-driven decision-making skills.
On the other hand, data science is crucial because it touches every aspect of our lives and allows us to see complex relationships that might otherwise go unnoticed. Some real-world examples include:
• Recognising a fraudulent transaction or credit card charge and preventing fraud before it can happen.
• Understanding traffic patterns and re-designing cities so that vehicles spend less time on roads, freeing up time and money for drivers.
• Helping a doctor choose the best cancer treatment for a patient by analysing the DNA of the tumour.
These are just a few examples of how data science can profoundly impact our lives, but the possibilities are endless. Data science is the key that modern society needs to improve our world. You can build your data science skills with our Master of Data Science.
How to build a career in data science
Data science is a rapidly growing field that offers ample opportunities for career growth. A Master of Data Science provides in-depth knowledge and practical skills in data analysis, machine learning and statistical modelling to allow you to reach new heights of success in your field.
These skills are in high demand and having a master's degree allows you to stand out from the competition. If you choose to study with JCU Online, our Master of Data Science covers a wide range of topics, giving you a well-rounded education in the field.
Why study a Master of Data Science with JCU Online?
With the ever-growing demand for data scientists, now's the perfect time to start learning the skills you need to stand out from the pack.
With JCU Online, we can help you gain expert skills in programming languages like Python and R, professional capability in visualisation tools like SAS and Tableau, as well as in software development platforms like R-Studio. You'll also gain experience on cloud computing platforms like Amazon Web Services.
You'll learn from leading experts in research, academia, business and data science when you undertake our interdisciplinary approach. This varied technique provides a more adaptable knowledge base and skill set that is valuable in the job market.
Still not sure which field to choose?
You're not alone. Lots of prospective postgraduates face the same dilemma.
The best way to choose is to take an in-depth look at our course offerings.
Consider your strengths
• What's your background? If you have a background in business, then business analytics may be a better fit for you. If you have a background in computer science or mathematics, then a data science program may be the way to go.
• What are your goals? If you want to use data to improve business processes, then business analytics is the right choice. But if you're more interested in extracting insights from data, then data science is the better choice.
• What type of program are you looking for? There are many different types of business analytics and data science programs out there. Some programs are more technical, while others are more focused on business applications.
If you find yourself more interested in the business side of things, our MBA Global program can give you the knowledge required to make effective, data-driven decisions. If you are leaning towards data science, our Master of Data Science will allow you to gain skills the industry needs. No matter which path you choose, a postgraduate degree can give you the skills, knowledge and confidence you need to succeed in today's data-driven world. It will also give you a competitive edge to stand out and succeed.
A comprehensive postgraduate degree that will accelerate your career
If you're looking for an in-depth postgraduate course that covers all aspects of data science and its related fields, JCU Online's Master of Data Science is for you. With our wide range of intakes and nested qualifications, we can tailor your learning experience to meet your unique career goals and learning style.
Ready to get started?
Have a chat with one of our Enrolment Advisors advisors on 1300 535 919 or email learn@online.jcu.edu.au and see for yourself what JCU Online can do for you.