Graduate Diploma of Data Science (Internet of Things) Online
Why Data Science with JCU?
The Internet of Things (IoT) course at JCU Online is a Graduate Diploma giving you the professional skills required in business, government and research.
100% online & part-time
Fast-track your career with flexible study you can balance around your life. Study one subject at a time and complete your degree in only 16 months part-time.
Gain specialist knowledge of IoT
Explore the possibilities of smart devices and learn to design, implement and analyse smart systems to drive more insightful business strategies.
Next level skills
Gain the skills relevant to succeed in an increasingly connected world through understanding data, analytics, smart devices and smart ecosystems.
Program Highlights
Gain specialist knowledge in the field of IoT and complex data ecosystems.

Develop fundamental skills in data science.

Open up your career opportunities.

Fast-track your career with 100% online study.

Be supported by a dedicated Student Success Advisor.
DOWNLOAD COURSE GUIDE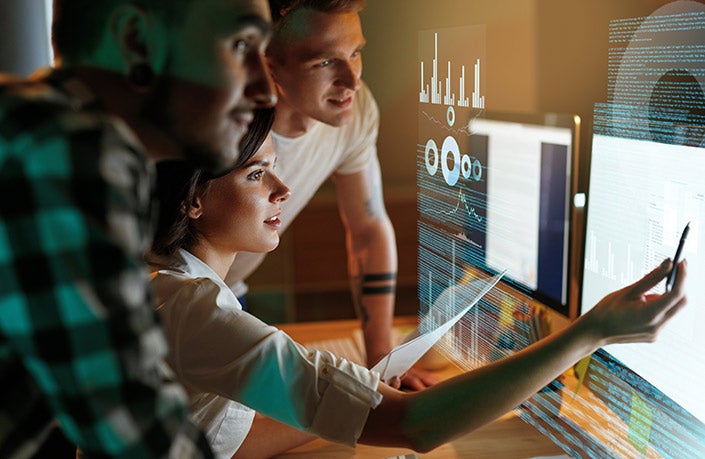 Specialise in the growing field of IoT
The Internet of Things (IoT) is revolutionising the way data is collected. By allowing the creation of smarter, more-connected, on-the-ground infrastructure, IoT technology is unlocking the real potential of data in industry and revealing the need for data science specialists. The Boston Consulting Group expects the field of IoT to grow at over 30% a year for the next few years.¹ This rapid expansion is creating unprecedented demand for IoT specialists, and incredible career opportunities as a result.
Our expert teaching staff combine a deep understanding of contemporary IoT knowledge with real-world business and research experience. Our Graduate Diploma of Data Science (IoT) will provide you with cutting-edge knowledge of smart devices, connected networks, sensors, programming languages, tools and platforms, to discover a wealth of new career opportunities.
¹http://media-publications.bcg.com/Microsoft-BCG-Focus-MSFT-IoT-Article-V...
What you will study
An interdisciplinary approach gives you relevant knowledge in mathematics, information technology and business domains, as well as specialist knowledge of Networks, Sensors, Programming and Smart Devices.
The Graduate Diploma of Data Science (IoT) is delivered by academics with real-world experience.
The Data Science and IoT course consists of eight subjects delivered 100% online. There are six study periods every year, each seven weeks long. You can either study the subjects in the order they are delivered or, depending on your personal and career demands, sit a subject out and simply complete that subject later in the course.
Want more details about these subjects? Find out more from our course guide.
Graduate Certificate subjects
Graduate Diploma subjects
Course information
This Graduate Diploma gives you the specialist skills to create the end-to-end data ecosystems that redefine the way the world works and interacts. From human-centric smart devices to large infrastructural smart networks, you'll gain the skills to grow your career in a rapidly expanding field.
Entry Requirements
Recognition of Prior Learning
Learning Outcomes
Career Outcomes
Nested qualifications: Early entry exit options
JCU's online Graduate Diploma of Data Science (IoT) is a pathway towards obtaining a master degree. After completing your graduate diploma, you can continue your studies and gain a Master of Data Science. If you need to finish your study early, you may still qualify for a Graduate Certificate of Data Science. Get in touch with an Enrolment Advisor to find out more.
You might also be interested in:
Ready to get started?
Download a course guide
For more detailed and up-to-date information about your degree, including:
Information about the course
Course duration
Fees
Course descriptions
What to expect from the course
Download course guide
Speak with an Enrolment Advisor
Investing in the right course for you is important to us and we're here to help. Simply request a call back and will assist you with:
Entry requirements
Choosing right course
How to apply and enrol
How online study works
Course duration and fees
Enquire Now
Frequently asked questions
Data science is anything and everything about data, from collection, storage, cleaning, processing, analyses, visualisation to communicate the finding with end-users. Data scientists not only extract valuable insights from data they also predict the possibility of future events using available data.
What is the difference between data science and data analytics?
Data science is anything and everything about data. Data analytics is part of data science which centres on formulating actionable insights to pre-existing questions.
As more data are collected each day, the field of data science continues to grow. Studying a Master of Data Science will give you the in-demand skills in programming, visualisation and cloud platforms. Upon successfully completing a Master of Data Science with JCU, you will have the skills and expertise to succeed in roles like: Data Scientist, Business Analyst, AI Developer, Machine Learning Specialist, Data Analyst, Chief Information Officer.
How do I get into data science?
A postgraduate degree in data science will help you navigate into this industry. To enter our Master of Data Science you must have a Bachelor degree or at least five years of relevant work experience in an IT or data science-related industry.
What level of mathematics is required to complete the degree? How will I catch up if I do not meet the requirement?
Numeracy skills equivalent to senior level mathematics that includes algebra and elementary differential calculus is assumed. JCU offers a specified online mathematics subject, which can be completed prior to application if you do not currently meet the mathematical entry requirement level.
What kind of assessments can be expected in this course?
Assessment includes a combination of, reports, assignments and presentations. Students receive regular feedback on their progress via online forums and individual consultations with academic staff.
Some students may be eligible for government assistance to help their study. For more information and to see if you are eligible visit:
https://online.jcu.edu.au/fees