Graduate Diploma of Business Administration Global Online
Why a Graduate Diploma of Business Administration Global with JCU?
James Cook University's (JCU) online Graduate Diploma of Business Administration Global is designed for aspiring leaders who want to thrive in a contemporary business environment and immediately apply their knowledge to drive growth and obtain an advantage.
100% online & part-time
Fast-track your career with flexible study you can balance around your life. Study one subject at a time and complete your degree in as little as 16 months part-time.
A pathway for further study
After completing your Graduate Certificate, you can easily continue your studies and gain a graduate diploma or master's degree.
Entry without a Bachelor degree is available
Leverage your relevant work experience to gain entry into the course without a Bachelor degree.
Program Highlights
Gain a global perspective and harness your understanding of international markets to inform business practice.

Learn how to analyse and leverage data to make strategic decisions.

Become an effective leader by enhancing your management capabilities.

Fast-track your career with 100% online study.

Be supported by a dedicated Student Success Advisor.

Begin a pathway to further study.
DOWNLOAD COURSE GUIDE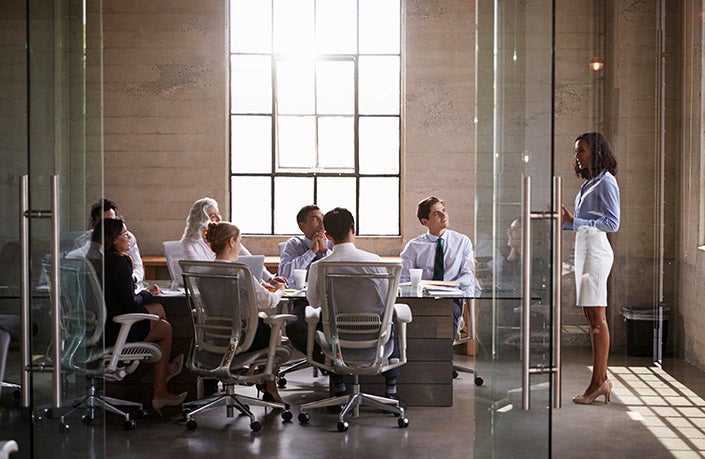 Succeed in a global business environment
Technology is providing greater connection to global thinking and revolutionising the way business is conducted around the world.
With JCU's online Graduate Diploma of Business Administration Global, you will gain the decision-making skills required to act quickly and adapt within a dynamic and globalised world. You will learn how to tackle complex business problems by analysing data. This course will also teach you to employ strategic management skills so you can lead teams and create business sustainability.
What you will study
To complete the online Graduate Diploma of Business Administration Global, you will study eight subjects. Each subject runs for seven weeks, in addition to an orientation week, with six enrolment periods per year.
You'll gain the skills to make impactful strategic decisions in global business contexts, solve complex problems through data and develop the knowledge to become a competent leader, who drives sustainable growth and creates positive outcomes.
Want more details about these subjects? Find out more from our course guide.
*Duration dependent on individual study path and subject availability. Please speak to an Enrolment Advisor for more information.
Graduate Certificate subjects
Graduate Diploma subjects
Entry Requirements
Recognition of Prior Learning
Learning Outcomes
Career Outcomes
Inherent Requirements
Nested qualifications: Early entry exit options
The Graduate Diploma of Business Administration Global is a 'nested qualification' within the 12-subject Master of Business Administration (MBA) Global. While you complete your diploma, you will also gain your Graduate Certificate of Business Administration Global.
Upon completion of the Graduate Diploma, you can either exit the course or continue your studies towards the MBA Global.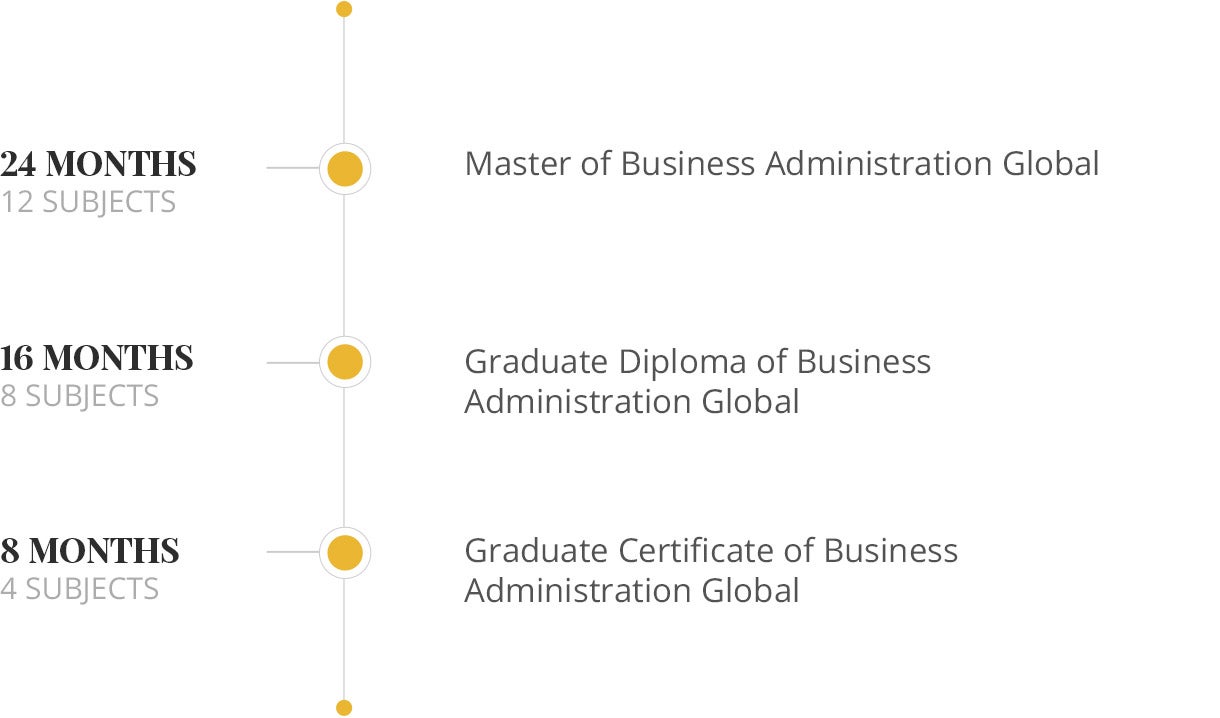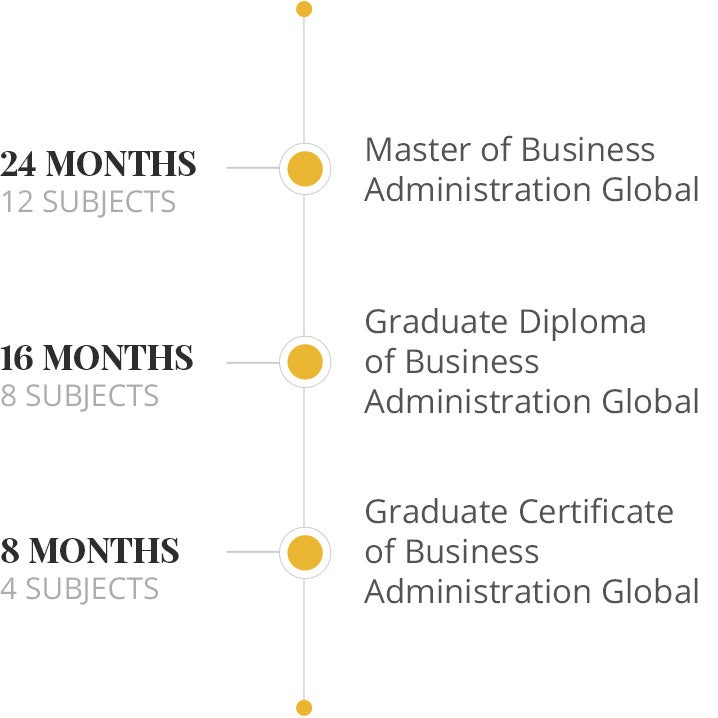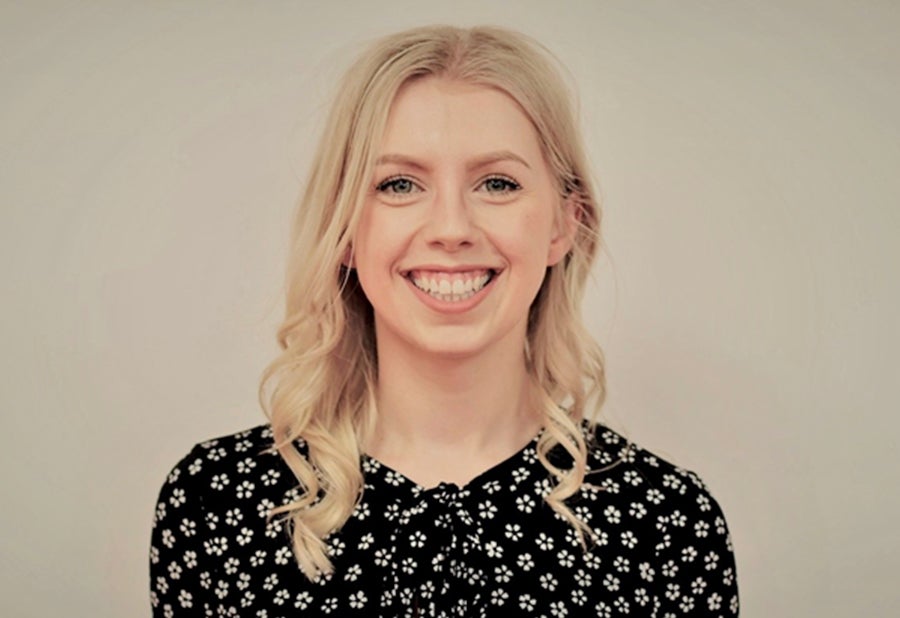 Your personalised Enrolment Advisor
The role of an Enrolment Advisor is to ensure that you have all the resources and academic support needed to be successful in your studies.
Enrolments Advisors are here to help you with:
Determining your eligibility for the course.
Understanding the structure of your course and what you can expect to learn.
Time management strategies for success.
How to apply for financial assistance and FEE-HELP.
Any questions you have about your application.
Contact hours for your Enrolment Advisor 
Monday and Tuesday: 8am-6pm (AEST)
Wednesday and Thursday: 8am-7pm (AEST)
Friday: 8am - 5pm (AEST)
You might also be interested in:
Frequently Asked Questions
Why do a Graduate Diploma of Business Administration Global?
A Graduate Diploma of Business Administration can assist professionals to further their career. This degree can help with employability, earning potential, promotions and practical knowledge which you can take into your workplace. It can also be a pathway to a master degree.
What do you learn in a Graduate Diploma of Business Administration Global?
JCU Online's Graduate Diploma of Business Administration Global offers a unique combination of big-picture thinking, data-driven decision making and leadership.
Does Graduate Diploma of Business Administration cover risk analysis?
All decisions in business have some risk one way or another, therefore every subject focuses on this. These units aim to enable you to both analyse and interpret risk to be able to make educated business decisions.
Are mergers and acquisitions covered in this course?
Yes. Students will explore how to identify and value the benefits of successful mergers and acquisitions in the Corporate Strategy and Corporate Finance subjects along with diversification, restructuring and other global strategies.
What is the class interaction like with lecturers and other students?
The JCU Online learning environment enables you to connect, interact and collaborate with your classmates, tutors and academics. Along with weekly collaboration sessions with academics, you will also get 24/7 access to discussion boards to interact with peers and academic staff, live video conferencing, podcasts and webinars.
Are there networking opportunities available with this Graduate Diploma?
Throughout the course, you will have the opportunity to connect and collaborate with like-minded students from a wide range of organisations and industries.
How long does it take to complete this Graduate Diploma?
JCU Online's Graduate Diploma of Business Administration Global takes a minimum of 16 months part-time to complete, allowing you to study without sacrificing work or family life.
How much does it cost to complete the Graduate Diploma of Business Administration Global?
JCU Online's Graduate Diploma of Business Administraton Global costs $3,700 per subject and there are four subjects total. FEE-HELP is available for eligible students.
What is FEE-HELP?
Some students may be eligible for government assistance to help their study. For more information and to see if you are eligible visit here.
Ready to get started?
Download a course guide
For more detailed and up-to-date information about your degree, including:
Information about the course
Course duration
Fees
Course descriptions
What to expect from the course
Download course guide
Speak with an Enrolment Advisor
Investing in the right course for you is important to us and we're here to help. Simply request a call back and will assist you with:
Entry requirements
Choosing right course
How to apply and enrol
How online study works
Course duration and fees
Enquire Now