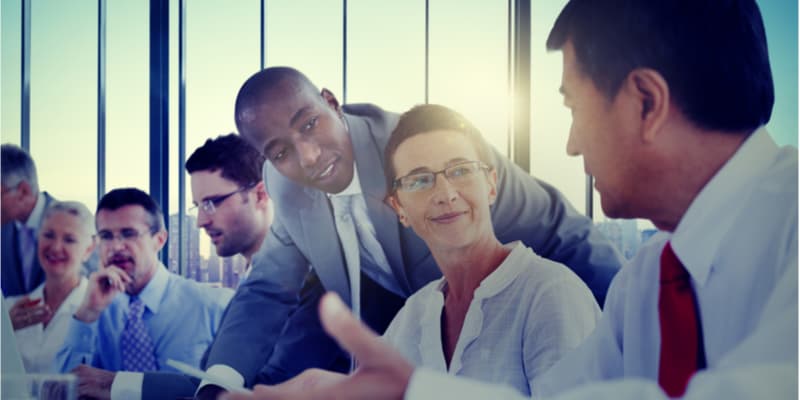 After a few years in the workplace, most of us feel reasonably comfortable with our communication skills. After all, communicating effectively got us through our education, got us this job, and it's something we do every single day.
It's not until we take on a leadership position that we realise the importance of effective business communication skills. Suddenly our messages aren't being received, we're regularly misunderstood, and our professional reputation suffers.
The good news is, effective communication in the workplace is a skill set that can be learned. And you can begin communicating better today with the skills outlined below you can learn from JCU's online MBA Global.
What is Business Communication? Why Do You Need It? 
Business communication is the transfer and understanding of meaning. So, rather than just telling, explaining or demonstrating, managers must be able to transfer meaning in a way that is understood by employees, colleagues and leaders. Without both transfer and understanding, there is no business communication.
Effective business communication is needed to prevent errors at every level of an organisation. From the top down it can ensure that business goals are understood and not misinterpreted. From the bottom up it can avert issues between staff members while improving employee knowledge and purpose.
Essentially, effective business communication empowers organisations to transfer their values, goals and strategic plans to employees – and for those employees to understand and engage with those messages.
When employees are engaged, they are more likely to stay with an organisation, take less time off and increase productivity by 17 percent.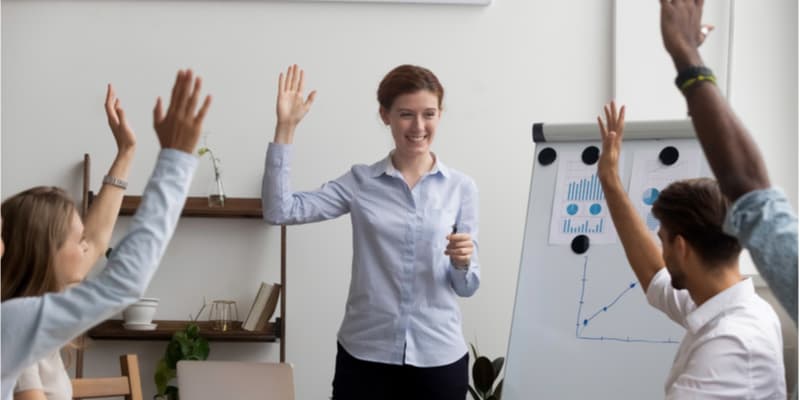 The 4 Communication Styles Every Manager Needs to Know
Before you set out to improve your communication, it's necessary to be aware of the four basic types of communication styles.
Passive communication style
Passive communication style can smooth the waters and allow more dominant voices to speak.
But passive communication presents challenges. Passive communicators are unlikely to express their feelings, needs or opinions and more likely to let others intrude on their rights.
The real problem arises when they can't tolerate the way they are treated any longer and they explode with an emotional outburst. It usually takes everybody by surprise, including themselves, because it is usually out of proportion to the event that triggered it.
Aggressive communication style
At the opposite end of the spectrum, the aggressive communication style is dominant and tends to express feelings, needs and opinions in a way that violates the rights of others. While we may have experienced delivery that was loud, rude and critical of others, we've probably discovered that aggressive communication is ineffective.
It leads to the alienation of the aggressive communicator as well as alienation of others who develop fear and hatred of that communicator.
Passive-aggressive communication style
The combination of passive and aggressive communication styles is confusing for the person on the receiving end. These communicators appear passive on the surface, but they behave aggressively in indirect ways. They use sarcasm to make a point and their facial expression may not match the emotions they are expressing.
Like aggressive communicators, passive-aggressive types often find themselves alienated. Like passive communicators, they also find themselves powerless to effect any real change. Neither of these qualities are useful in business communication.
Assertive communication style
Assertive communicators express their feelings, needs and opinions clearly and without violating the rights of others.
These people are able to be strong advocates for themselves, while being respectful of those around them. As a result, they feel in control of their own lives, connected to others and they're great at collaboration and teamwork.
The respectful environment they create around themselves also enables others to grow and reach their full potential. It's built on statements that express what I need or think, rather than on what you should do. So, assertive communication is very effective for business communication.
As the CEO of Apple, Tim Cook has coined an opening statement that leads into assertive communication. It allows him to reframe any conversation using the words, "The way I see it…"
On a recent conference call to discuss Apple's quarterly results, Cook faced an audience of investors who were concerned about slipping profits and falling iPhone revenue. From his opening gambit of, "The way I see it" Cook went on to deliver context around those results with clear and assertive communication. As a result, Apples share prices rose sharply the next day.
Before Cook even set foot in the workplace, he completed an MBA and graduated in the top 10 percent of his class – forging his business communication skills early for an extraordinary career.​
Effective Communication Methods
In addition to being assertive, business leaders must have a natural grasp of the following communication methods and know how to use them effectively.
Verbal
Kim Scott was working at Google when she received some painful feedback on her public speaking abilities from her boss Sheryl Sandberg (now COO of Facebook). After Scott's delivery of what she thought was a stellar presentation, Sandberg took her aside to tell her that she said 'um' too often, which made her sound unintelligent.
Displaying great verbal communication herself, Sandberg demonstrated that she cared personally about Scott while challenging her directly. It's worth noting that Sandberg also graduated her MBA with distinction! Subsequently, she arranged a speech coach for Scott, who not only improved her verbal skill set, but also wrote the bestselling book, Radical Candour: Be a Kick-Ass Boss Without Losing Your Humanity.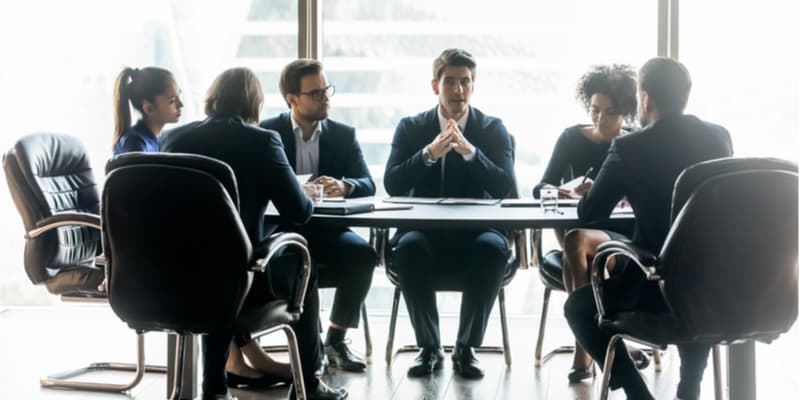 Non-verbal
In addition to verbal communication, we all take cues from non-verbal communication such as eye contact, gestures and tone of voice.
Mary Barra became the CEO of General Motors after training in engineering with the company at the age of 18 and rising through the ranks. One of her preferred non-verbal communication methods is to listen. She's always asking, "what's your opinion?", and checking with employees if they got what they needed from a meeting.
But, Barra' most famous non-verbal communication was reducing GM's dress code from a 10-page document down to two words – 'dress appropriately.' Again, she asked, "I can trust you with $10 million of budget and supervising 20 people, but I can't trust you to dress appropriately?"
Written
A surprising amount of business communication is written into emails, text messages and social media posts. Text lacks the audible tone-of-voice we get from verbal communication and the context provided by non-verbal communication. It's also one-way with no feedback that could give us an opportunity to rephrase or expand if needed.
However, with time and effort, written communication can be crafted in a way that is very effective for business communication.
Reed Hastings, CEO of Netflix, demonstrated assertive communication in a written explanation about the sacking of a senior employee. In an email that was respectful to all, he explained honestly and clearly that the employee had used culturally inappropriate language which wouldn't be tolerated at Netflix. He went on to admit his own failings in managing these events before advocating for his own needs, saying, "I need to set a better example by learning and listening more so I can be the leader we need."
The key thing to understand about effective business communication is that it can be learned. In addition to exceptional communication skills, the key ingredient that is common amongst most of the effective communicators here is an MBA. By undertaking post-graduate studies you'll not only be investing in your management and leadership skills, but you'll enjoy a return on investment in the form of improved communication skills for the rest of your career.
Get in touch with our Enrolment team on 1300 535 919