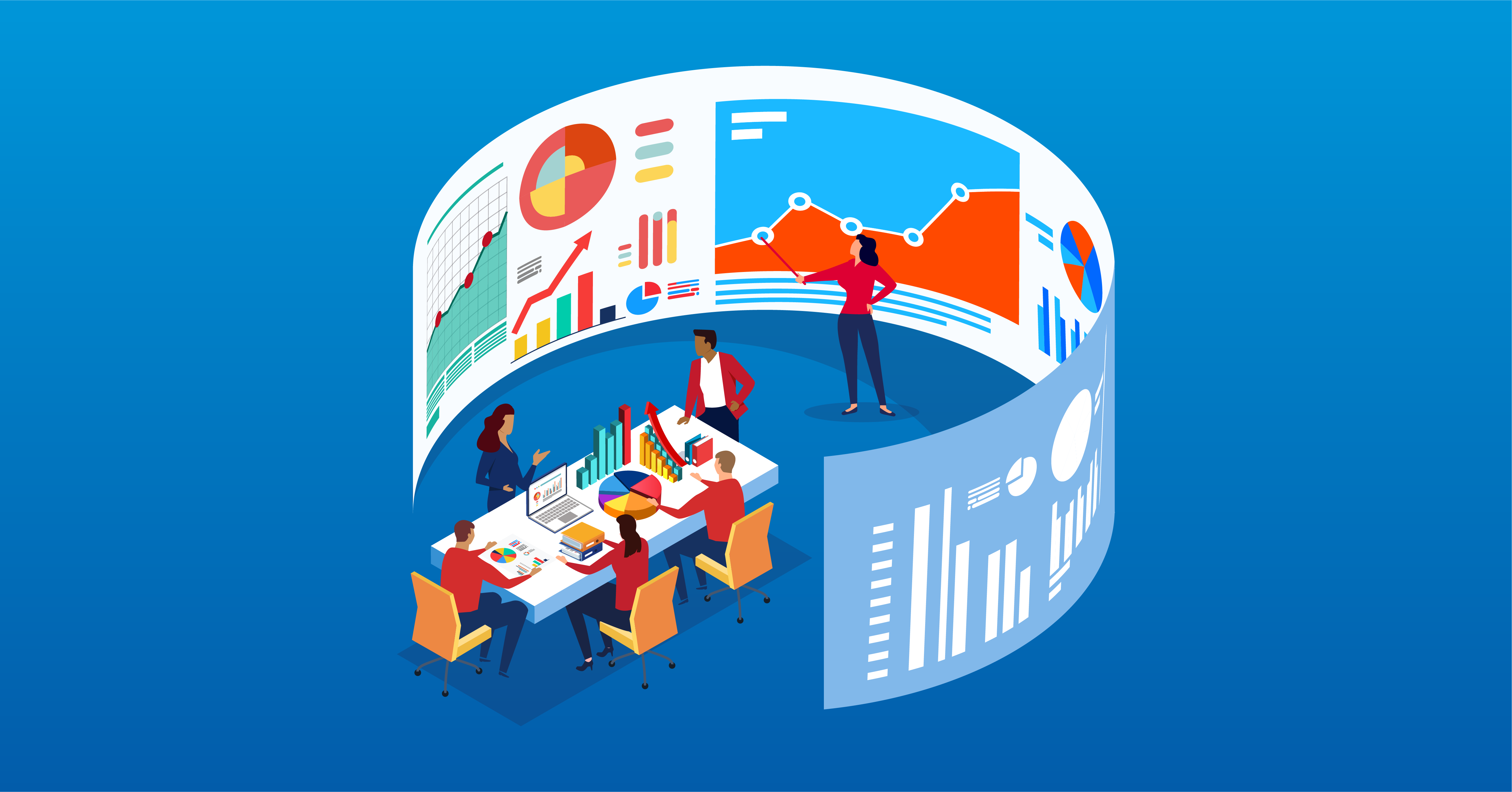 The data science field is experiencing extraordinary global growth – especially in Australia. According to Indeed Hiring Lab, job postings for data scientists in Australia increased by 58 per cent in 2018 after years of rapid growth. Data scientists are in high demand – and that surge in demand means "some employers may be struggling to find enough applicants."
The need for skilled technology workers, coupled with a rapid increase in hiring, is paving the way for those interested in becoming a data scientist to seek new opportunities in this unique and challenging career.
To understand why so many people are eager to work in this fast-growing field, just imagine the feeling you experienced as a child when you opened a new box of Legos. Generations of children around the world have known the exhilaration of dumping hundreds of colourful bricks onto the floor in anticipation of connecting them together to create something amazing. As a data scientist, you may begin to look at raw, unstructured information in a similar way, using your sense of creative discovery to build some truly impressive things.
Why seek a career as a data scientist?
Data scientists possess valuable skills that make them some of the most sought-after professionals in the world today. According to Computerworld, more than 2.5 billion gigabytes of raw data are generated each day through web searches, social media, smartphones, digital photographs, the internet of things and other channels. There currently aren't enough qualified professionals to translate the raw data into actionable insights, which is driving the need for data scientists.
Data scientists must be knowledgeable in a variety of areas, including designing IT systems, analysing complex data and uncovering patterns. They must also be critical thinkers who are proficient in statistics, mathematics and statistical programming.
What does a data scientist do?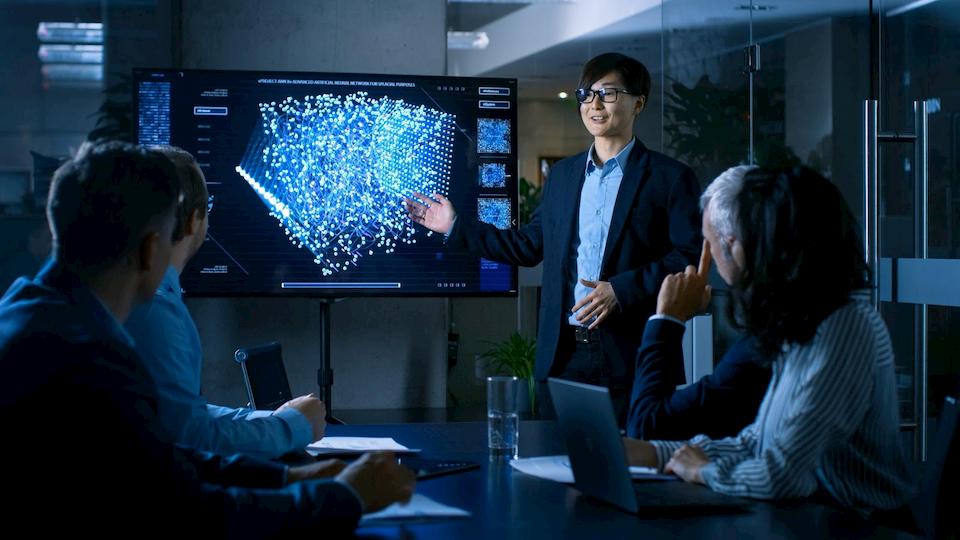 Data scientists take a creative, forward-thinking approach to sort, analyse and interpret the vast amounts of data that industries, governments, nonprofits and other organisations collect daily. They apply their knowledge of mathematical models to devise methodologies and algorithms, identifying patterns and trends that help them glean meaning from mountains of information. This type of large-scale data analysis can help solve real-world problems, target individual customers and predict future outcomes.
How data scientists perform their jobs
Data scientists serve as invaluable connectors between big data and decision-makers. Here are some of their typical responsibilities:
Collect large sets of structured and unstructured data
Devise and apply mathematical models and algorithms to mine databases
Clean and validate data to ensure accuracy, completeness and uniformity
Analyse data to derive valuable insights by spotting trends, patterns and relationships
Utilise programming languages such as R and Python, as well as data-driven tools, such as Hadoop, Spark and Tableau
Leverage artificial intelligence (AI) and machine learning
Convert data into storytelling visualisations
Communicate findings to stakeholders
Use data to pinpoint the most pressing problems that need to be solved
Examples of the benefits of data science
Understanding the importance of data science is vital to the success of many businesses, government agencies, nonprofits, healthcare providers and other organisations. For example, a data scientist can help retail businesses target specific groups and individual consumers by unlocking insights related to purchase history, browsing habits, income level, age, interests and other relevant factors. This information can benefit businesses by making it easier for them to win and retain customers.
Marketing
The marketing arena is one of the biggest winners when it comes to data science. For example, many businesses gather data from social media channels to derive insights into how customers engage with their campaigns. Companies can evaluate a campaign's success by tracking metrics such as click-through rates, bounce rates, the amount of time visitors spend on different pages and which content visitors share with others, notes Inside Big Data.
Data scientists can then analyse and interpret all of this information to help their organisations discover who their high-value customers are, what motivates them to purchase more, and how and when to reach them. Tracking customers' behaviours helps businesses generate sales by targeting consumers through mobile apps, point-of-sale offers, in-store sensors and other emerging avenues, Datameer reports. Marketers can also tell if a customer researched a product in a brick-and-mortar store before purchasing it online.
Meteorology
Meteorologists at the National Oceanic and Atmospheric Administration (NOAA) in the U.S. collect tens of terabytes of data per day to monitor and predict the weather. Weather satellites collect observational data for scientists to analyse. Doppler radar detects precipitation, airborne tornado debris and thunderstorm cloud rotation, as well as wind direction and strength. Sensors called radiosondes are released into the upper stratosphere twice daily, sending data to scientists about temperature, wind speed and direction, relative humidity, and air pressure. Because of constantly advancing technology, data scientists working in the field of weather service can better predict storms, tornados, floods, hurricanes and other natural disasters, thereby saving thousands of lives with timely warnings.
Healthcare
Data is also revolutionising the healthcare field, and providers are in urgent need of more data scientists, according to PC World. As the digitisation of patient records increases, healthcare specialists are discovering innovative ways to make more accurate and time-sensitive diagnoses. For example, patients can now meet with their doctors via the internet in the comfort of their homes. Healthcare organisations are counting on data scientists to build the foundation and structures for handling the data. Data scientists identify, analyse, interpret and share insights with hospitals, doctors and other health partners to provide better-personalised patient care for more positive outcomes.    
Steps to become a data scientist
The path to becoming a data scientist requires a commitment to education, skill development and on-the-job learning. Here are some key steps that can lead to a successful data science career.
1. Invest in your education
Though there are a number of different routes to becoming a data scientist, a university education is all but necessary to enter the field. Specifically, a degree in computer science, information technology, mathematics, physics or statistics is beneficial for anyone choosing the data scientist career path. Knowledge in these fields of study will help data scientists know what tools are best for which projects as they transition into the profession, according to Seek.
According to the Australian Government's Labour Market Information Portal, the number of jobs for information and communications technology (ICT) business and systems analysts is on pace to increase 9.5 per cent from 2018 to 2023. Deloitte Australia forecasts that data scientists who have postgraduate degrees will earn salaries averaging over $130,000 by 2021, which is well above the national average.  
Online degree programs, such as JCU Online's Master of Data Science, provide opportunities to earn advanced degrees and network with other professionals worldwide. This course offers flexibility for students to balance their time between courses, work obligations and family commitments.
2. Develop core data scientist skills
To be successful, data science professionals must have a robust set of specialised skills, abilities and knowledge. Important hard skills for data scientists include:
Computer programing
Statistical analysis
Data mining, charting and interpretation
Machine learning
Social network analysis
Business strategy analysis
Database management and maintenance
In addition to hard skills in technology and business, data scientists also need to master soft skills to be effective.
They should be incessantly curious and always seeking answers through hidden opportunities, trends and patterns. They need to have a strong aptitude for organisation as well as an analytical mind.
Soft skills align with the duties, responsibilities and goals of data scientists in the following ways:
The ability to understand human nature helps data scientists translate assumptions based on the actions of different population segments.
Being a good communicator is a must for data scientists, as they frequently present their findings to other people. They should be able to present complex information clearly, tell compelling stories and inspire others to take action.
Having a positive attitude can be paramount when collaborating with team members to make sense out of mountains of raw data.
Effective data scientists are able to apply hard skills in a practical way. Having problem-solving and critical thinking skills enables data scientists to discover logical flaws through objective analysis.
Adaptability is an important quality for data scientists, who often need to experiment with a variety of tools and approaches before arriving at a workable solution.
Soft skills are also important because they cultivate better interactions with colleagues, customers and clients, thereby enhancing individual and team performance.
3. Stay current on new developments in data science
Data science is ever-changing, and organisations must continually adapt in response to new technological advancements.
For example, a key challenge in the field is the need for tools to facilitate the large-scale analysis of unstructured data. Unlike structured data – which consists of clearly defined data types that are consistently formatted and easily searchable, such as phone numbers, social security numbers and postal codes – unstructured data is decentralised and more difficult to reliably collect and interpret. Unstructured data can originate from a wide variety of sources, such as emails, satellite imagery and social media posts, according to Datamation.
While there are analytics tools that can effectively mine structured data, today's data scientists are hard at work developing innovative ways to reliably analyse and extract meaning from unstructured data. By staying updated on the skills and knowledge they need to participate in this important work, data scientists can become more competitive when pursuing new jobs and promotions.
Data scientist salaries
As industries, government agencies and other organisations realise the positive effects and cost-savings impact of having a data scientist on board, the demand for these professionals continues to rise – along with salaries.  
Data scientists often earn salaries in relation to the academic degree they possess, the depth of their work history and management experience, and their geographic location. As such, earning an advanced degree such as an online Master of Data Science can help data scientists qualify for salaries in the upper end of the range.
Australia
The Martec reports that most of the data scientist jobs in Australia are based in either Sydney or Melbourne, but there are plenty of opportunities available in cities across the country. Here is a list of typical salary ranges for Australian data scientists, as reported by PayScale in 2018: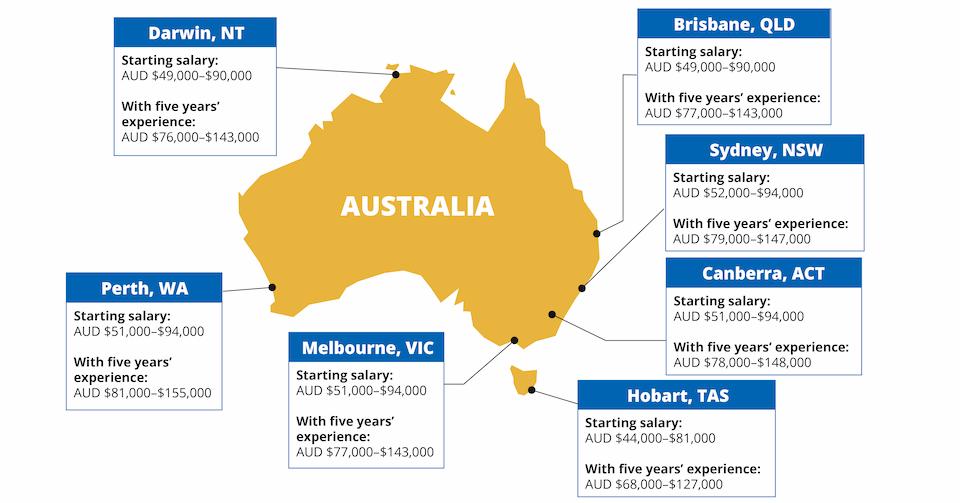 United States
Data scientists and other types of computer and information research scientists working in the United States earned a median salary of about $118,000 in 2018, according to the U.S. Bureau of Labor Statistics.
Furthermore, according to the Burtch Works Study, most jobs for data scientists in the United States are located on the West Coast, followed by the Northeast and Midwest regions. Salaries listed are for individual employees; however, managers can earn from $135 000 to $279 500. Here are the typical ranges by region:

How data scientists benefit their organisations
Empowering management to make better-informed decisions based on quantifiable evidence is just one of the many ways data scientists can improve their organisations. They can also formulate more effective goals, pinpoint target audiences, and identify problems, opportunities and possible solutions.
Teradata outlines several other ways in which data scientists benefit their organisations:
Mitigating risk and fraud: Some data scientists specialise in identifying and predicting fraudulent activity using fraud detection models. By pinpointing probable instances of fraud in real time, these professionals help their organisations minimise losses.
Delivering relevant products: Data scientists can provide information that allows their companies to determine which products to offer specific customer segments. In addition to creating a better understanding of customer needs, data scientists can determine the optimal locations and times for maximum sales. This information can also assist organisations with developing new products.
Personalised customer experiences: Consumers today want to be catered to, and as a result, they expect excellent customer service. Data scientists gather insights that enable their employers to gain a more accurate sense of what their audiences want, which helps them create a more personalised customer journey.
Future employment outlook for data scientists
According to the Institute of Analytics Professionals in Australia (IAPA), data scientists are in such high demand that they can earn almost three times Australia's average salary. As an increasing number of organisations realise the value of the data they collect, the demand for data scientists continues to grow. 
Career Possibilities for Data Scientists in Australia
Data science professionals can pursue a variety of opportunities in many different industries. Here are some of the most popular roles for data scientists and their annual growth rate in Australia, based on research from the consulting firm Deloitte.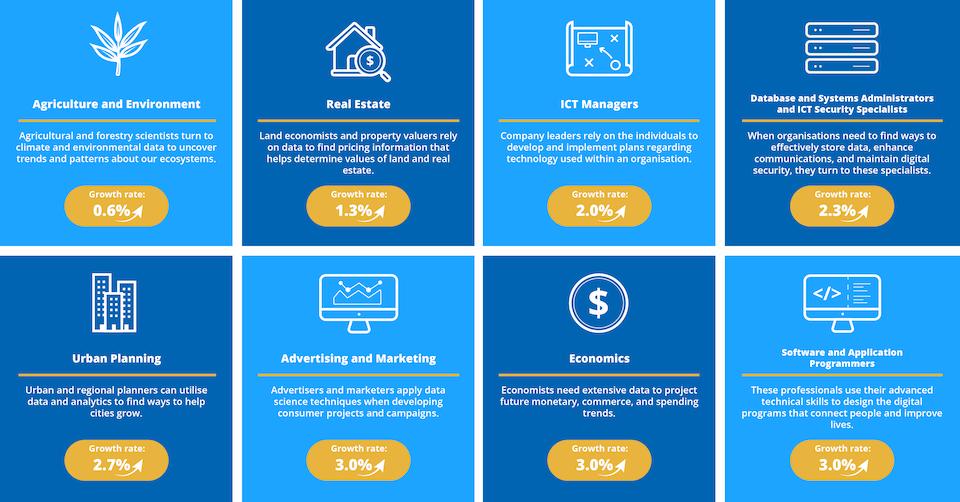 Top Three Fastest Growing Data Science Fields in Australia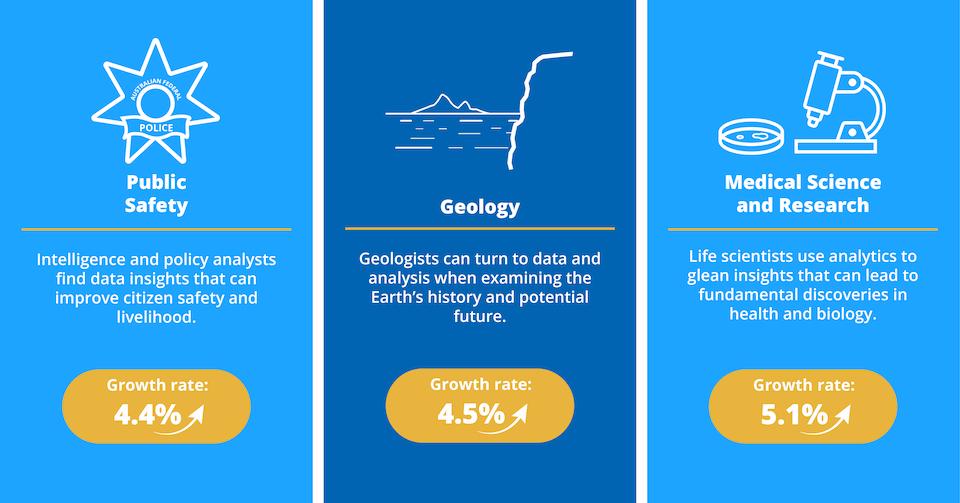 Tips for success as a data scientist
As industries increasingly rely on data to make decisions, the need for employees who can compile, organise, interpret, analyse and communicate the information in a simple, streamlined way will likely drive demand for more data scientists.
There are several things you can do to give yourself an edge over your competition.
According to Indeed's Hiring Lab, job postings for data scientists in Australia grew by 58 per cent in 2018. The most common skills needed are Python and R. In an article for Forbes, Pacific Life data scientist Alyssa Columbus recommends that you continue to build your statistical literacy and programming skills. She outlines the following tips for landing the data scientist job you have your eye on:
Create a personalised portfolio of your most successful analytics projects to demonstrate your passion for data to prospective employers.
Build a professional website and cultivate an online presence to make yourself more accessible and more competitive when seeking jobs and freelance opportunities.
Cast a wide net in your job search, and don't be discouraged if you don't meet every single requirement listed.
Become a strong communicator and sharpen your storytelling skills to better connect with people both inside and outside of your organisation.
Learn more about how to become a data scientist
Given the influx of new opportunities in data science, now is the time to create the future you want by earning a degree that can prepare you to pursue a role in this exciting field. JCU Online's Master of Data Science program that enables busy professionals to earn an advanced degree while working or taking care of their families. Learn more about the program today and take the next step towards a rewarding career.
Get in touch with our Enrolment team on 1300 535 919