Master of Data Science (Professional) Online
Why Data Science with JCU?
The Master of Data Science (Professional) is for students who want to not only develop their skills in data science, but also graduate with industry experience and connections. The Master of Data Science will allow you to build in-demand skills and develop your portfolio, while the Master of Data Science (Professional) is a four subject extension that will give you more opportunities to gain real world experience while you study. You will achieve this through an additional masterclass and capstone projects, kickstarting your career in data science.
100% online & part-time
Fast-track your career with flexible study you can balance around your life. Study one subject at a time wherever and whenever suits you.
Graduate with proof of capability
Build a portfolio to showcase your newfound capabilities through capstone projects and masterclasses.
Gain skills the industry needs
Develop skills in a suite of programming languages and software including Python, R, Tableau and AWS and study the only online Master of Data Science in Australia to be SAS certified.
Program Highlights
Build a career-ready portfolio through capstone projects and masterclasses.

Develop fundamental skills in data science.

Open up your career opportunities.

Gain skills in SAS, Python, R and more.

Fast-track your career with 100% online study.

Be supported by a dedicated Student Success Advisor.
DOWNLOAD COURSE GUIDE
Programming languages and software used
Expand your career options and become SAS® Certified
With the rapid expansion of the data science field, and the increased reliance on data in business, government and research, there is a very real demand for data professionals who are able to identify and mine relevant data. JCU's online Master of Data Science (professional) will give you an edge as a data science with proven capability and real world experience.
You'll also gain industry-recognised skills - JCU has partnered with SAS®, analytic software provider and leader in Data Science. The Master of Data Science (Professional) will prepare you to become a SAS® Certified Big Data Professional Using SAS®9.
What you will study
You will study 12 to 16 online subjects, depending on your entry point and recognition of prior learning. There are six subjects offered each year. Study periods are seven weeks long, with new subjects starting every second month. You are able to sit out study periods if your personal or professional circumstances demand.
The Master of Data Science (Professional) is a four subject extension of the Masters program, which gives you a professional portfolio, further proving your data science capabilities. This portfolio is designed to give you the provable experience you might normally expect to work years for, helping you fast track your ambitions. You'll also have the opportunity to gain real experience in data science by working on industry partnered projects.
An interdisciplinary approach means you'll acquire relevant knowledge from across the mathematics, information technology and business domains, delivered by experts in research, academia, business and of course, data science. This varied approach delivers a flexible knowledge base and skillset, adding weight to employability.
Want more details about these subjects? Find out more from our course guide.
Graduate Certificate subjects
Graduate Diploma subjects
Master (Professional) subjects
Entry Requirements
Recognition of Prior Learning
Learning Outcomes
Career Outcomes
Inherent Requirements
Nested qualifications: Early entry exit options
You can also build towards your master's degree through flexible entry and exit points and 'qualify as you go' through our nested qualifications. As you study your Master of Data Science (Professional), you will gain your Graduate Certificate and Graduate Diploma of Data Science. If you need to finish your study early, you may still qualify for a Graduate Certificate or Graduate Diploma. Get in touch with an Enrolment Advisor to find out more.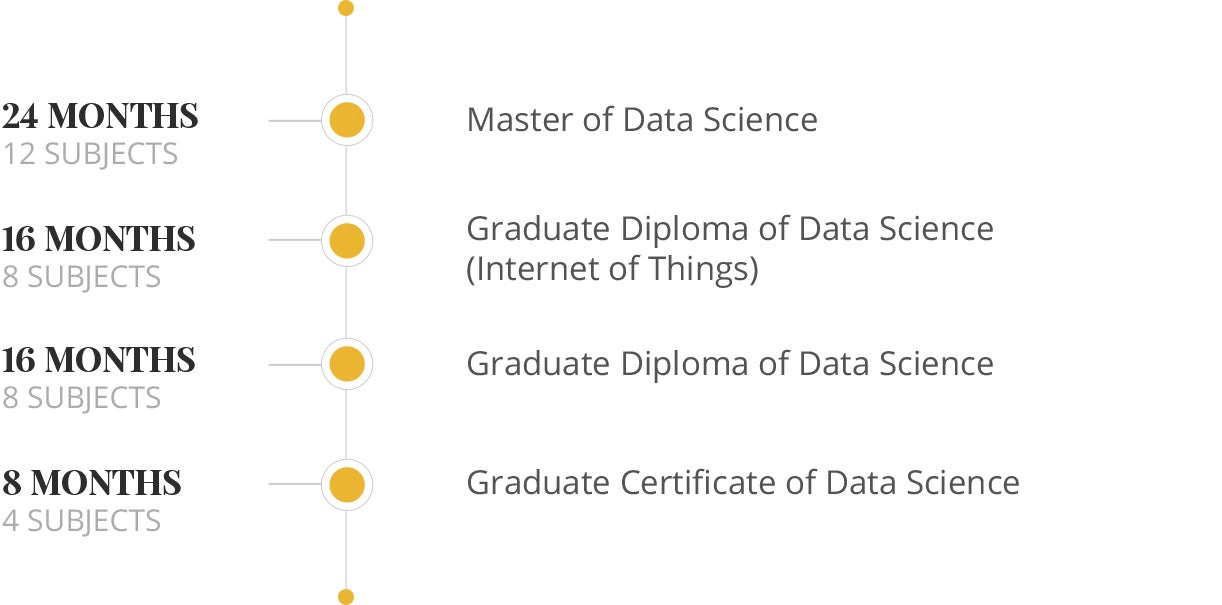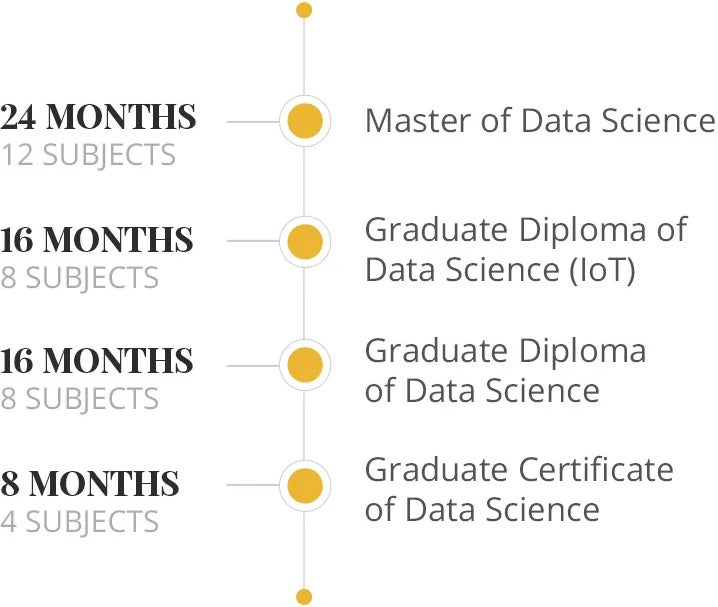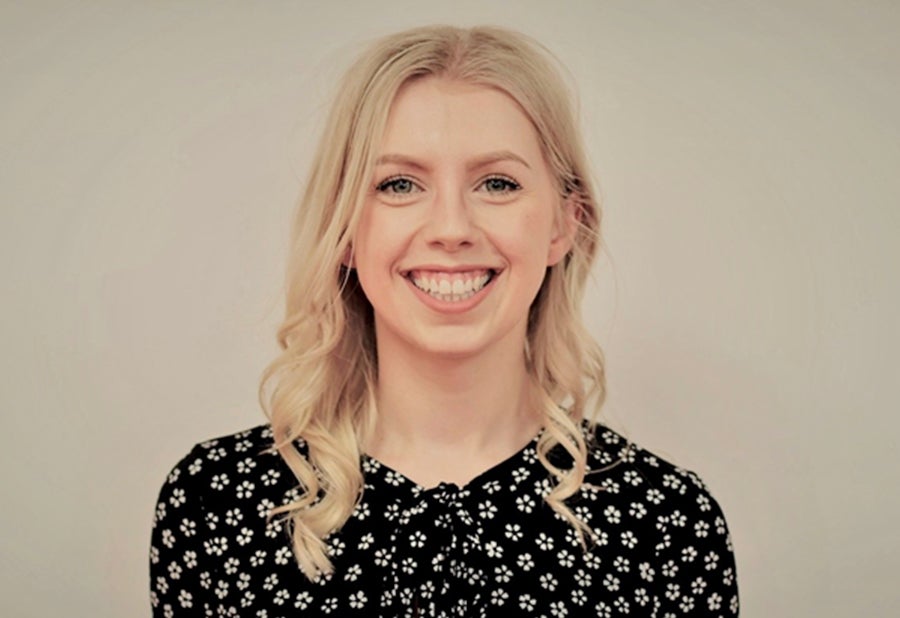 Your personalised Enrolment Advisor
The role of an Enrolment Advisor is to ensure that you have all the resources and academic support needed to be successful in your studies.
Enrolments Advisors are here to help you with:
Determining your eligibility for the course.
Understanding the structure of your course and what you can expect to learn.
Time management strategies for success.
How to apply for financial assistance and FEE-HELP.
Any questions you have about your application.
Contact hours for your Enrolment Advisor 
Monday and Tuesday: 8am-6pm (AEST)
Wednesday and Thursday: 8am-7pm (AEST)
Friday: 8am - 5pm (AEST)
You might also be interested in:
Frequently Asked Questions
What is data science and why study this course?
Data science is anything and everything about data, from collection, storage, cleaning, processing, analyses, visualisation to communicate the finding with end-users. Data scientists not only extract valuable insights from data they also predict the possibility of future events using available data.
As more data are collected each day, the field of data science continues to grow. Studying a Master of Data Science Professional will give you the in-demand skills in programming, visualisation and cloud platforms. Upon successfully completing a Master of Data Science with JCU, you will have the skills and expertise to succeed in roles like Data Scientist, Business Analyst, AI Developer, Machine Learning Specialist, Data Analyst, Chief Information Officer.
What is the difference between data science and data analytics?
Data science is anything and everything about data. Data analytics is part of data science which centres on formulating actionable insights to pre-existing questions.
What is the difference between a Master of Data Science and Master of Data Science - Professional?
The Master of Data Science (Professional) is a 4 subject extension of the traditional 12 subject Master program. With the Master of Data Science (Professional), students will learn high level technical skills, such as image recognition and natural language processing. Students will also be involved in industry-based projects to build up their portfolio, develop confidence in their abilities and apply their newfound skills to a real-world data science problem.
What software programs are studied in this course?
You will gain skills in highly requested data science software such as Python, R, Tableau, SAS, and AWS.
Will I learn about cloud-based computing in this course?
Yes, students get to learn how to choose and apply different techniques and software for cloud computing of big data in the subject: Advanced Data Management and Analysis using SAS.
What level of mathematics is required to complete the degree? How will I catch up if I do not meet the requirement?
Numeracy skills equivalent to senior level mathematics that includes algebra and elementary differential calculus is assumed. JCU offers a specified online mathematics subject, which can be completed prior to application if you do not currently meet the mathematical entry requirement level.
Ready to get started?
Download a course guide
For more detailed and up-to-date information about your degree, including:
Information about the course
Course duration
Fees
Course descriptions
What to expect from the course
Download course guide
Speak with an Enrolment Advisor
Investing in the right course for you is important to us and we're here to help. Simply request a call back and will assist you with:
Entry requirements
Choosing right course
How to apply and enrol
How online study works
Course duration and fees
Enquire Now
Student Stories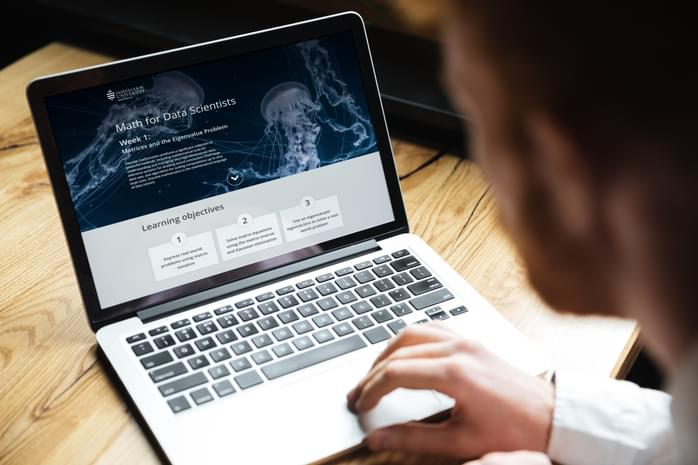 Student Story
My Student Success Advisor Brett has been right beside me from day one. I always feel he's with me – encouraging me, answering questions, helping me understand the unique process of JCU and reassuring me in a kind and professional way.
Alex | Data Science student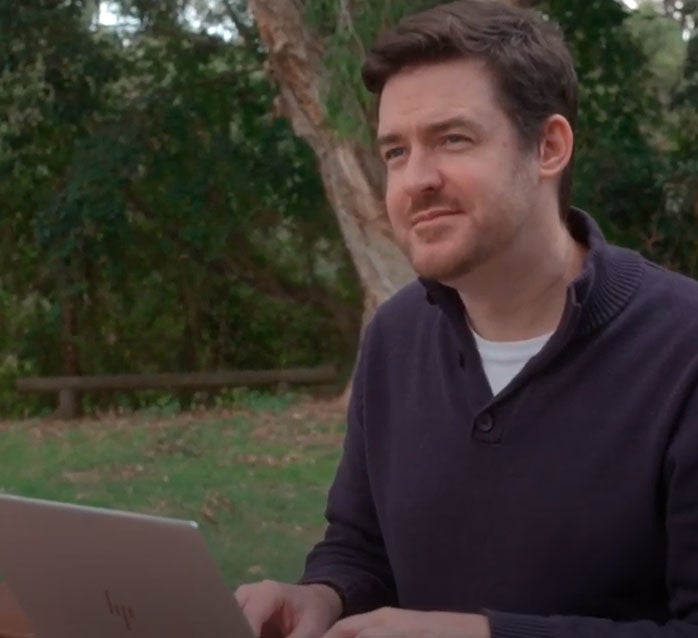 Student Story
Doing the JCU Master of Data Science online degree is not just giving me additional skills, I think the real joy in it is being able to use it in my workplace.
Lachlan Sharp | Master of Data Science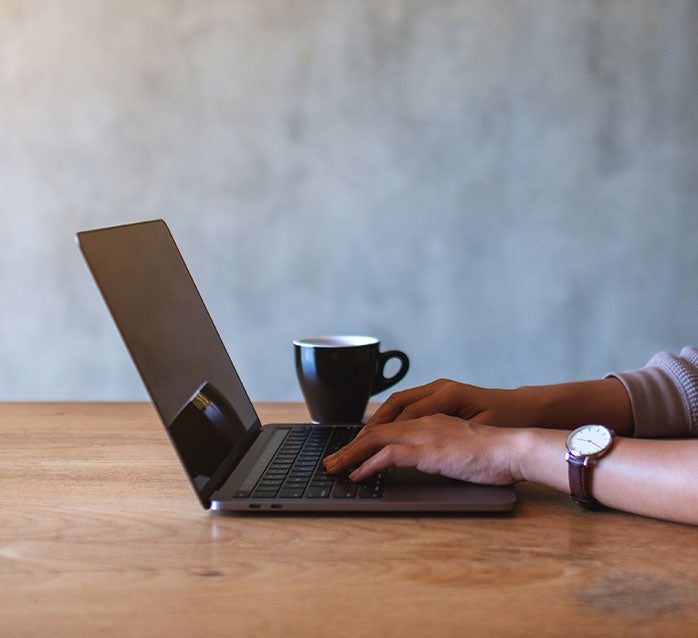 Student Story
I chose this degree to further develop my skills in working with data, including analytical reasoning and data visualisation. I feel well supported, especially from the Student Success Advisors that I have been in contact with since the start of the course. Additionally, JCU has several tools and resources that have been crucial in making me feel supported during my studies.
Simone Calandra | Master of Data Science
Speak with a advisor
Find out more about:
Fees
Entry requirements
Course descriptions
Application guide
*All fields required
You must be a Registered Nurse (Division 1) or Registered Midwife with AHPRA to be eligible for this course.
If you're not currently a Registered Nurse, you may be interested in our on-campus Bachelor of Nursing Science course.
Learn More






We acknowledge Australian Aboriginal People and Torres Strait Islander People as the first inhabitants of the nation, and acknowledge Traditional Owners of the lands where our staff and students live, learn and work.
© James Cook University 1995 to 2021
CRICOS Provider Code 00117J
ABN 46253211955
It's Popular!
people downloaded a course guide in the last 24 hours.
You must have a bachelor's degree, a postgraduate degree or an equivalent qualification to be eligible for this course.
If you do not have one of these qualifications, you may still be eligible for one of our on-campus psychology courses.
Go to on-campus psychology courses
Back to top